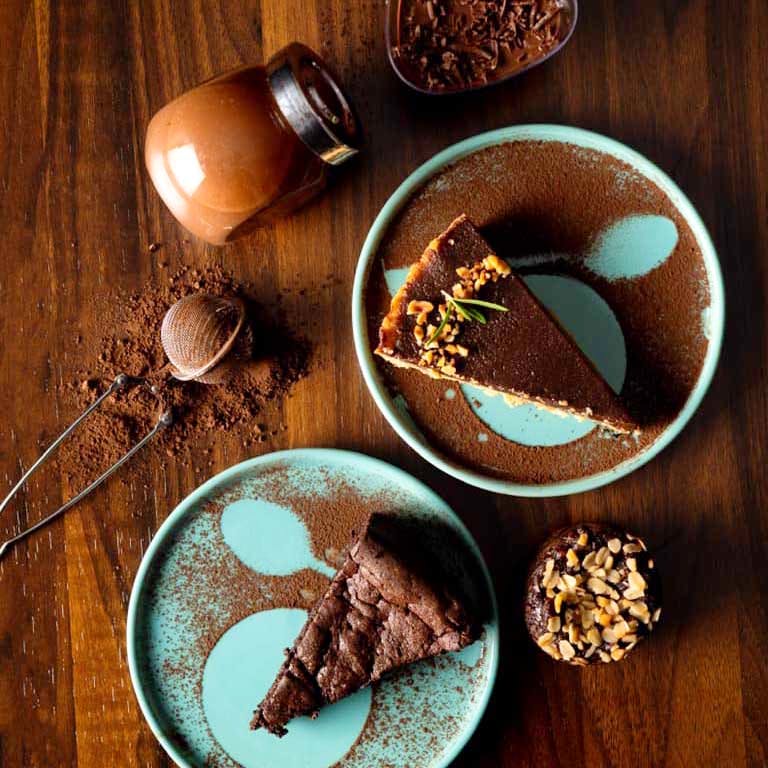 Counting Calories? Here's Where To Enjoy Guilt-Free Desserts
Here's a list of desserts that you can indulge in even when you're on a strict diet! From sugar-free desserts to gluten free ones, these healthy dessert places in Mumbai have something for everyone!

Peanut Butter Brownie at Fitness Bakery
Grain free, gluten free, low carb and high protein desserts make Fitness Bakery one of the top favourite healthy dessert spots in town, and the peanut butter brownie, made with unsweetened cocoa powder and organic peanut butter is our favourite!
Price: INR 1,200 for 450 gm
Dark Chocolate Zucchini Cake at Healthy Treats
This delivery-only kitchen is known for dishing out some of the tastiest healthy desserts in Mumbai, and their quinoa cakes, keto cookies and brownies are talked about in the fitness circles with great enthusiasm. If there's a celebration planned for which you're looking at healthy desserts and cakes, the keto cheesecake and dark chocolate zucchini cake at Healthy Treats come highly recommended.
Price: INR 650 (whole wheat) and INR 1,000 (gluten-free) for 500 gm
Vegan Gluten Free Orange Chocolate Cake at Kale & Kaffe
Made with cane sugar, oats and amaranth, this dessert is one of the best-sellers at this café in Bandra. They have a wide variety of healthy dessert options available for those who like to indulge without guilt, and a separate menu for those following the keto diet too!
Price: INR 250 per slice
Homemade Vegan Chocolate Sorbet at Bombay Salad Co
A healthy salad washed down with guilt-free dessert? Yes please! Head to this salad bar in Bandra to enjoy delicious, smooth dark chocolate sorbet that is high on taste and low on guilt! This is also the only began dessert on their dessert menu.
Price
: INR 170 for 2 scoops
Chocolate Fudge at Earth Café
This is a vegan café in Bandra that is a total hit with those following veganism, and if you're on a keto diet you're going to love what they have on offer! A holistic vegan menu provides complete meal options for those on keto, and if you're looking to satiate your sweet tooth we suggest opting for the gluten free, sugar free chocolate fudge.
Price
: INR 190
Oatmeal and Raisin Cookies at The Yoga House
This beautiful café is one of our favourites, perfect for those weekday mornings when we drop by for a quick cuppa before heading out to work. The menu here provides you with plenty of guilt free dessert options, the oatmeal and raisin cookies being our favourite. These cookies are eggless, made with whole wheat, raisins, raw sugar, honey and oatmeal.
Price
: INR 75
Poppy Seed Coconut Muffin at Birdsong Café
This organic café provides guests with plenty of options for vegan and organic foods, and if you're looking to indulge in desserts, they have a wide variety available for guilt-free desserts too! Their poppy seed coconut muffin is one of the best sellers.
Price
: INR 150
Raw Cacao Bliss Balls at Vegan Bites
We love the fact that dark chocolate is something that we can indulge in even when we're on a diet! A selection of raw cacao bliss balls from Vegan Bites makes for a quick, fun and healthy snack. Vegan Bites also offers a wide range of other sweets and desserts that are healthy.
Price: INR 1150 per kg
Chocolate Lust Cookie at Sequel Bistro and Bar
Cookies are the most convenient pick-me-ups, and we've lost count of the number of times we've ducked into Sequel Bistro & Bar in Fort to get hold of a healthy dessert before carrying on with our work. These cookies are made from 70% dark chocolate, and also contain raspberries and almond butter. All desserts here are organic, and made from alternative nutritious grains.
Price: INR 250
Salted Caramel Mud Cake at Sante Spa Cuisine
Made with whole-wheat flour, jaggery caramel and pink Himalayan Salt, the salted caramel mud cake is a part of the guilt free dessert menu at Sante Spa Cuisine. All the food here is organic, and let us assure you that the healthy desserts here won't make you miss the unhealthy ones you've been trying to avoid!
Price: INR 210
Comments