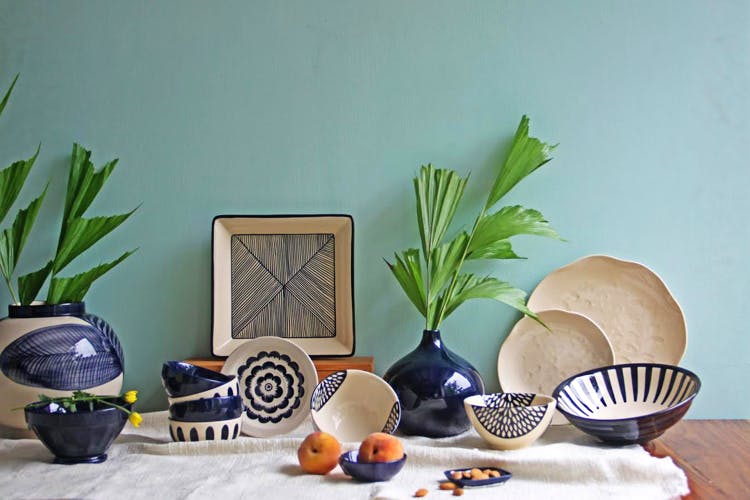 Make A Statement: 7 Pieces That Instantly Charm Any Nook At Home
What Is It?
Looking to brighten up your home? We say add some colour to your nook with Freedom Tree's eclectic yet functional pieces for that casual vibe at home.
Whether it is to treat yourself or gifting pieces to your friends, we're really hooked on to their contemporary and fuss-free decor designs.

Mehrab Drinking Glasses
Distinctive in style, these handcrafted glasses (set of 6) are perfect to add a festive glamour to any gathering. They're artistic with pastel shades and symmetrical patterns, and ideal to liven up a table. Pair them right with your earthy-toned dinnerware.

Kyoto Side Plates
There's something really appealing about plain white tones and this set of minimalistic ceramic plates look so elegant. They truly make a statement when used either individually or paired with any other set considering its monotone shade.

Steps Table Lamp
Add that cozy vibe to the comfort of your home with this stylish lamp shade. Available in brick red and jade green colours, this one's just perfect to bind your room together with its contrasting hues.

Coral Flamingo Planter
This one's sure to make a statement - it's perfect for anyone who likes to add a bit of funk to their homes. Place it indoors or in your garden, this one looks strikingly pretty against the greens.

Damask Rose Upholstery Fabric
Love hanging by the couch and catching up on everyday chores? Add a striking balance to that favourite piece with custom-sized upholstery of this deep-teal colour fabric with floral pattern and subtle shades.

Mimansa Bedcover
These summery orange and yellow spreads look stunning and are already on our wishlist. We're already imagining a neat tuck on our beds and lounging about all day here. Just throw in a set of plush cushions for a charming addition to your room.

Valli Rug
How can a bedroom ever feel cosy without a rug? This one's our pick to make our den look complete yet not cluttered. The mélange of greys, mustard and white adds to the sophisticated tone.

So, We're Saying…
Explore vibrant and colourful hues at home with exclusively designed pieces that are sure to create inviting spaces. The store has us spoilt for choice and we're already going berserk selecting from their curated collection.
#LBBTip - If your daily schedule in Mumbai leaves you with no time to shop, check out their Goa store on your next trip there to pick some decorative pieces.
Follow Freedom Tree on Facebook and Instagram for all updates.
Comments