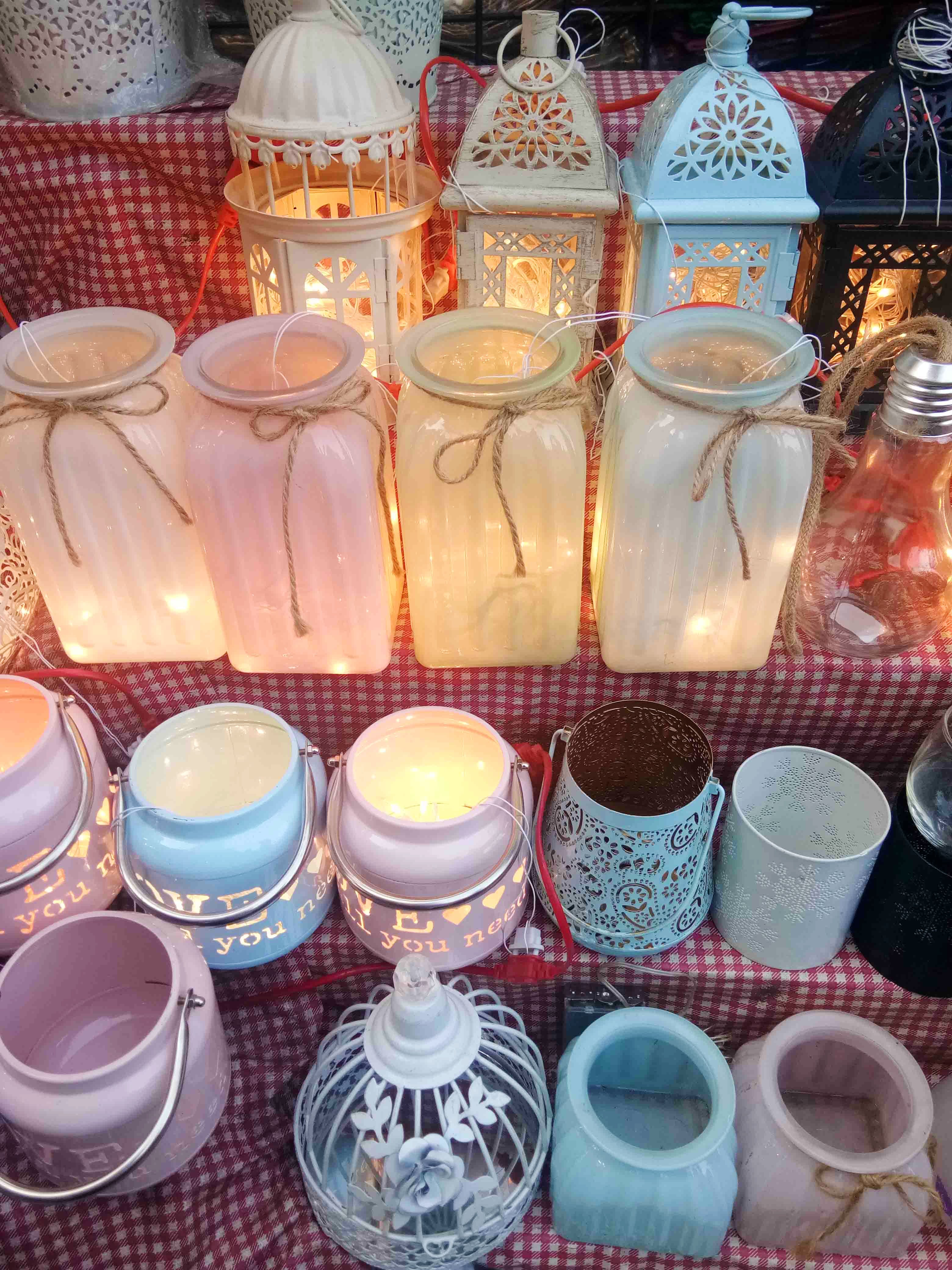 Artificial Flowers, Pretty Lights And Quirky Hangers: Deck Up Your Homes With Our Finds From Crawford
Crawford Market never ceases to surprise us with all the variety that it has. So many lanes, and each lane has something new, for you to spruce up your space. We took a stroll down the always bustling market and found vendors selling beautiful artificial flowers, never-seen-before shapes in hangers for your wardrobe, and lampshades and lights to give the corners of your abode a whole new life. And we're sure about you taking the next cab to Crawford after you read this.
Saira Flowers
We all know how difficult it is to manage a living garden. And with most of us working our days out, it doesn't help at all. Bring in artificial flowers from Saira, a wholesale and retail shop that has creepers, terrariums, various colorful stones to add to your aquarium (in case you have one) or just use it for DIY. They have a huge variety in artificial flowers, and the best part is that they start from INR 70 only. You can call them on 9076843054.
Florence Creepers
Another one known for its endless collection of flowers, Florence won't disappoint you. It has the prettiest of artificial sunflowers, that don't look artificial at all unless one touches it. With the vase, a set of 20 sunflowers will cost you only INR 150 and trust us, you would instantly want to keep them in your balcony, or on the top of your chest of drawer. You can get in touch with them at 8419974427. The shop is located bang opposite to the Bombay Dyeing showroom.
K.K Hangers
You must have bought and owned the most quintessential hangers in the past, but change that with Little Shoppe's K.K Hangers, because they have a variety that will leave you awestruck. We kept clicking pictures because words won't really do justice to it. They've got hangers in round, triangular, rectangular and square shapes, within INR 350 a set, for you to amp up your wardrobe game (at least the interiors) There are hangers for every kind of apparel, and their stocks don't really last so we suggest you buy some soon. They have tie hangers, pants hangers, hangers for scarves and stoles, hangers for intimates, made with satin, and so much more.
Choice
Now this one specializes mainly in festive decor, but also has the prettiest of vases. We spotted the tall ones to embrace a whole corner of our rooms, and they aren't the usual blingy ones. Choice might be a street shop but don't underestimate it when it comes to elegance because we were totally crushing on their vases, lights, and lamps. Some are made of jute and bamboo, and come at a pocket-friendly price of INR 250. They also have artificial flowers in white cycle-like structures, in baskets and what not. This street shop gives you a Parisian feel (no kidding!)
Narain Electric Co.
We found the prettiest Persian lights here and we also bought a few for home (yes, that good!) You just can't help yourself but loiter around Lohar Chawl in Crawford and not come across this light store. The multicolored lamps and lights attracted us, and the price did not burn a hole in our wallets. For INR 2,200, they come with a warranty of one year.
Gayatri Lights And Appliances
They've got colorful LED lights, chandeliers (not the tacky ones) and wooden hurricane lamps, and you'd want to buy them all because that's how awesome they are. They're love at first sight (especially the hurricane lamps) and they're only for INR 2,500, which considering the fine quality of it, is pretty affordable.
Little Flowers
Apart from their usual artificial lamps, their hero is the mason jar lamp collection for INR 230 each. They're simple in terms of design, and have a jute strings tied to them. Keep fairy lights inside them, or gift it to your loved one with some flowers inside, or just keep them near your window. Turn off the lights in your room, and watch the magic of these mason jar lamps unfold.
Comments