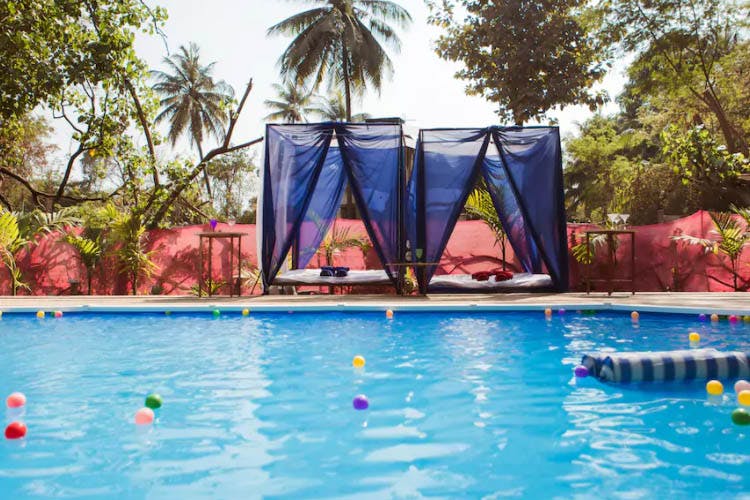 5 Homestays In Alibaug That Are Worth Your Time In The Summers
Imagine sitting at the footsteps of your homestay over the weekend. Think cold beer, some peace, quiet and solitude with loved ones as you hear the sound of the waves crashing onto the seashore. Well, you can actually plan that weekend out soon, as Alibaug, which is just a ferry ride away from Mumbai offers you some nice homestays, and these five ones will definitely catch your fancy.
Asante Sana
An independent bungalow in Alibaug, Asante Sana is in a gated community with 24 hours security, open parking (for at least 10 vehicles), and guests have access to the kitchen too. We love how spacious it is- the bungalow is spread over 2,200 sq. ft. with 2 terraces on a different level. Priced at INR 15,894 (inclusive of taxes) for two nights, this is a perfect choice for group getaways.
To know more, read this.
Shree Cottage
The Bunglow is situated a kilometer from Alibaug town, and also has the owner serving as the caretaker. So while you have the option of going out to eat, you can also ask for meals, which are available on a chargable basis. You have access to a balcony, two bedrooms, a living room, and a dinning space. A few reviewers have even said that the place is pet-friendly too, but it's better you call and check before heading. The place can accommodate six people and charges INR 11,464 (inclusive of taxes) for two nights.
To book, click here.
Red Stone Villa
Redstone villa is an exclusive boutique pool villa nestled in the quiet and serene nature of Alibaug. Located barely a stone's throw away from Kihim, the villa also has a pool where you can have that party you've dreamt of. This is a 4bhk property that can accommodate up to 20 people, although 16 is what you can book up to on the website.
For a night, you pay INR 41,315 (inclusive of taxes), which comes to INR 2,582 per person for 16 people.
To book, click here.
Simplicity
Imagine a river flowing by and mountains to stare at – well this homestay at Alibaug offers that. With two cottages – one main and one smaller, this is a wonderful getaway which has been advocated by several people. If there are more than eight guests, the hosts charge INR 1,000 per additional guest and provide mattresses for their stay. For two nights, you pay INR 30,159 inclusive of taxes.
To book, click here.
Bali-Style Villas With Plunge Pool
These 2 BHK villas will help you forget about the city woes and enjoy all the amenities on offer. Apart from the pool, lawn and gazebos, you also have outdoor showers to make it a fun day in the sun. It has two bedrooms, a kitchen, and even a barbecue and outdoor games space in case you want to take it up a notch.
You'll also find on-site support staff to take care of any need. It will cost you INR 36,521 for eight guests, which is a great deal.
To book the place, click here.
Disclaimer: Please note that all the prices mentioned were checked while writing this article. In case of any discrepancy, please contact the host/website for further details. 
Comments