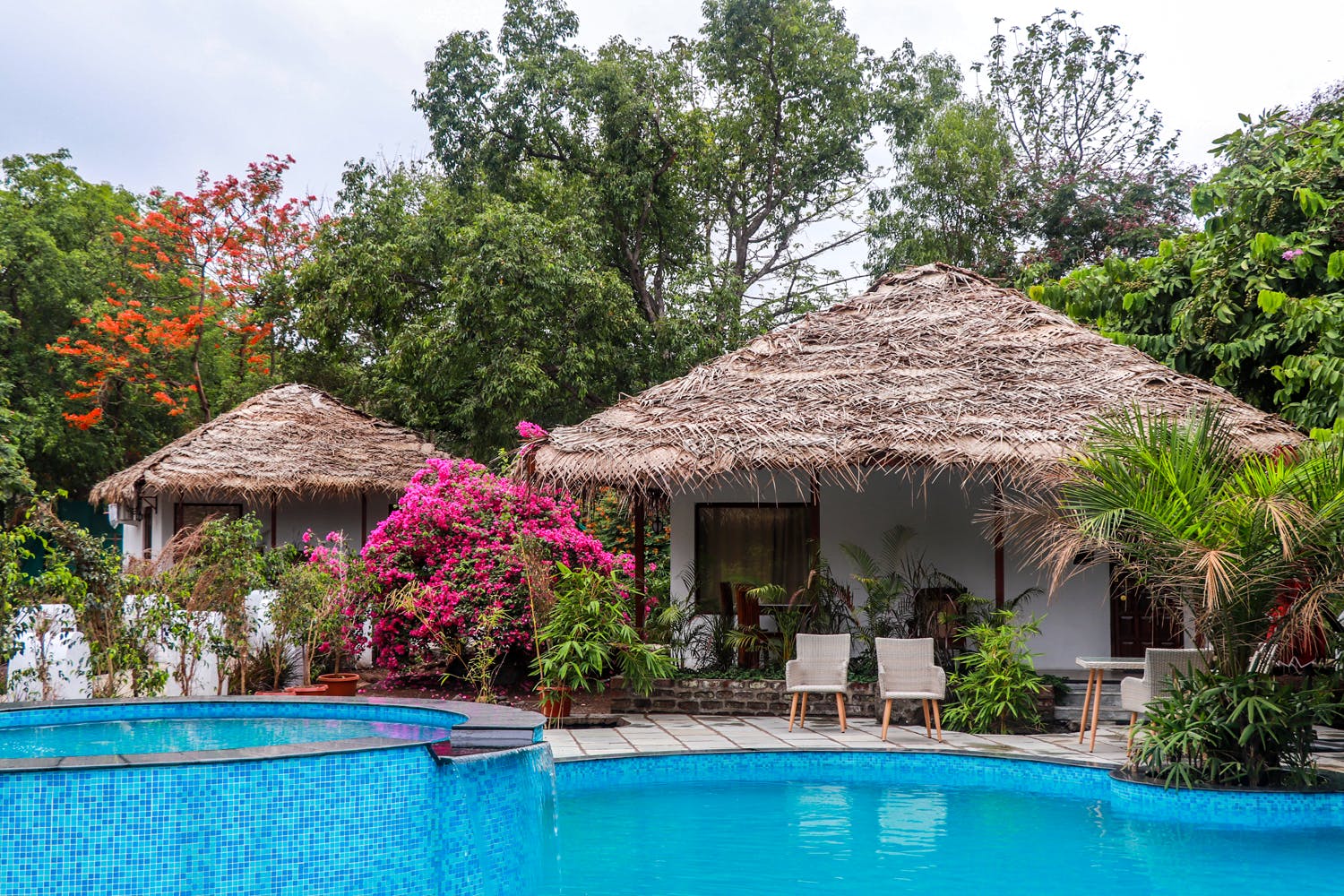 On A Budget: These Homestays Come With A Stunning View & Cost Under INR 3,000
There's nothing better than planning a nice getaway from the city, and unwinding with your close pals or family. However, if there are budget constraints, we've got you covered with our picks of homestays and resorts with a rather decent view and all up to INR 3,000. Bookmark 'em, and jet, set, go.
Devrai Home Stay, Panchgani
One for the folks heading to Panchgani, we highly recommend making your way to Devrai art village and staying at this cosy little homestay. What does it include? A gorgeous view of the hills, misty clouds and a cute doggo to play with.
Price: INR 1,983
Saguna Baug, Karjat
Saguna Baug is an extremely unique homestay for patrons who're fond of water bodies because you'll be surrounded by river (Ulhas) on three sides. It's an eco-friendly property and is almost two hours away from Mumbai by road. You can book out the pond house for INR 2,000 a night. It has an amazing view of the lake. They also have their own organic veggies, in case you're interested.
Price: INR 2,000
O' Nest Homestay, Devrukh
Make your way to Devrukh and stay at O'Nest homestay for a relaxing holiday. What's the view? If you book the tree house, (yep, the tree house) it'll cost you just INR 3,399 per night, and the view is that of the lush green trees which you don't see often in Mumbai. But their AC deluxe rooms, that are equally beautiful will cost you INR 2,499. What else? They have hammocks out in the lawns, so you can unwind from the city life that you've left behind.
Price: INR 2,500 per night
Avanti Kalagram, Mulshi
Avanti Kalagram in Mulshi is just a few hours away from Mumbai, you can easily make a road trip of it. Set against the backdrop of the beautiful Sahyadri ranges that come to life in the monsoon, staying at this eco-resort is always a good idea. It is budget-friendly, has a lot of fun activities (zip-lining, art workshops) for you to do, and you don't burn a hole in your pocket to get a gorgeous view of the mountains.
Price: INR 1,350 per person (for an AC deluxe room) per night
Banyan Bliss, Between Khopoli & Pen
Heading to Khopoli? Then make sure to check out Banyan Bliss which perched nicely atop the hills with a breathtaking view. This homestay is a cosy three-bedroom cottage, and is perfect for anyone who's looking to surround themselves with nature and calm. And if this isn't enough, you can always chill with the owner's dogs, Patcho and Pablo who'll shower you with love and cuddles.
Price: INR 2,950 per night
Homestay In Panchgani
Make your way to a lovely, and cosy bungalow in Panchgani, and as a bonus you get the view of the green hills around you. This 'exotic homestay' is a four-bedroom bungalow, and all open out to the valley or the beautifully kept lawns. And if you love strawberries, make sure to book your stay around the season as the fields are nearby for you to check out.
Price: INR 3,000 per couple (for the night)
Sylvan Greens, Dapoli
A romantic getaway for you, and your partner, the 'exotic homestay' near Dapoli in Valane is a hidden gem. Here they offer three kinds of cottages- deluxe, Russian and the family suite. All of them have an attached balcony, and you wake up to a view of the valley and the breeze from the sea.
Price: INR 2,450 per night (for the deluxe cottage)
Comments