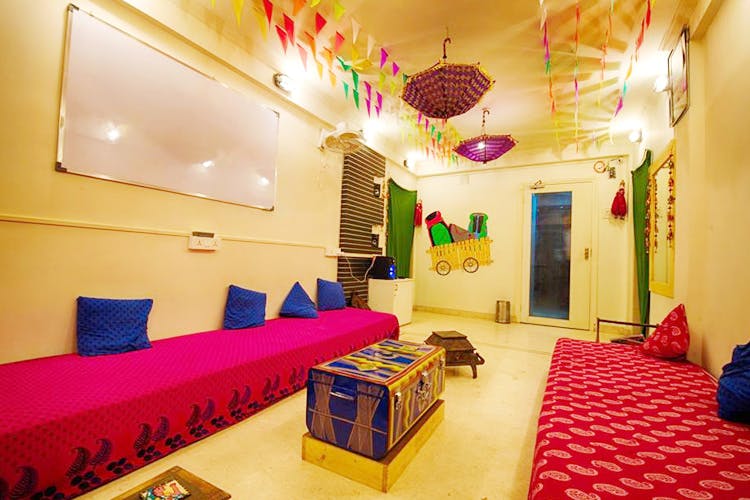 Got No Space For Friends Visiting? Make Them Stay At These Cool & Affordable Hostels Instead
It may have happened to you more often than not- your landlord may have raised an eyebrow about your friends visiting. Or may be your friends/cousins prefer to have their own space. Instead of expensive hotels, set them up at these cool hostels instead.
Bombay Backpackers
A vibrant hostel located in the commercial hub of BKC, Bombay Backpackers is a quirky public transport themed hostel. It's a popular hub for foreigners, travellers, nomads and big groups to shack up at. The hostel has four dorms with approximately 30 beds. Each themed around the kaali-peeli, local trains, BEST buses etc.
Price: INR 450 onwards (per night)
Basti
Located in Santacruz, it boasts of quirky decor and a common kitchen with a fridge, stove, a computer area for people to use and more. Every booking comes with complimentary home-cooked breakfast. Apart from dorms, they have a facility for private rooms as well.
Price: INR 675 onwards (per night)
Arma Hostel
Arma Hostel, also known as Qube Stays is one of the most popular hostels and the most cost-effective in the city. They have facilities such as a safe deposit locker, television, telephone, work desk, air-conditioner, hot and cold water – so that you don't feel far away from home.
Price: INR 500 onwards (per night)
Backpacker Panda Appetite
Backpacker Panda has hostels spread over the country – from Udaipur to Manali, they claim to have the cleanest hostels. The Mumbai edition is called Backpacker Panda Appetite and is located in Andheri East.
Price: INR 699 onwards (per night)
Bollywood Hostel
Known as Bollywood BnB, it's a movies-themed paradise for Bollywood junkies, complete with murals and funky decor. You'll find movie posters perched up on the walls besides the bed. Also, the rooms are numbered according to the eras – 1960s, going up to 2010.
Price: INR 999
Zostel
Zostel is the most popular and loved backpacker's hostel chain in India (and Nepal), and the Mumbai edition of the Zostel is situated in Marol, Andheri East. As the hostel is themed around the Mumbai local, each dorm is given the identity of a real station in Mumbai such as Andheri, for example. That's not it. Their rooftop is the show's stealers. They have a bright and colourful rooftop area, which has been themed around Bollywood.

Price: INR 699 onwards (per night)
Horn Ok Please Hostel
A homely and delightful backpacker's hostel, Horn Ok Please in Bandra is housed out of a 100-year-old Portuguese bungalow. The hostel has three dormitories – each with eight beds. The hostel is flooded with natural light, upcycled wooden furniture that belonged to the Almeidas and is extremely spacious. We love how it's been done up in a very minimal manner, it skips the routine graffiti and murals on the walls and retains the old-world charm of the bungalow. They're happy to serve a delicious breakfast as well.


Price: INR 799 onwards (per night)
Locomo
With its wooden flooring and yellow lights, Locomo has a home-like feel. Shoot them your budget and they have all possible categories for you to choose from AC, non-AC, female dorms, private rooms, and the most exciting luxury dorm. Not just this, they also provide an array of exciting activities like open-air yoga sessions, Indian cuisine classes, Bollywood movie nights, pub crawls, and obviously the city tour

Price: INR 500 onwards (per night)
Cohostel
Cohostel, a hip and vibrant hostel has been set up in the heart of Bandra on Chapel Road. It's at about a 4-minute walk from Bandstand. The hostel has six dorms - each with six beds and an en-suite washroom. A complimentary breakfast is served to the guests on the bright and spacious rooftop.

Price: INR 799 onwards (per night)
#ProTip
Anyone with a Mumbai ID card may not be able to stay here due to Police permissions, please do send forth all your friends visiting their way. Do contact them if you have further queries.
Comments