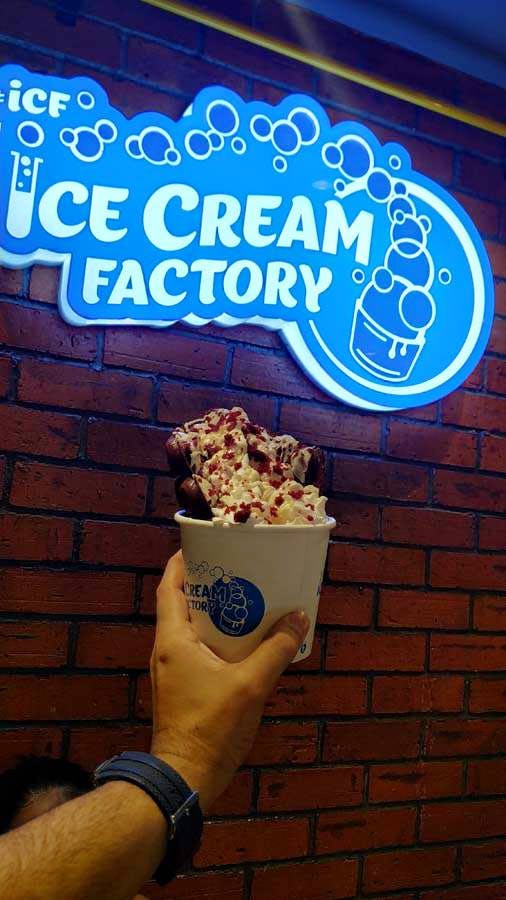 A Sweet-Tooth Heaven In Mahakali Caves Road
What Makes It Awesome?
Ice Cream Factory is the actual name, but I would name it sweet-tooth heaven. Once of the best Artisanal Gelato, Waffles, freak shake and pancakes available at this outlet. What else do you need to end your day on a sweet note? Went there with a friend and tried a few of the items from the menu Red Velvet Bubble Waffle – A full-size Red velvet bubble waffle shaped in a form of a cone. Having some ice-cream, fresh cream and white chocolate drizzle over it. Simple Wow. Ferrero King Nutella Freak shake – Super yummy and mouthwatering freak shake made with dark Chocolate Ice-cream, Nutella fresh cream and a drizzle of hazelnut sauce. Sicilian Pistachio Brioche – A grilled sweet bun cut into half and stuffed with Pistachio Gelato, fresh cream and a drizzle of hazelnut sauce. I loved the pistachio flavour and the overall presentation too. They have come up with a new range of Artisanal Gelato which is mouthwatering. After trying a few flavours of tasting spoons, we settled for Fresh mango Gelato – The season of Mango is gone, but the fresh mango taste in the Gelato is still intact. Loved the taste and the freshness. Blueberry Yogurt Gelato in Premium Cone – This premium cone is coated with White chocolate and Shrewsbury Biscuits crush. Loved the taste of the cone itself. I could just have the cone by itself. But went with a Blueberry Yogurt gelato scoop in it. Simply irresistible. Try this combination yourself and thank me later. Well, I have a sweet tooth, so definitely going to visit them again and try the other amazing stuff they have on their menu. No doubt this one gets an overall rating of 5/5
Best To Go With?
Family, Big Group, Bae, Kids
Also On Ice Cream Factory & Shahi Durbar
Comments