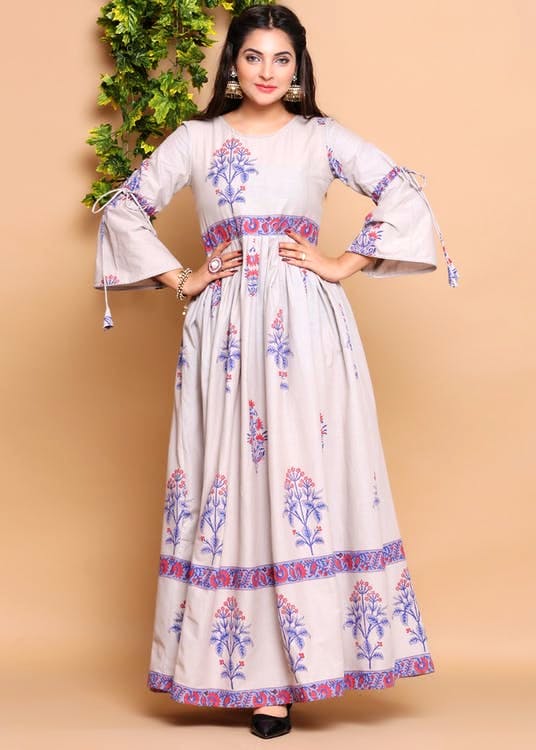 Indie Chic: These 8 Indo-Western Dresses Are Perfect For The Festive Season
Tired of the same old ethnic outfits and looking to stand out this festive season? We've got a list of great Indo-Western outfits for you to try out when the regular just won't cut it!
Blue Ikat Ele Embroidered Maxi Dress
This cotton dress in Ikat fabric features pretty three-fourth sleeves. It's in a gorgeous bright blue with a white border and we love the bright elephant detailing on the pockets. (Yes, pockets!) It's perfect if you like a no-fuss look that you can amp up with chunky accessories!
Handloom Pin Stripes Yoke Dress with Dupatta
Blending contemporary and traditional styles, this two-piece outfit is perfect for a festive evening. Elegant and embellished with beautiful detailing, this dress with a dupatta is perfect for that festive dinner out.
Embroidered Off-Shoulder Short Dress
If you're looking for a more light, casual option, this short off-shoulder dress from Zachi may be just the thing! In a bold red colour, with bell sleeves and vibrant embroidery, it's super wearable and pretty too.
Pattern Embroidered Sleeveless Maxi Dress
Looking to go a bit more glam? Then this floor-length in a rich plum color with an embroidered bodice is a great pick from Untung. We say pair it with a pair of nice heels or if comfort is key, then a pair of strappy flats to rock the look.
Hand Block Contrast Floral Print Maxi Dress
This lovely number from Lavanya The Label is a floor-length cotton dress with beautiful flared bell sleeves. We love the floral print and tassel detailing on this one.
Gold Detail Fit & Flare Closed Neck Dress
This deep green outfit from Idalia is inspired by the anarkali style and we love the way the bodice flares gently in such a flattering way! It's a gorgeous deep green too, and the touch of bling from the gold detailing makes it a great option for evening wear.
Hand Block Print Tassel Detail Dress
This floor-length dress from Cocktail House features a dramatic flare, floral print and lovely tassels for that extra detailing. We love the magenta border on the hem and sleeves, so festive indeed!
Geometric Print Long Line Jacket & Dress Set
We love a bit of geometric action in our wardrobes, simply because it's such a fun way to break the monotony of the usual floral prints. This two-piece set from Myshka comes complete with a long-line jacket and dress. Pair with chunky accessories and heels and you've got a look for your evening out!
Comments