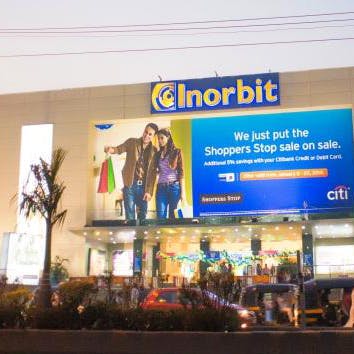 InOrbit Mall Guide: Girls, Revamp Your Wardrobe With These Chic Labels
You can scroll endlessly on your phone and fill your shopping cart. Or shop on the streets and try and get the best bargain from the vendor. But, none of these can match the pampering you get in a mall – shopping for the best labels, trying them on, getting your nails done at a spanky salon or simply window shopping and feasting at the food court. In a nutshell, malls are a paradise for women and we're making this experience even better.
We decided to head to InOrbit Malad and list some of our favourite brands in terms of women fashion, style and trends.
Steve Madden
This well-known New York-based fashion and accessories brand has been our favourite for all things glittery, classy and chic. Wear a pair Steve Madden heels to a party or pair their handbags with your outfit and it won't be unnoticed in a social gathering. Our favourite pick and worth your investment – their silver glittery pair of heels which almost never go out of fashion. Well, they come with a heavy price tag of INR 5,000. And their collection of clutches start at INR 7,000. Stroll through their amazing display and you'll fall in love with their shoes and handbags.
H&M
There's never been a time we've walked out of this outlet being disappointed or upset. Enter the store and from their display, you'll guess what theme is running. For instance, during summers it will all be flowery, tropical and comfy. Pick their loose black pants at INR 1,200 and pair them with a tank top at INR 500. And you're all set for the summers. They have an amazing collection of hats and caps, but they are pretty limited. So, if you liked it, don't wait for next week – just pick it up!
What we love the most about H&M is their ever-changing and dynamic collection – from casuals to office wear and from chic party collection to beachwear. Here's where you can head for the best quality and value for money.
Aldo
When it comes to chic, offbeat and funky accessories, we simply can't get over this Canadian brand. From their tassel-themed neckpieces to their elegant white strapped watch, their every product follows a similar trait - minimalistic yet elegant fashion. We feel their best collection is beautifully adorned on the front display, so maybe pick up something from there.
Forever New
Long maxi dresses, florals and classy jumpsuits – are the styles that majorly add to their women fashion collections. Sure, this store will give you maximum Miami vibes. Again, this one's a pricey brand with their collection starting approximately from INR 2,500. We love this place for the strappy floral maxis which are brimming with refreshing styles and playful vibes. Every small detail including delicate embroidery, frills or short hemlines makes us fall in love with their maxis.
AND
Walk into AND and soothe your eyes with their colour coordinated collection neatly put up on the display. There'll be sections divided into yellow, pink, sea green etc. From smart office wear to pretty florals and from accessories to scarves – they have it all. If you like wearing elite, smart dresses to work – they've got a lot for you.
Vero Moda
Travelling to your dream destination? This brand is sure to sort your wardrobe for the trip. What we love about their collection is how they've struck a correct balance between comfort and styling. From trendy denim to floral dresses – Vero Moda's collection is sure to ace your Instagram feed while you travel. For something more comfortable get your hands on their comfy culottes and smart casuals. Their casual tops have tons and tons of print options – stripes, florals, fauna-themed, polka dots etc. So be prepped to be spoilt for choice.
Latin Quarters
If you're hunting for amazing and fashionable casual wear, this fashionable women's lifestyle brand is for you. What's unique about this brand is that they curate fashion trends from around the world and present them in a unique way – something that we could spot all over their store. Our pick? A comfy white top with colourful tassels around the sleeves. They also have a cool array of cotton checked shirts in bright shades.
Rangriti
A unique fusion of 'rang' (colour) and 'riti' (fashion), this Indian brand is ideal for those looking for Indian wear with soothing colours, minimalistic and not too jazzy. Smart Indian jackets, long indo-western skirts, ethnic kurtis, palazzos, stoles with cute tassels – their collection is pretty impressive. If you're a fan of an Indo-western look pick their quirky long skirt and pair it with a tank top and a stole. It's cost effective even with the prices of kurtis starting from INR 500.
Kazo
A cocktail party? Wedding reception? Prom night? This brand will sort your wardrobe for all chic, fancy events. Their long maxis and chiffon gowns adorners with diamonds, sequins and glitter left us awestruck. Our pick? An elegant white jumpsuit with pretty sequins on it. Starting from INR 2,000 their gowns and jumpsuits are oh-so-worth it!
BIBA
When it comes to comfy Indian wear, trust them. Their garments with unique prints, embroidery, bold motifs and ethnic touch make us fall in love with them every time we enter their store. From lehengas with block prints to their minimalistic kurtis and from colourful shawls to indo-western bottom wear – their collection appeals to everyone. So, if you like your Indian clothes not to flashy and glittery, BIBA is the place for you.

Ask Shaili a question