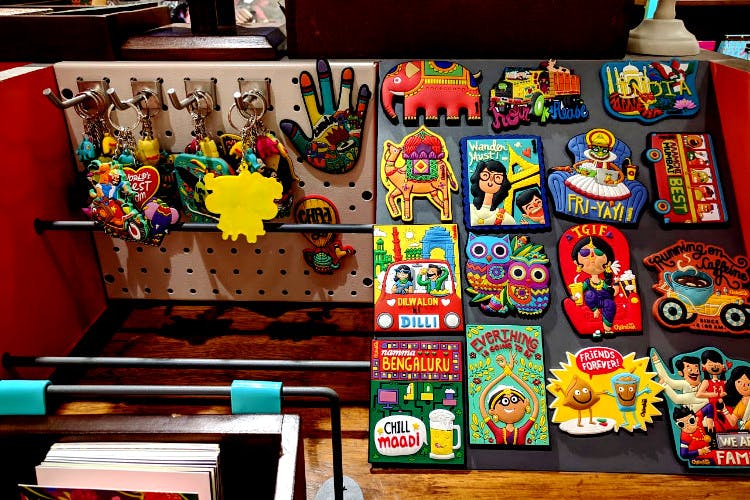 Decor To Fashion Goals: Our Shopping Guide To InOrbit Vashi
Shortcut
Hanging about at Vashi with shopping on your mind? Allow us to tell you which premium brands you shouldn't miss at InOrbit Vashi.

Westside
Westside is a trusty choice for every part of your ensemble - clothes, shoes, accessories, bags and lingerie. They've also got a great collection of sleepwear. Head to the one at InOrbit Vashi for a well-curated range of outfits for all occasions.

Aurelia
What caught our eye at Aurelia were the summery kurtis in countless patterns and styles. Head here to stock up on crisp, yet breezy outfits that'll pull you through Mumbai's heat!
Global Desi
A favourite for anyone who's about the boho vibe, Global Desi's got sombre, classic outfits that are work-appropriate, and fun, printed tops, skirts, palazzos and more that are perfect for a weekend lunch.
BIBA
Scouring the mall for occasion wear? Head to BIBA. While the outfits on display are fairly OTT, they'll gladly show you the more low-key, simple outfits if that's your vibe.

Soch
Another hit for traditional wear, Soch has a more heritage-oriented approach to fashion. Find ensembles here that are inspired by traditional fabrics and patterns. They're classy, well tailored and so, so elegant.

Louis Phillipe
Got a big event you want to rock a suit for? Head here to get an investment piece that will have you looking dapper AF for many occasions to come.

Tommy Hilfiger
We love this brand predominantly for their easygoing, yet well-tailored casuals. Head here if you want to make heads turn on Casual Friday, and when you're out on the town.

Marks & Spencer
We definitely love stocking up on high-quality basics from M&S, be it the soft cotton t-shirts, or the wide range of workwear. We love their fragrance section too!

Manyavar
It's gonna be wedding season before you know it, and if you have a few to attend this year, you might as well invest in great outfits. Head to Manyavar for their huge range of traditional men's wear.

The Bombay Store
Every time we head to this store, we're wowed by the sheer variety of the range. There's traditional art, beautiful digitally printed pieces, and loads of home accessories that are so, so quirky. Head here for all your home decor needs.

Chumbak
While they also stock garments, Chumbak has our hearts because of their playful and vibrant collection of home accessories, bags, lamps, reusable coffee holders and so much more. Head here for great gifting options!

MiniSo
Everything at MiniSo makes us want to adopt the Kawaii way of life. We adore everything they sell, but we're partial to the home essentials section, with cute rugs, doormats, shower accessories; and the bags, sandals and pouches, because they're so pocket-friendly and cute. Head here for, well, everything. You gotta go there to see what we mean.

OneStop
This store's got everything you need for your home to smoothly function at all times - coffee machines, irons, bottles, cooking utensils, bath accessories, microwaves… It goes on. A trip here will have you scouring the cutlery section and the utensil section, and the kitchen accessories section. Go here if you need your home to level up in terms of kitchen/bath aesthetics and dining accessories.

Comments