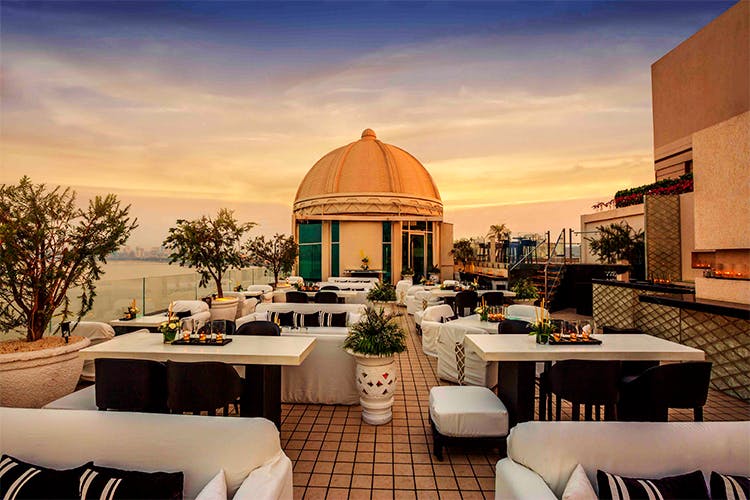 Pan-Asian, North Indian Or European: Eat, Drink & Make Merry At This SoBo Hotel!
Shortcut
Fancy a scrumptious meal in an intimate setting with your loved one overlooking a beautiful view of the Arabian Sea? Get it all at the luxurious Intercontinental Hotel in Marine Drive for a blissful retreat anytime of the day. With three modern restaurants serving Pan-Asian, North Indian and European cuisine, you'll be booking a spot here for all the special meetings basking in elegant interiors.
When Romance Is In The Air
Imagine a date with bae on a rooftop sky bar with the city's twinkling lights and the sea glimmering with the light of the radiant moon—sounds perfect to celebrate a memorable occasion, right? Dome's cool open-air lounge vibe with premium wines and cigars, paired with your favourite artisanal pizzas, bar bites, handcrafted crepes and grills will impress anyone you want.
I Seek Kebabs
Can't resist the aroma of freshly made kebabs? Neither can we! Enjoy legendary flavours amidst a plush velvety ambiance at Kebab Korner that have been inspired by iconic recipes from the by-lanes of cities across India. We've got our hearts tugged to Makkai Roti Tacos, Classic Tandoori Pomfret Tikka, Kakori and Haleem Kebab. All you vegetarians, fret not! There's signature Baby Kulchas, Subz Nawabi Sheekh and Tulsi Paneer Cubes.
The Long & Short Of Food
Filtered by natural sunlight in the day, this one's our favourite for its healthy yet large sized bites on a brunch date. The menu is elaborate and has plenty of salad bowls to choose from, egg preps in your preferred style, whole wheat pizzas and lots of vegetarian and non-vegetarian mains to choose from for a long and hearty feast. Don't forget to keep a special space for the decadent Trio of Sorbet and gooey Flourless and Sugar Free Chocolate Brownie.
Comments