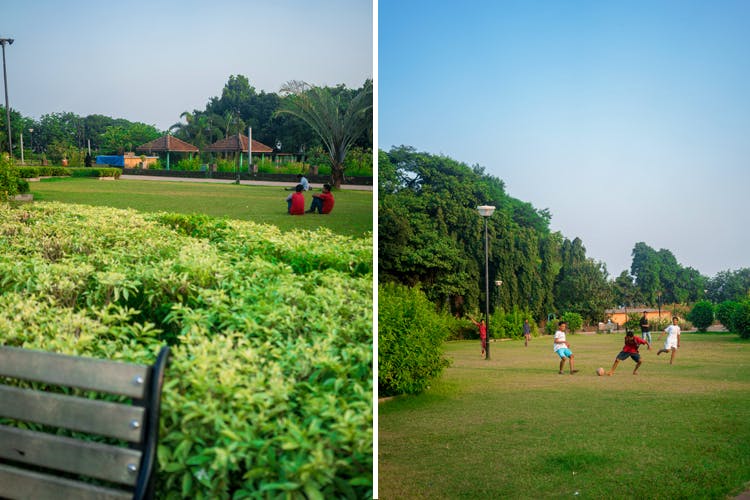 Head To This Beautiful Garden In Mazgaon For A Chill Afternoon
Shortcut
The Joseph Baptista Garden, popularly known as Mazgaon Garden, could be your saviour from noisy tourists and blaring horns. We visited and chanced upon some peace. Here's why you should head there too.
What Is It?
A quaint dock suburb, Mazgaon is laden with churches and bungalows, and doesn't feature on the quintessential Mumbai darshan tours or on the list of noisy weekend tourists. It may be the only place in the city where you can look over a bustling railway station, dockyard and arterial roads minutes after hopping off a train. Approximately one and a half acres in area and spread out on top of the Bhandarwada hill, it's a ten-minute walk and a five-minute climb away from Dockyard Road station on the Harbour line,
The garden was named after freedom fighter Joseph Baptista, it has had many name changes in its over-150-year-old existence. Broadly divided into three parts, the upper portion is the renovated main garden area and is landscaped with patches of green lawns sprinkled throughout. The flora include hibiscus, cycas and bougainvilla among others.
As the garden is located at a considerable height above the ground, one can easily view the harbor. The ships and boats bobbing along with the crests and troughs of the waves, in the Arabian Sea, can be easily seen from the periphery of the garden. From the southern end, one can see the railway lines.
So We're Thinking...
Mazgaon is one of the untouched areas in the city, free of loitering tourists. If you make a face every time you go to Gateway of India, head here instead.
Comments