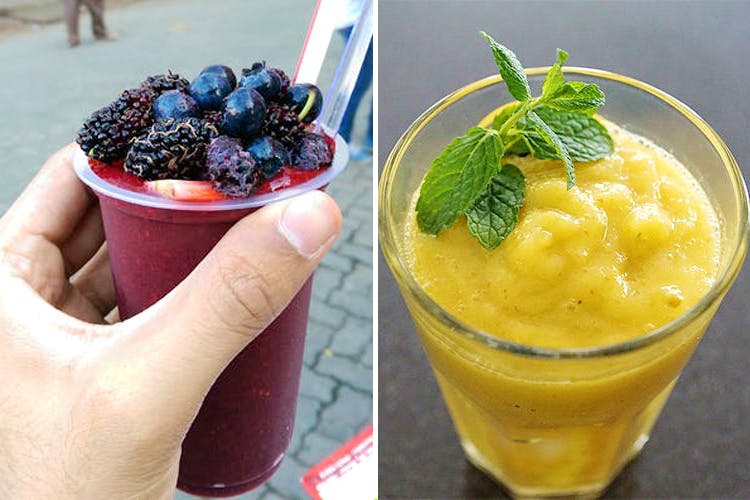 Slurp, Slurp: Cool Yourself Down With A Glass Of Fresh Juice From These Stalls
Summer is here and with it, our ability to lose water at the snap of the finger. Sure, we can always cool ourselves with water, but we need salts and the other nutritional supplements that fresh fruit juices provide. Add to that a spoon full of glucose, and we feel as good as new. Here are some places that rehydrate us and can help get us through the day.
Amar Juice Centre
Originally in Juhu, Amar Juice Centre has branched out to various pockets of the city from Girgaon Chowpatty to Andheri East. While people rave about their pav bhaji, we suggest you try out the fresh fruit juices, particularly watermelon and Ganga Jamuna.
What To Try: Watermelon juice, Ganga-Jamuna, cocktail juice
Hari Om Juice Centre
Another great juice centre to beat the heat is this small thela in Ville Parle that serves up a mean four berry juice. The stall gets exotic fruits from Trikaya, which is the source of all the luscious and essentially flavorful delicacies that are served here.
The four berry juice comprises of strawberries, blueberries, cranberries and mulberries blended together, and will cost you INR 240. They also serve varieties of dragon fruit, passion fruit, avocado, and plum juices.
What To Try: Passion fruit, plum juice and four berries juice
Badshah Cold Drinks
What better way than finish a hot day of shopping at Crawford market than sit and enjoy some fresh fruit juice at Badshah? While people rave about the falooda, we also sampled the mango and strawberry milkshakes – a huge hit, mind you.
What To Try: Nimbu paani, mango juice, mosambi juice, orange juice, carrot juice
Health Juice Centre
For those working at Lower Parel and finishing late, a drive to King's Circle leads you to Health Juice Centre. Don't let the name fool you. The goodies available here are full of calories and delicious, which is why we keep repeating our visit here.
What To Try: Strawberry blossom, orange blossom, strawberry king, kiwi juice
Sardar Refreshments
Originally famous for its pav bhaji, Sardar refreshments also offers a wide array of fresh fruit juices that help you go through a sultry, sweaty and dust-filled day walking on the streets of Mumbai.
What To Try: Mixed fruit juice
Elco Arcade
Celebs still talk of the wonderful chaat they get at Elco on Hill Road, but it's the juices that we fell in love with. The watermelon juice in particular is more refreshing than any we've had in the city.
What To Try: Watermelon juice, Cocktail, Mosambi – Pineapple juice
Comments