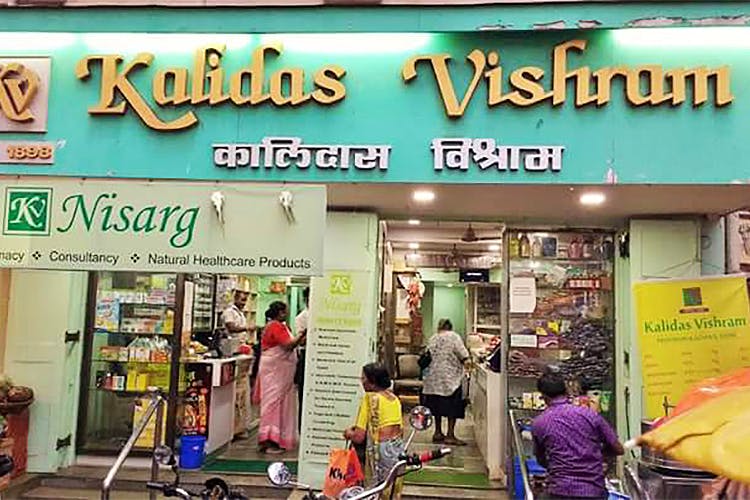 Bandra's Oldest Grocery Store Turns 120 & Here's Why We Still Love It
Shortcut
Mumbai has its fair share of history, but some tidbits are lesser known than others. Kalidas Vishram, Bandra's oldest grocery store, on Bazaar Road is one such place and this year, it turns 120.
What Makes It Awesome
The traffic chaos that one witnesses on Bazaar Road, the stretch parallel to Hill Road Bandra (W) is something that can be a daily diary entry. It is not surprising to see cars, two-wheelers and auto rickshaws swaying away from each other at the last second, while pedestrians dart across the road.
It's quite insane, but, in the middle of this chaos is Kalidas Vishram, a 120-year-old structure that has stood the test of time for over a century. Originally a store that sold grandmother-recommended remedies, the store today is an ayurvedic shop and dispensary on one side, while the other side is a masala and dry fruit store.
While the name still reads grocery store, the owners have discontinued that section as they are unable to meet the demands of the online world and supermarkets. However, both the stores are still thriving in this modern-day madness.
The Ayurvedic store, created thanks to the benefits and need of Ayurveda, sells herbal medicines and is a sort of an Ayurvedic pharmacy. So, if you're looking for an alternate remedy to your aches and pains, you know where to head.
The general store sells cereals, dry fruits, fresh snacks, jams, spreads and so much more. In fact, the only thing they don't sell is your plethora of food grains, cooking oils and soaps.
We met both the owners (great-grandsons who own either side of the store) and they mentioned how the store has passed down three generations and how different the times were back then (it was a provision and general store which then changed track.)
We also had a chat with a long-time regular who mentioned how he'd been coming here for more than 50 years since he was a child and how things worked on credit in those days. His mother, now 90-years-old, still makes it a point to visit this iconic store for her shopping needs.
Pro-Tip
While you're walking along Bazaar Road, do drop in and have a look around the store. Also, speak to the owners Jayesh and Jitesh Thakkar, who quit their regular jobs to manage the store, about its history and you'll be taken back to the days when Bandra was an extension of a village named Bombay.

Comments