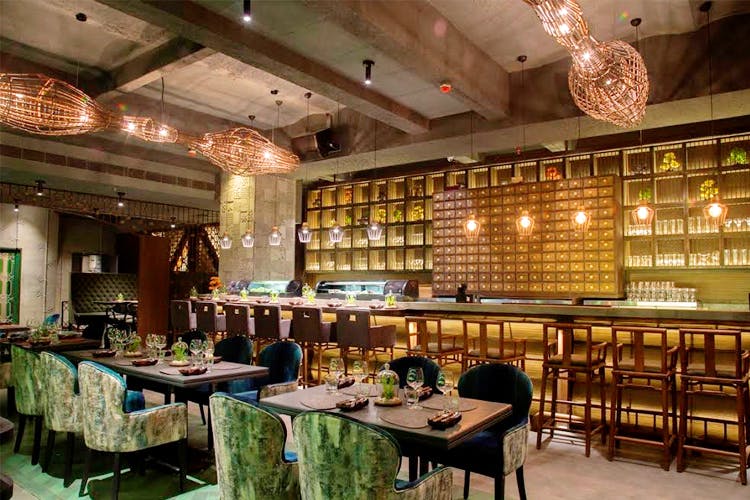 Delivery Available

Wi-Fi Available
There's A New Resto-Bar In Lower Parel That Serves Gluten-Free Food & Potent Drinks
Shortcut
The latest addition to Kamala Mills' eatery arsenal, POH is serving a mindfully-curated menu that serves the needs of a sedentary lifestyle. Yep, you read it right.
Chow Down
Kamala Mill's latest offering, Progressive Oriental House is Wasabi head chef Vikramjeet Roy's child. A quick chat with him, and we discover that he's managed to strike a balance that few have managed to pull off. Taking food science and fusing it with elements to make something that's suited to the modern lifestyle. If you're spending the day in front of a computer, there's no point consuming copious amounts of carbs. That makes sense.
The food served at POH is gluten-free, lacto-fermented not fried. The herbs come from Roy's alma mater, Don Bosco School, produced organically by the students. The stars of the menu served on the launch night were the red Thai curry-infused cakes, mini chicken croissant, steamed chicken tartar, corn tempura and asparagus croissant.
The bar's concept is amusing too. The wall has numerous drawers mounted on it with different ingredients stored in them. If you want to be a part of this roulette, sign up for it by asking your server or bartender. Based on your choice of the drawer, they'll make a drink for you. The concept comes from a Japanese philosophy.
So, We're Saying...
If you want to experience what good, conscious food tastes like, make POH your destination.
Comments
Delivery Available

Wi-Fi Available