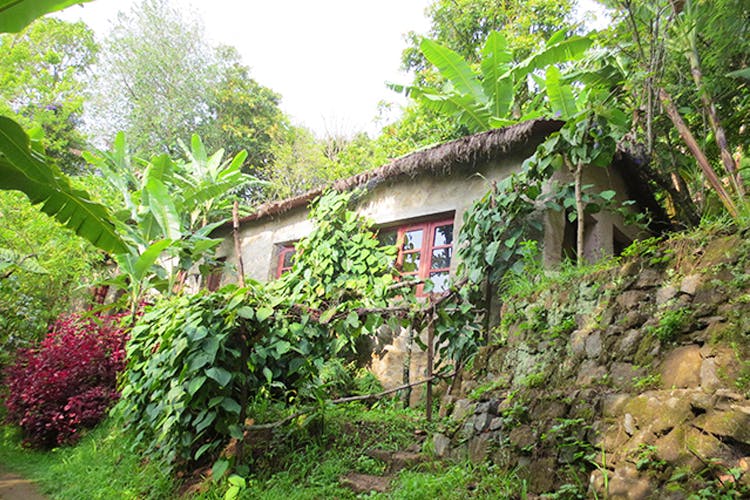 Need A Digital Detox? Stay At This Gorgeous Farm In Kodaikanal For INR 950 A Night
What Is It?
A natural lifestyle experience, as stated on their website – Karuna Farms is for those who'd like to leave their phones behind, forget Instagram and admire a sunset. It's located in a remote location and if birds, animals and greenery is what you look forward to in life, you are bound to have a blast at this place.
The farm stay is an all-vegetarian, rustic establishment that promotes wellness, natural living and peace. If you're looking to party, stay in Lonavala. From dorms to private rooms, you can choose to stay from a range of options. Dinner is included in the cost of stay and the stay options start at INR 950 per person. They have a no alcohol policy and well-behaved dogs are welcome to stay at the premises.
Where Is It?
About 1,400 kms from Mumbai and located in Tamil Nadu, driving down to this hill station may not be an option. Taking a train or a flight is advised.
How Do I Get There?
According to them, don't use Google maps to get there. There are no public roads leading to Karuna Farms since the way goes through the forest department land. Nearest location to the farms is  Prakashapurum which is approximately four kms from Karuna Farms. To get to Kodaikanal, you can take a train or a flight.
What's Unique About It?
It's the perfect location for a digital detox. They seldom have electricity so forget about charging your phone. Also, Kodaikanal is known for its beauty so you'll have sights to keep you busy.
Don't Leave Home Without...
LED torchlight, waterproof clothing and footwear, snacks, candles and towels. It's a basic farm stay, so don't expect anything luxurious.
Comments