The information in this post might be outdated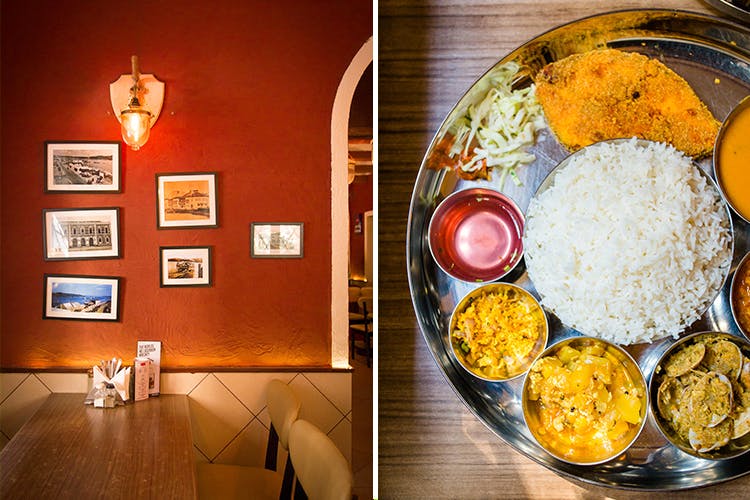 Chow Down On The Fish Thali At Kokni Kanteen In Panjim For Real Goan Feels
Shortcut
Instead of spewing cuss words at your bus driver for a terribly late arrival in Panjim, head to Kokni Kanteen and dive into a fish thali for proper Goan feels.
A Tasty Time-Machine
Somewhere between partying your soul away at Baga and nursing a hangover at Agonda, the true essence of Goan cuisine is lost; but can be found in Kokni Kanteen, a small but bustling restaurant in Panjim. With tasteful décor all around you and a rustic radio softly humming away Konkani songs, the restaurant doubles up as a time machine, promptly teleporting you to a prettier past.
Tucked away opposite the Mahalaxmi temple, Kokni Kanteen is frequented by a fair share of city dwellers and famished tourists alike, with exceptionally friendly staff assisting you warmly.
Chow Down
Their fish thali is likely to make you shamelessly critique each and every thali you've ever devoured in your life. In the dessert section on their menu, Kokni Kanteen incorrectly claims to have Goa's best Ceradura, it's quite possibly the best in the world. A deceptive layer of biscuit crumbs conceal velvet soft pudding in generous quantity beneath it. Don't hesitate to ask for a second helping of the European dish before guilt & embarrassment catch you red-handed.
Sip On
Wash down all that Goan humidity with some in-house cocktails and refreshments bearing fascinating Konkan names; not sure where else you'll end up sipping an orange and lime vodka called Traffik Jaaam. Be sure to also try their delectable range of appetizers at equally pleasing rates.
So, We're Saying...
Heading to Goa soon? Then Kokni Kanteen deserves a pit-stop, a hidden gem discovered only once you reach there.
Price: INR 150
Comments