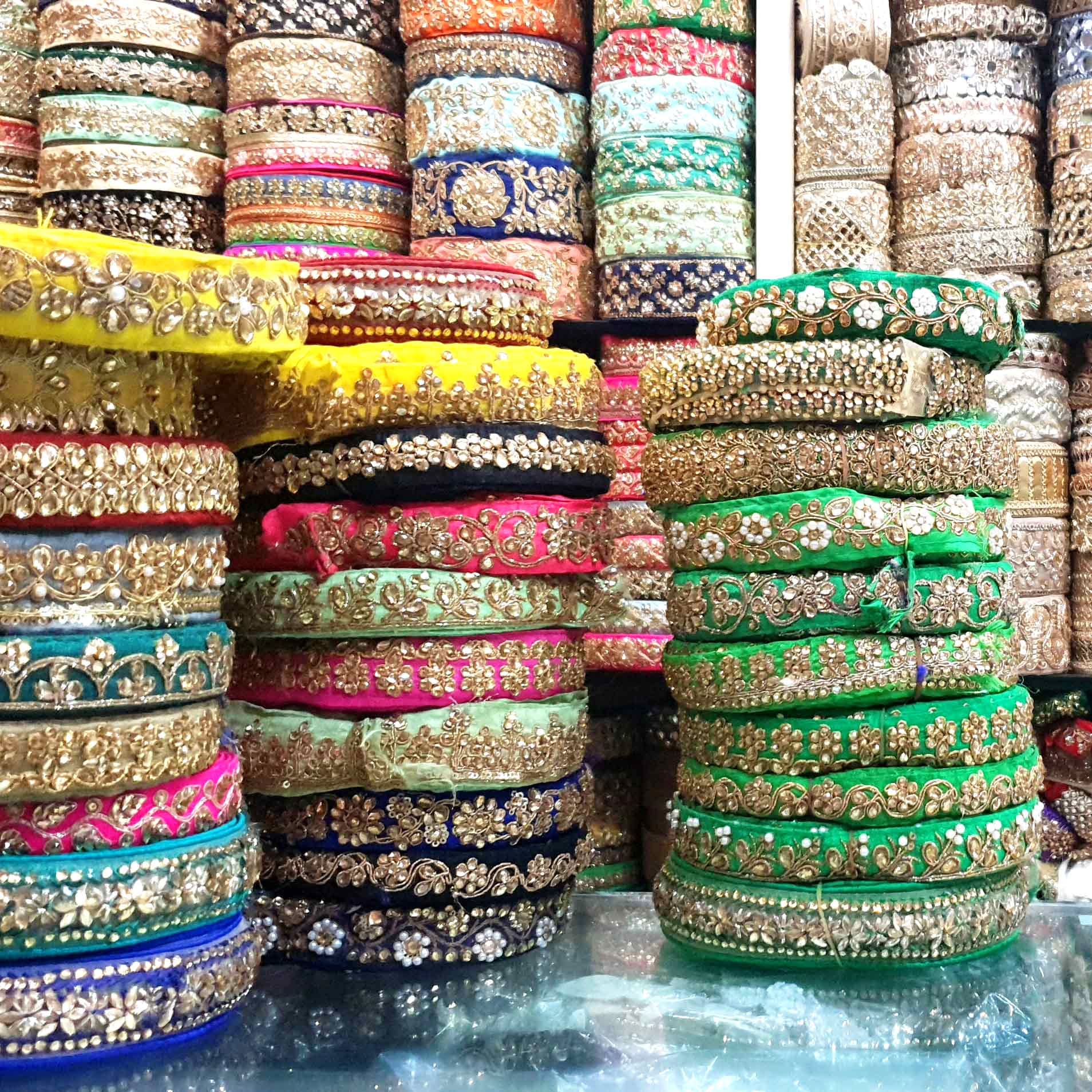 Tassels, Laces Or Buttons: These Shops Inside Andheri's Manish Market Are #DIYGoals
Manish Market is an overflowing cauldron of colours and fabrics for the shopper looking to create their perfect traditional outfit. For this, we checked out the shops that stock up on beautiful laces, gotta, and other details needed for embroidering that one suit or saree.
Ruchi Lace
Ruchi Lace stocks up on heaps and heaps of gold laces, buttons, embroidery laces and more, all at a really affordable cost. They have latkans, and at least 50 types of golden laces in different sizes and shapes. One can easily get their saree border from here, or spice up their dupattas with the gotas lying around the shop.
Price: INR 100 for nine metres (Golden ones), Thick laces for INR 300 per nine metres and INR 50 a pair for the latkans.
Unique Art Gallery
The shopkeeper tells us that he sources his gorgeous laces from Kutch, Gujarat or even Kota in Rajasthan. We found some really quirky and adorable prints here. The thick laces had mirror work done them, along with intricate Rajasthani work perfect for your Punjabi suits that you can get stitched from the scratch. They also had adorable buttons at display.
Price: INR 40 per meter, Thicker ones for INR 750 for an entire bundle.
New Ujala
This one's next to Unique Art Gallery and is worth a stroll inside because of its enticing variety in latkans, and saree borders. We saw regular customers who came laden with their dupattas and tried on different laces till they were satisfied. They had stacks of all types of laces, embroidered, plan, glittery and even with mirror work.
Price: INR 200 per 9 metre (basic lace), Latkans for INR 150 a pair (pearl ones)
Fancy Lace
Fancy Lace is another place to hoard up on your lace obsession. Looking for fancy embroidery to brighten up your cushions perhaps, or bedsheets? Get all sorts of crochet laces here.
Price: INR 80 per meter (or a basic lace)
Saheli Lace
Floral appliques, show buttons, kurta buttons, and laces in zari or zardozi, get it all here at nominal rates. The owners pretty friendly and keeps showing you patterns and varieties unless you're fully satisfied and have found your match.
Price: INR 50 per meter for laces
Shivshakti Designer Collection
This one's quite a huge store inside the market and will enthrall you with its wide variety in zardozi laces and some pretty cotton rolls and bundles in multicolored prints. You'll find mirror work on some laces too, which work wonders in case you're getting a chaniya choli stitched for Navratri and need laces to quirk it up.
Price: INR 75 per meter for laces
Pragati Fancy Lace
This one's a one-stop shop for all kinds of laces. Sating, net, georgette, cotton, chiffon, you name it and they have it. The cute latkans and tassels here make for a good accessory for your blouse too. Or maybe you can use the tassels for a DIY project you have in mind.
Price: INR 100 per meter for laces (This one's slightly expensive)
Balaji Matching
Balaji stocks up on butter crepe, lining for sarees, cut piece materials, as well as a humongous collection of dupattas and laces. They also have an in-house tailor so when you visit the store, come with the saree or lehenga on which you want the lace, or applique. Get it stitched in the shop itself.
Price: INR 80 per meter for laces; INR 150 onward for butter crepe and peticoats
Ashapura
Most lace shops might have a variety that's similar to each other but its always fun to check out stores that stock up on colorful tassels and zaris. Ashapura not only has laces but quirky appliques that you can get stitched on your blouses, tops, tees, or even a denim jacket. Also, the collection here isn't too blingy or gaudy.
Price: INR 150 per meter for laces; INR 350 onward for tassels and appliques.
Comments