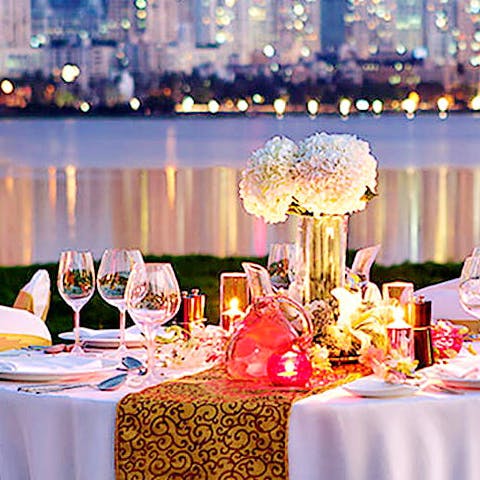 Date Night In Powai? Here's Where You Can Chow Down With A Beautiful Lakeview
Whether you happily live in Powai or have avoided the area for most of your life (mostly due to traffic), you should take advantage of the area's lake once in a while. We've rounded up a list of a few restaurants from where you can see Powai's beautiful skyline and lake.
38 Degree East
One of Powai's newest openings, we love 38 Degree East for its unobstructed view of the water. This lounge is in Pawarwardi, and serves pan-Asian food with an offering of Indian food as well. The service isn't known to be the best, but we suggest going for a drink, a starter, and the ambience.
P.S. - We are loving that they serve berry wine popsicle so you can have your wine and slurp it too.
Rude Lounge
It's Friday night and you feel your feet tapping of their own volition? Take them to Rude Lounge, a rooftop resto-bar on top on a commercial tower in Powai.
Rude Lounge doesn't offer a vast view of the sea, but lets us catch glimpses through Powai's high rises. The food isn't all that highly rated although the ambience is. The menu offers everything from pizza, pasta, sizzlers and Indian main course dishes. There's even a small healthy menu if you're taking a day off.
Fratelli Fresh
This fancy place in Powai can be slightly heavy on your pocket. But, a must try for Italian cuisine lovers. This restaurant is known best for its Italian cuisine which is served with a contemporary twist. If you're more of a brunch person, you might want to plan your date on a Sunday.
Their Sunday brunches bring an assortment of Italian food with fruity Sangria. Be ready to be spoilt for choices here, as there's something for every taste buds. On a diet? They have a range of crisp salads with a variety of dressings available.
Seafood lover? There's enough variety for that too. So we're saying make your date a romantic one by enjoying the scenic view of Powai lake and sipping sparkling wine in this 5-star restaurant located at Renaissance Mumbai Convention Centre Hotel.
However, if you're looking for Indian or Chinese cuisine, under the same roof there's Lake View Café, which offers services at the same price range as the latter.
Skky Restrolounge & Bar
Cool breeze, lush greenery and twinkling stars: what more do we need for a romantic date? This rooftop resto bar, which describes itself as one of Mumbai's first rooftop bars, is another place we say you bookmark for a perfect luxury dining experience. To ensure that you enjoy the splendid view of the skyline, they're open doors only late evening onwards. Serving delicacies of pan-Asian and Middle-Eastern region cuisines, this place is a perfect setting for a romantic evening with your bae.
Comments