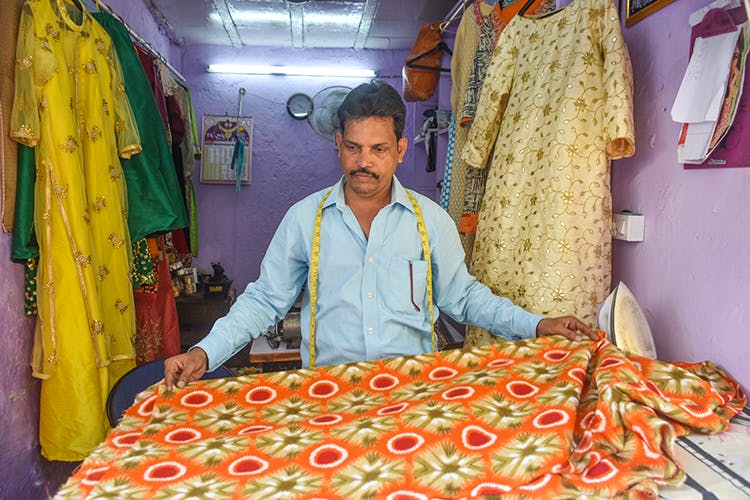 Have An Outfit Emergency? This Tailor In Bandra Will Stitch You A Whole Outfit In One Day
Shortcut
We're sure you've encountered one such situation in life where you got last-minute news about having to attend an event or a wedding and you've panicked about your outfit(s). Sit back and relax...because we found you a super tailor.

What Makes It Awesome
Ladies, shelling out your hard-earned big bucks on readymade ghagras (that you won't wear more than once maybe) may not be the wisest thing to do. So, we stumbled upon Mohammad Tailor of Khan Boutique in Bandra West who will stitch you an outfit in one day. And when we say outfit, we don't mean a plain kurta. From a full salwar kameez set to a ghagra, maxi dresses and saree blouses, everything can be stitched in one day ensuring top notch quality! People we know have personally vouched for the quality of his work and the fittings.
Mr Mohammad charges INR 2,000 to stitch a ghagra if you provide him with the cloth. But, if you want handwork embroidery, it will take upto a week to ready and will cost somewhere around INR 5,000 or above depending on the intricacy of the work you want.
So, if you have a nice georgette cloth or a royal brocade piece, get yourself a kickass ghagra stitched in two hours. Apart from this, he will charge INR 1,200 for salwar suit with lining and INR 900 for salwar suit without lining. Blouses without cups will be stitched for INR 1,000 and with cups will cost you INR 1,500. Also, if you want to get a party gown made, it will cost you around INR 1,200.
Pro-Tip
The next time you have an emergency, just hit up Mohammed Tailor and you can be sure he won't disappoint.
Comments