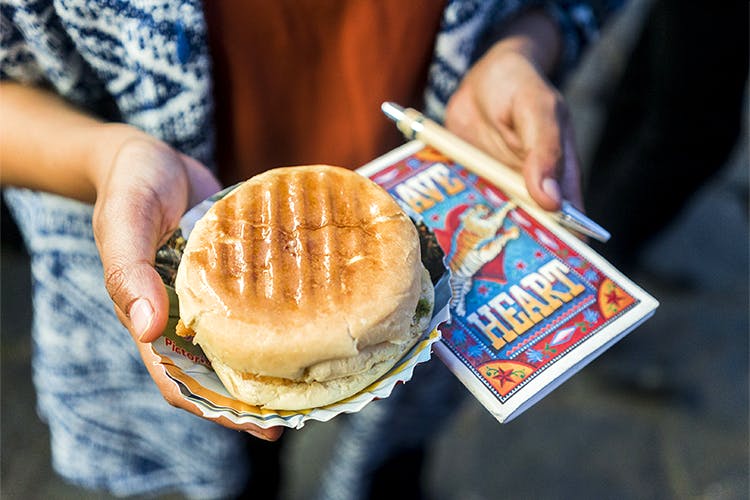 Getting Off At CST? Stop By This Eatery For Delicious Cheese Grilled Vada Pav
Shortcut
We visited Aram's – one of the oldest restaurants in the city to gorge on their cheese grilled vada pav and here's why you should too.
The Legacy Of Taste
Located on the corner of a bustling street just opposite CST station, Aram's is primarily known for its vada pav and Maharashtrian snacking options. Kaustubh Tambe, the owner, sitting happily on the cash counter tells us it was started way back in 1939. The system runs with military efficiency, and the focus is firmly on the food. Every single dish we serve is Maharashtrian and there's no trace of Chinese or pizza on the menu.
Chow Down
The menu is limited but each of the dishes is delicious and pocket friendly. There's poha at INR 35, vada usal pav at INR 45, puri bhaji at INR 75. The star of the show is their grilled cheese vada pav at INR 35. Their vada pav is served with spicy red garlic chutney and green chillies. There isn't any comfortable seating here, as the tables are small. But hey, all you need is a big appetite for Aram's.
So, We're Saying...
Aram's is just one of those places you have to stop by, when you're passing by CST. What joy to look at one of the most beautiful buildings in the city while gorging on tasty food.
Comments