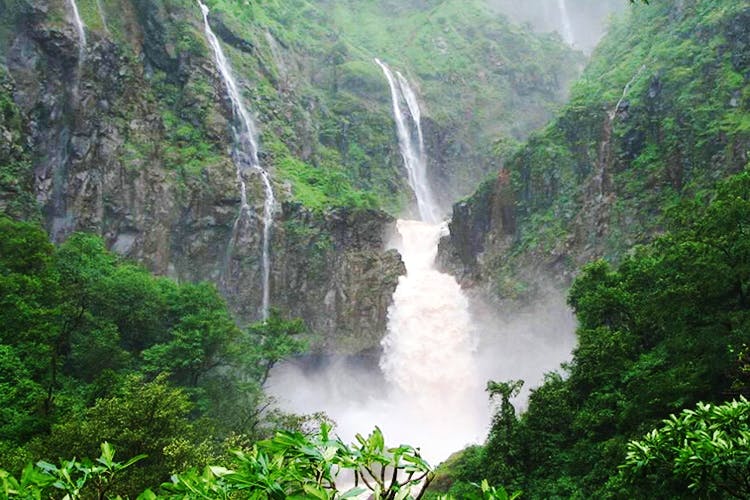 Cameras Out: Visit The Magnificent 600 Feet Seasonal Waterfall Near Mahableshwar
Shortcut
If you're headed to Mahabaleshwar anytime soon, hop on over to Lingmala waterfalls to appreciate the cascading seasonal falls that come to life during the monsoon.
What Makes It Awesome
The Lingmala waterfalls, apart from being a joy to capture on the camera, also make for a fun day out. If you're staying in Mahabaleshwar, then make a quick trip here with your gang.
The waterfall is situated at an altitude of 1,278 metres, and fall from a height of approximately 600 feet. Formed by the river Venna at the base, these falls come crawling down into the valley full of greenery, and are split in two parts: the major waterfall and a mini waterfall. The mini waterfall is suitable for swimming, and photo opportunities (though we highly recommend caution, especially during the monsoon).
The waterfall gets a major tourist traction – and though is a popular spot – is not always crowded. These majestic waterfalls (the big and the mini one) make for a picturesque vacation.
Popular For: Nature & adventure, picnic spot, trekking, waterfalls.
How To Get There: The waterfalls is located approximately 6 kms from Mahabaleshwar. We'd say the best way to get there is to drive it up to Mahabaleshwar via the Mumbai-Pune highway.
Best Time To Visit: Between July to December
Entry Charges: INR 10
Pro-Tip
Proper water-proof clothing is advisable, and be wary of the current of the water during the rains. It's a lovely spot to spend some quiet time in – just listening to the gurgling and gushing waves of the falls and immersing yourself in nature.
Comments