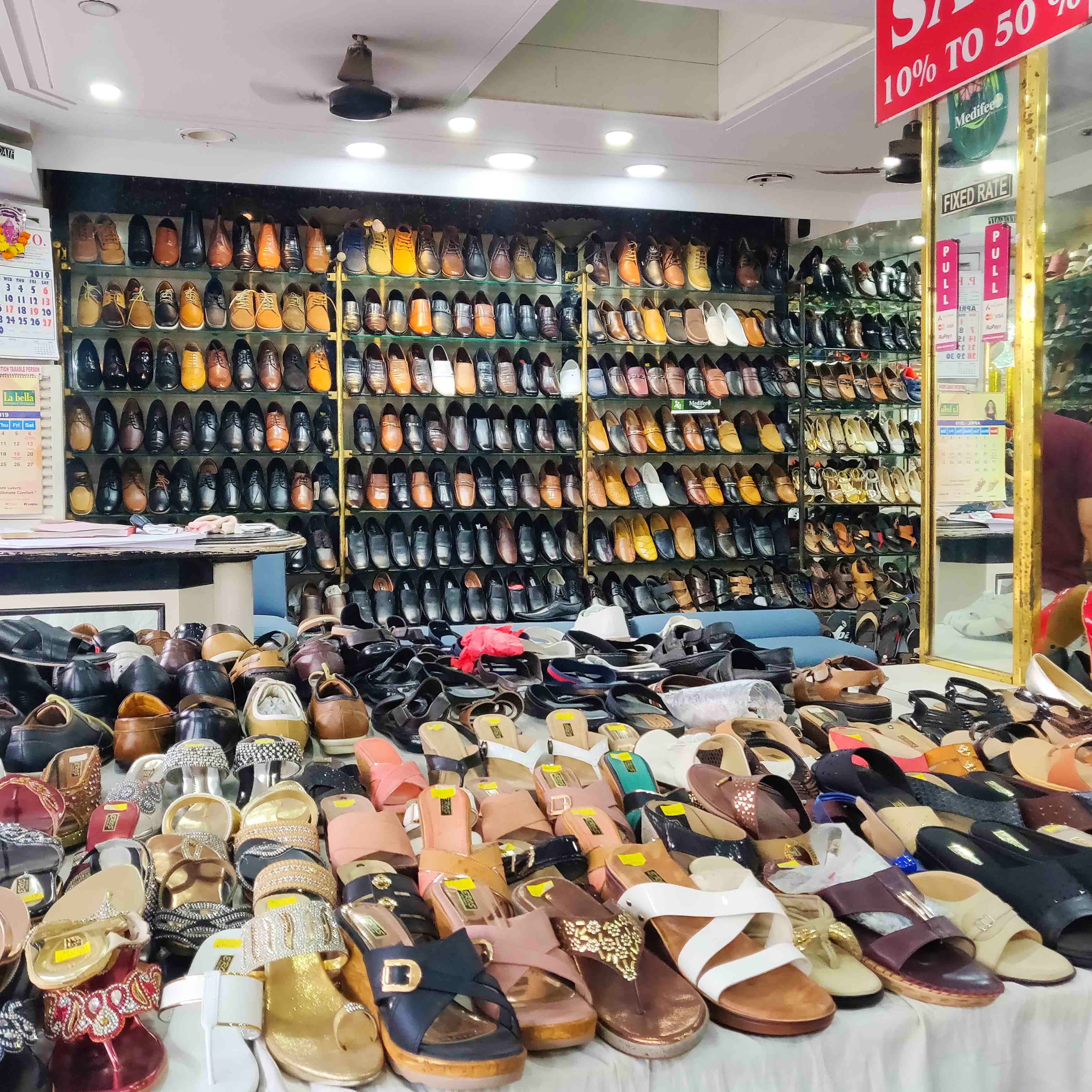 Get Local: Five Shoe Stores To Support In Grant Road
With the explosion of brand stores and chains, it's tough to find an independent shoe store these days. While exploring Grant Road, we came across these locally-owned stores that offered shoes at competitive prices. So what are you waiting for? Let's get shopping!
Patel Shoes
Patel shoes is a local shoe store that has been in business for over 20 years. The store stocks their own brand of shoes that are made in Mumbai, as well as branded men's shoes, and shoes for kids. We tried on their selection of sandals and heels, and found them to be comfortable and wearable for both occasion and daily wear. From sparkly sandals bedazzled with rhinestones to smart leather loafers for men, there's something here for everyone. We found sandals at INR 650 and men's shoes from INR 1,000 though prices vary according to the brand.
Shoe Zone
Shoe Zone has a wide selection of footwear for men and women at budget-friendly prices. We tried on a wide selection of footwear here, and while most of the options for women are on the more shiny side, they do have a few daily-wear options too. Prices start as low as INR 300 for both men and women. You can get a pair of party wear shoes here for as low as 450! How great is that.
Coronation
The nostalgia is real at this one, guys. The store has been in operation for over 60 years and stocks a selection of Indian brands in the mid-range price bracket. Daily wear, office wear, sports shoes, lace-up boots, and pretty ethnic options are all available here. We especially loved a pair of colourful leather jutis with thread embroidery on white leather. We tried them on too, and they were super comfy!
Shoe Bazaar
Shoe Bazaar looks small from the outside, however this store is pretty large and well stocked with different types of footwear for all your needs. They were on sale when we visited, and the prices were even better with a pair of sandals available at under INR 750. They sell branded shoes too at MRP here. If you're on the lookout for occasion wear shoes, you'll get a decked out pair for INR 1,200 from their fresh stock. Summer sandals, wedding bling, casual wear, kid's shoes, men's shoes, formal shoes and even sports shoes, this store had it all!
Eros Footwear
The last store on our list, Eros footwear is another of those old-school shoe shops we probably visited as kids. The store has a wide collection of shoes at reasonable price points. Shoes for women start at INR 895 upwards while gents shoes start at around INR 1,000 upwards. They have shoes from their own brand Eros plus branded options in the men's section. We especially loved a pair of floral print shoes with pretty embroidery and sequins at INR 1,295.
#LBBTip: They offered us a 10 percent discount on the marked rate here
So we're saying why not give these local shoe shops a try if you're in the neighborhood? Prices are competitive and we found the sales staff to be courteous and helpful at each of these store. Chances are you'll get exactly what you need in under INR 1,000.
Comments