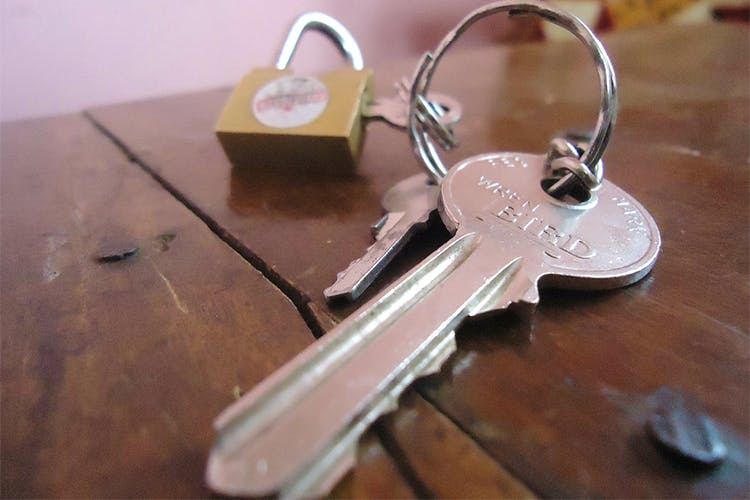 Locked Out Alone? Call Up These 24-Hour Locksmiths In Mumbai For Help
Ever been locked out of your house post a night of heavy partying or drinking? Or just carelessly forgot your keys in that OTHER bag that you very rarely use? Because, been there, done that. If you, like us, have often been stuck, standing outside the door experiencing mild panic attacks, hold your horses and dial up these saviors. Bookmark these 24-hour locksmiths across Mumbai right away!
SS Key Maker
Sheikh aka SS Key Maker works out of Andheri East offering 24-hour services across Mumbai. In his own words "from Churchgate to Dahisar", Sheikh will render his services to anyone in need- no matter what the time, he is quite the hero we need and deserve. Just give him a call, explain the situation so he comes ready with the gear and tools.
Price: INR 600 upwards for unlocking the door
Dial Up: 9821755146
Pro-Tip: Keep in mind, the further you're away from Andheri East, the more the charges.
Taj Key Maker
Based out of Mulund, this locksmith offers his 24-hour service across Mumbai. From changing a lock, to making a duplicate key at odd or even hours – he'll be there. His morning charges are less than the night charges, so do keep in mind the night charges may see a surge in the price.
Price: INR 250 upwards
Dial Up: 9152225364
Vicky Key Maker
Vicky works from his shop in Bandra West. He tells us his services are often demanded post midnight and we are not surprised at all. Since he is based out Bandra, he will only cater to people living between Bandra and Santracruz 24×7.
Price: INR 450 upwards (depending on the nature of the work)
Dial Up: 9152487942
Javed Key Master
With his tiny shop at Pali Hill on Bandra West, Javed is truly the key master, as goes the name of his shop. The shop is generally open from 10 AM to 10 PM but we've been told he does offer his services around the clock. He'll come to your rescue as and when you need. However, he tells us that he works only from Dadar to Bandra. So if you're locked out or have lost your treasured key, Javed is a call away. Let me him know the issue on the phone itself so he comes bearing with the right tools.
Price: INR 350 is the average cost of his service, however a standard key duplication will cost you INR 50 upwards
Dial Up: 9820683540
Orlem Key Maker
A handy key maker for Malad resident, Orlem offers its services 24*7 in Malad only. If there's some situation nearby Malad in the mornings, he may take up the offer, however, we've been told his services are specifically for Malad. The services include key duplication, lock change/re installation and charges are dependent on the size and nature of the work.
Price: INR 500 upwards (dependent on the nature/scale of the work)
Dial Up: 02238515424
#LBBTip
We advise to keep loose cash, as they don't take cards. Also as a heads up, the prices may vary according to the area and the nature of work.
Comments