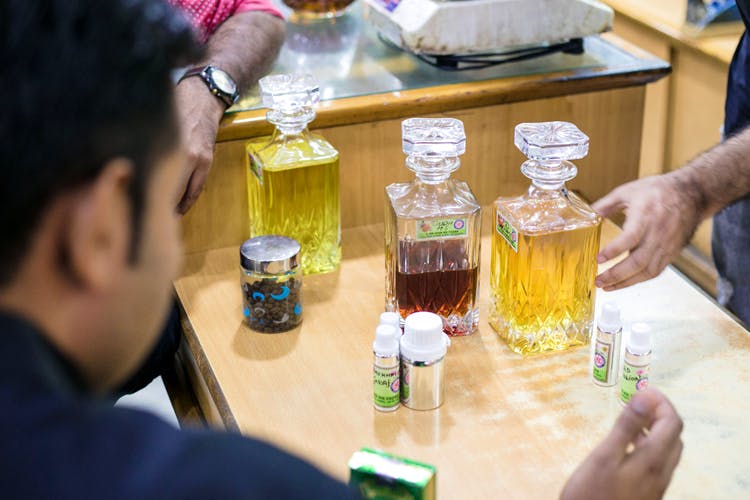 You Can Buy Rain In A Bottle At This Hidden Store In The City
Shortcut
S MD Ayub MD Yaqub is the (difficult to remember) name of a shop on Muhammad Ali Road which sells natural, unique perfumes – also known as ittar. Their repertoire includes some of the most unique smells we've ever had the olfactory pleasure of experiencing. Here are five of our favourites.
Attar Gills
Remember how the ground smells after a rain shower? Of course, you do – but once the rains are over, take solace in the fact that it's available in a bottle.
Made after cooking clay for days, the scent is fused with a base oil inside something called a 'deg bhabka' (a life-sized model with two pots used to make attar). Apparently, it's supposed to be worn to invite the monsoons. We're not sure about that but we'll definitely wear it for that amazing nostalgia-inducing aroma.
A 12 ML bottle will cost you INR 300.
Shamama
A Shamama is a concoction of spices like pepper, clove and cinnamon. The shamama is available in various mixes with herbs. You could probably use it to spice things up? Just saying.
Gul Henna
This one would work for people who like the smell of henna. We chose this just to see if it was possible to make henna smell amazing. Apparently, it is.
A 12 ML bottle will cost you INR 300.
Zaffran
We add it in food, we add it in anti-ageing creams and now it's also a perfume. Presenting kesar ittar.
Oudh
Extracted from the bark of Agarwood, a tree grown in Assam, Oudh is known to have a very strong smell but its true scent emanates when it adjusts to one's body temperature.
Pro-Tip
They also sell bath oils like orange and lavender, which we think will be awesome to use in those luxurious bubble baths. We also spotted a white musk cream which is recommended for facials.
Price: Starts from INR 200 for a Tola (11.3g)
While they have an exquisite range of glass bottles, we recommend the leather bottles that actually enhance the quality of the perfume. They start from INR 300, which we think is a steal.

Comments