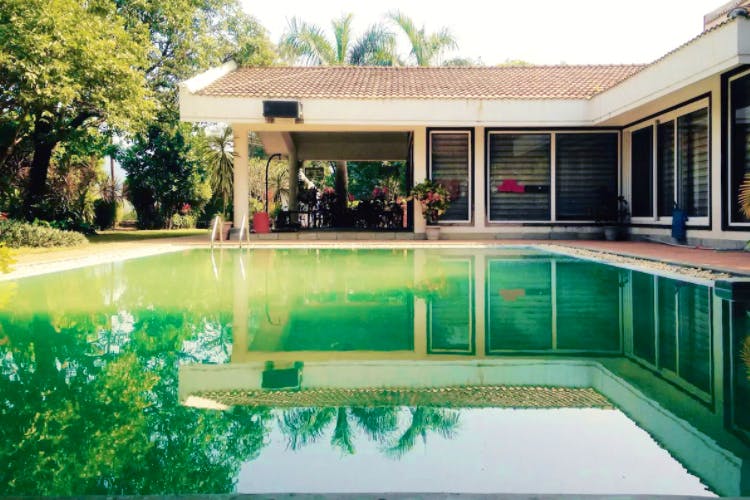 Beat The Heat & Escape To This Villa That Has A Private Pool
What Is It?
The Z Villa is a high-end luxury villa spread across 55,000 sq ft of land. Nestled amidst lush greenery, the villa has 5 huge bedrooms and can accommodate up to 10 guests. The tariff per night is around INR 40,000. The villa is surrounded by a scenic landscape and gorgeous gardens. It's is perfect for large groups who want to escape into the wilderness and have fun!
How Do I Get There?
The Z Villa is located about 57 kilometres away from Mumbai. It's an easy drive through Bengaluru Mumbai Highway and will take you about 1 hour and 30 minutes to reach. If by any change you find any obstruction on this route, you can also take the NH48, but that will take around two hours to reach there.
What's So Unique About It?
Apart from being surrounded by trees and plants, the villa has ultra-modern and luxurious interiors. The five bedrooms along with their baths are very spacious. The villa is also surrounded by a huge garden which has plenty of space for outdoor games etc.
Along with that, the villa has a huge private pool in the open from where you can enjoy the sunset. They also have a hot tub where you can destress…away from your hectic life in the city. They have multiple areas in the lawn with outdoor seating where you can curl up with a book or dine under the stars.
So, We're Saying...
If you have a large group of friends and looking for a luxurious weekend away, this should be your go-to place. It will cost about INR 4,000 per person and looking at the property, it's a steal deal. So, book your stay now!
Comments