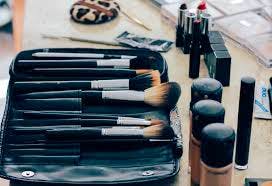 Glam Up: Here's A List Of Make-up Artists To Get You Party Ready
If you're prepping for that big party or are a bride-to-be, we totes get your need to have those brows on fleek. You better make an appointment with those makeup artists before all of them are booked! But if you're worried about burning a hole in your pocket, don't fret. We're here to point you in the right direction. Check out these super suave makeup artists in Mumbai that are all within a variety of price points. Weddings, shoots or events, you know where to go when in need.
Tejaswini Shetty
From simple and elegant party looks to glammed up dolls on the runway, Tejaswini has a look in mind for everybody! She has some fabulous projects to her name, and we love the fact that we don't have to break our bank accounts to get an appointment with her.
Starts at - INR 3,500 for basic party looks and INR 12,000 for weddings
Pooja Dhakan
From shoots with sports celebrities to weddings and parties, Pooja is a freelance MUA who has some extremely glamorous looks planned for you. We love her for the fact that she creatively experiments with so many diverse looks.
Starts at - INR 6,000 for a party look, INR 20,000 for weddings, INR 16,000 for engagements and sangeets
Areej
If you're looking for a makeup artist for shoots, events, weddings or even classes, reach out to Areej right away. She's doing a fabulous job with the makeup looks, and we are totally digging that smokey-eye she's perfected.
Starts at - INR 8,000 upto INR 22,000
Nandini Advani
She's an award-winning makeup artist and offers a whole bunch of makeup looks and makeovers to women across all ages. Also, totally great for special occasions! Her bridal looks are quite the rage.
Starts at- INR 12,000 for basic party looks and INR 25,000 for bridal services
Sonam Vaghani
She's a hit with the celebrities and offers some wonderful bridal make up looks for those on a budget. We love how she can transform our simple day look and make us look like divas with her talent. Check out her Instagram to see what we're talking about
Starts at - INR 15,000 for basic party looks and INR 20,000 for bridal services
Naina Tahilramani
Ultra-glam and uber chic, her looks are perfect for those who're looking for a complete make-over or even a wedding look. Check out her Instagram to see some of the jaw-dropping makeovers-
Starts at- INR 15, 000 for bridal makeup
Shalvi Khanna
She's got a whole bunch of fabulous shoots in her kitty, and we love the simplicity of the looks that she creates. If you've got a shoot or event in mind, get in touch with her already!
Starts at - INR 15,000 for events and bridal
Ask Protima a question