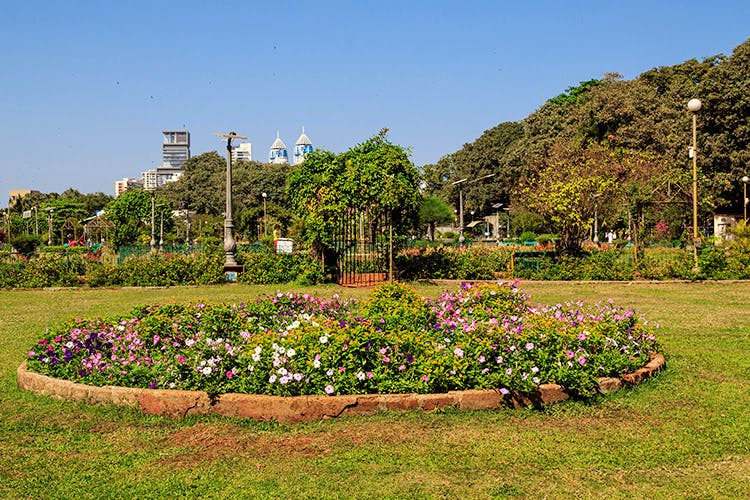 Freshwater Tank Or Terraced Gardens: Things You'll Only Find In Malabar Hills
Malabar Hill, in our opinion, is Mumbai's heritage. It's timeless armour, the aura around it is centuries old; of a time that's stood still and is preserved so perfectly, you feel you need to seek permission to just enter it. But hey, that's the beauty of this city - to always discover something awesome, be it old or new.
Here are some places that you just won't find anywhere else, but Malabar Hills.
Kamala Nehru Park
Recently revamped, this iconic park will always be a part of Mumbai's history, with the famous 'Old Woman's Shoe' being its limelight. We visited one busy weekday, at noon, and were pleasantly surprised to see schoolkids of all ages having a picnic in the park.
While strolling around and admiring the expanse of greenery and foliage in the summers, we finally reached, what we thought, was the perfect view – the Queen's Necklace in all its glory, Chowpatty beach and the Arabian Sea, all together in one frame that defined the city of Bombay.

Banganga Tank
In the midst of the concrete jungle and high-rise luxury apartments in Mumbai's iconic Malabar Hills lies a piece of history in the form of the Banganga Tank.
This freshwater tank, along with the Walkeshwar temple was built in 1127 AD. Calm, peaceful and the air thick with the smell of the sea, the tank can be reached by walking down one of the many by-lanes from the main road. We took it upon ourselves to find a shortcut (which we did – it's very close to the Governor's bungalow).
What you see is a rectangular tank surrounded by steps on all four sides and its banks surrounded by smaller temples and houses, you'll find yourself surrounded by people chanting and following their daily religious rituals. If you're into the history of Bombay, this is a great place to begin.
Raj Bhavan
The Governor's estate is probably the poshest official address in the city, and with 46 acres of land and heritage buildings on it, we expect nothing else. Partially open to the public, we got a chance to see the sunrise from their famous Sunrise Point. Needless to say, the experience was beyond satisfying, with a view that's parallel to none.
There are about 10 heritage buildings in the estate, with most of them being state guesthouses and what surprised us what that there was even a British-era bunker right in there. As soon as we entered, we also saw a sign that read 'Drive Slowly. Peacocks on the road'. Yes, there were peacocks, and yes, the estate is managed beautifully with lush lawns, well-maintained structures and even pathways that are trimmed daily.
There's a lot of history behind it, and we'll save that for another day and another story. But for now, we can't recommend the place enough.
Entry ticket per person:

₹ 25
Hanging Gardens
The terraced gardens in Mumbai's Malabar Hill are known for the varieties of flowers and other flora on display. Built in 1880 and revamped in 1920, the gardens were made in the memory of barrister Pherozeshah Mehta, and are also officially called Pherozeshah Mehta Garden.
A source of constant solace, this park is always packed in the evenings and holidays but is so well maintained, that you'd actually want to make that journey. So many romances have started in this garden; there's something that makes you want to head there once you've had your fill the first time. While you're there, also step across to visit Kamala Nehru park, that has a charm of its own.
Priyadarshini Park
Honestly one of the prettiest parks that this city has to offer, Priyadarshini Park or PDP for us loyalists, has so much to offer. From tennis courts to a jogging or running track, a garden and again, a spectacular view of the sea; it has a way of calming you down faster than you can say 'peace'.
What's really crazy is that right outside, there's a busy street that's noisy and chaotic, but the minute you enter, you've left it all behind you. It's also pet-friendly, so your furry babies can always be by your side. There are benches around the place, so you have enough time to enjoy everything it has to offer. There's no entry fee, so stay as long as you like!
Comments