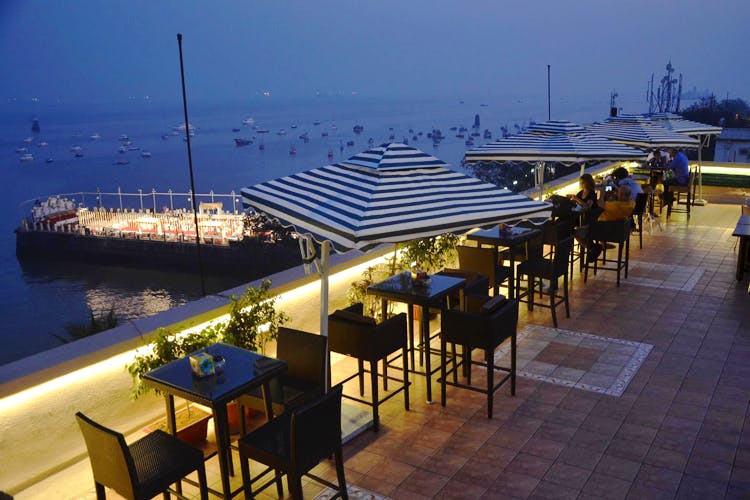 Head To The Marina Upper Deck In Colaba To Enjoy Drinks With A Stunning Sea View
Shortcut
The Marina Upper Deck remains one of our favourite rooftop cafes with a wondrous view of the sea, especially when the rain comes pouring down.
Can You Sea It?
In the street of art deco buildings that line up Colaba after Gateway of India, is one of our all-time favourite buildings, the white-and-pink Sea Palace Hotel. This old building houses a lovely rooftop café, The Marina Upper Deck which gives a panoramic view of the Arabian Sea and offers good food too.
For starters, get everything from the usual suspects – paneer tikka, galouti kebabs, tandoori chicken, calamari fish, garlic bread, bombay masala french fries and more. They've got continental as well as Asian food up for grabs as well.
Most people enjoy digging into a plate of pasta or grabbing a slice of pizza while taking in lungfuls of sea breeze. Sea salt on the house.
The food is on the higher end of the rainbow, with mains starting at INR 350, and cocktils starting at INR 500. A pint of beer will set you back by INR 290, and that's if you're being prudent with your choice – but what you are paying for is definitely the vista.
So, We're Saying...
With a striped umbrella crowning over each table, fairy lights in glass bottles and a view of boats dotting the sea, we think you should go back to Marina before the rains end.
#LBBTip
#LBBTip: Make a reservation before going there as like you, everyone has their eye on the first few tables closest to the sea.
Comments