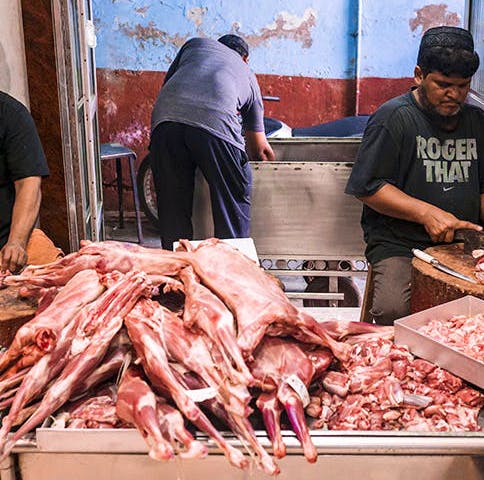 If You're A Meat Lover, Our Guide To Meat Shopping In This City Is Specially For You
Love your meat soft and fresh? We've got your back. The next time yo go meat shopping, keep this list handy. And when you make that Mutton Rogan Josh, or some mutton stew at home, don't forget to share the photos with us!
Mount Mary Cold Storage
Mount Mary is different from other local butchers. Nothing here is shrink-wrapped. They always seem to stock the largest and tastiest chops, ribs, hams, shoulders and bellies in town. The only caveat, for the best cuts you need to get there first thing in the morning, before the Goan aunties pick out all the good stuff.
A Saluti
A Saluti in Pali Naka (previously known as Santé) is still the best place to pick up exotic and cured meat from all over Europe. Sure, the Foodhalls of the world are a tad cheaper, but Santé wins with its variety and the freshness. If you're looking to indulge yourself in some great pancetta, jamon or Kiwi lamb chops, this is the place to sniff out.
#LBBTip: They also help you put together some great DIY sandwiches at the deli counter.
Modern Mutton Shop
At Modern, every visit begins with a wait in the line. The ustaad then carefully handpicks a carcass and cuts off a joint, especially for you (there's no curry cut rubbish here, unless he can sense you're a mutton amateur). He then politely inquires if you'll need some additional pieces of nalli or charbi, before passing on the joint to his row of assistants who break down the joint into botis ready to packed into freezer ready parcels.
Also available is everything, from bheja to paya, to gurda-kapura to even siri, that too on demand. They've even started making some great ready-to-fry seekhs and shammis for your next dinner party. The only catch with Modern is that they're about 20 per cent pricier than the average Mumbai butcher.
Gulmohar Mutton Shop
Gulmohar is still one of the few old school butchers in the area. Here, you're dealing directly with the ustaad. While this ensures freshness of meat, it does not in anyway ensure availability of a particular joint on demand. If he's run out of raan, you'll have to wait till the next batch. But if you have the time on hand and can wait, we promise that it makes for a much tastier biryani.
Joseph at Pali Naka
Joseph is still the best and freshest source of buff, aka undercut, in the area. Also, they're one of few cold storages around Mumbai that still stock authentic, handmade (not the shrink-wrapped factory kind) rosary bead-like necklaces of Goan choriz. Mouth watering already?
Meghna Agro
If you can't make it to the early morning rush at Chapel Street, Meghna Agro is your next best bet for some great pork chops or whole chickens for roasting. They're just the right size, perfectly fatty and easiest thing to order in, when you want to prepare a simple yet meaty Sunday supper.
Poonam And Sangeetha Fish Stall
Ask any serious maachh eater in the area where they buy their fish from and they'll all mention these two sisters. Popular with everyone from homesick Bengalis to local restaurants, this stall knows how to procure and butcher every kind of fish under the sun-and they charge almost half the prices of a Pescafresh or Cambay.
The best day for a visit is Saturdays as that's when they stock a larger catch. Our recommendations-their alive and kicking mud crabs, the always fresh galda/freshwater chingri, and their perfectly-sized Red Snappers (great for grilling or roasting whole.)
Ask Auroni a question