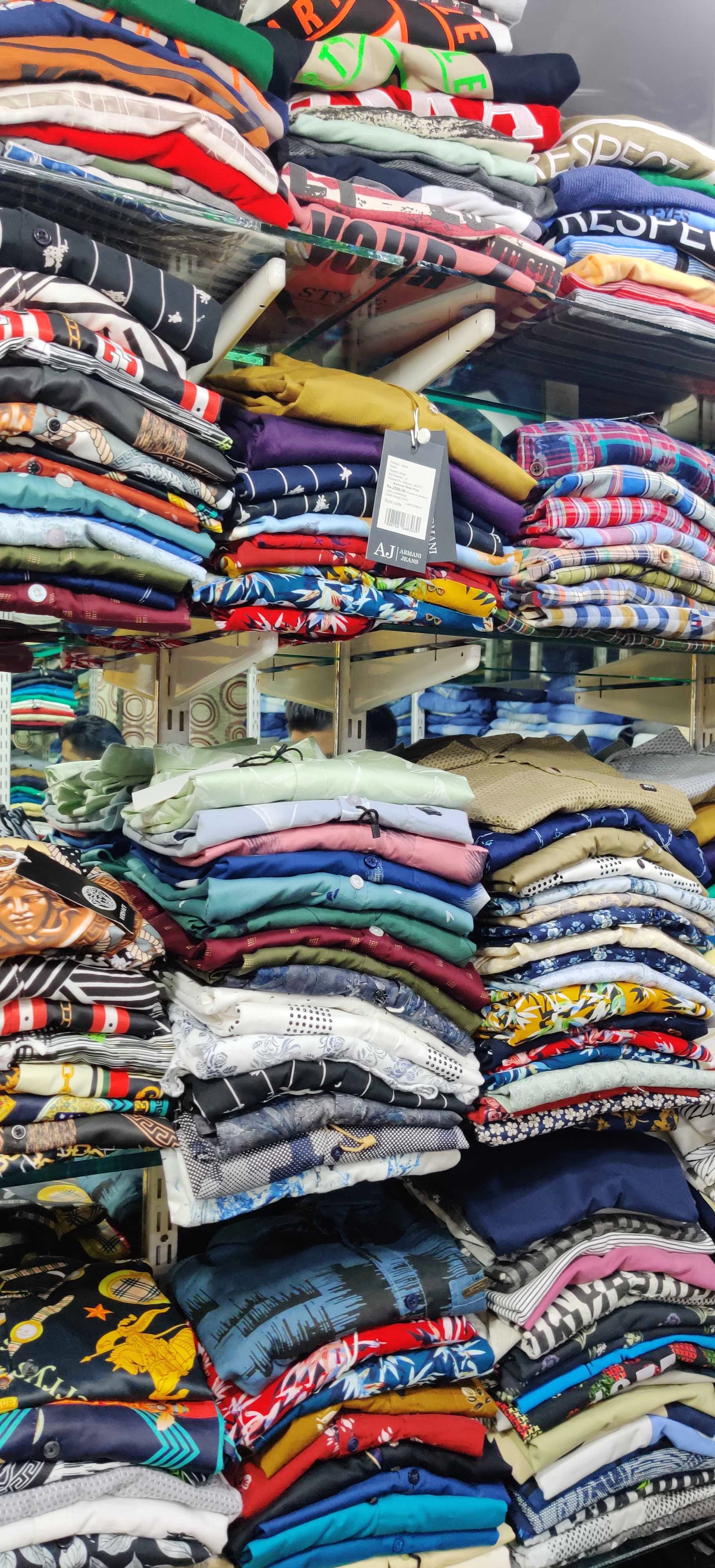 Men, We've Made You A Shopping Guide To Citi Centre In Goregaon
Touted as Goregaon's first mall, Citi Centre is a foolproof spot to shop for formals, casuals and all the in-betweens. Here's a roundup of the stores you've got to visit if you're a dude, or shopping for dudes. Read on.
Citi Guy
If there's one store you've gotta visit for replenishing your personal collection of casual wear, it's this one. With an amiable range of kurta shirts, simple cotton shirts and printed ones as well, this store is a safe bet if you're pressed for time.
The kurta shirts will cost you INR 1,000 and up. They've got formals as well, and the range for basic formals shirts will cost you between INR 700 - INR 2,000. The trousers will cost you INR 999 and up. They're happy to alter your new clothes for you.
Fun fact? The store's been around for 23 years!
Studio '89
Strictly for casual wear, Studio '89 is a newer store and has casuals that'll take you through breakfast dates, trips to the mall, and/or outfits for casual house parties. The t-shirts start at INR 550. They've got belts, too, and those start at INR 450. The range of denims will cost you INR 900 - INR 1300, while the basic round-neck t-shirts will cost you all of INR 350.
RKS Collection
A distributor of the brand LA SEVEN, this is a newer store that's been offering massive inaugural discounts. When we visited, they had 50% off on many parts of the range. The range of caps will cost you INR 150 and up, while the casual shirts (printed and plain) will cost you anything between INR 1,399 - INR 1,799.
The basic t-shirts are at an economical INR 300 onwards, while the denims start at INR 900, which is quite easy on the pocket. Head here for a quick glance through a great selection of the best of LA SEVEN's range.
Lovely-NX
While this store's name is, ahem, counter-intuitive, they've been around for over 22 years, and that merits a mention! They've got something for all tastes, and the range, while not too adventurous, is definitely easy to shop and totally non-intimidating.
The range of denims starts at INR 1,000, and the range of formal pants starts at INR 850. Need clubwear? They've got a simple yet well-made range that will cost you INR 900 and up.
Basic t-shirts are for INR 400 and up, and the range for casual shirts is in the same ballpark. They've got socks and briefs, too, and those will cost your INR 99 and up.
Fashion Hut
Before investing in premium belts, watches, cufflinks and perfumes, we suggest trying non-branded and homegrown brands' offerings, and figuring out what your style is. Fashion Hut will sort you out for belts (INR 400 onwards), non-alcoholic perfumes (INR 100 - INR 400) and watches (INR 400 approx). Should you ever need glasses that aren't corrective, those are available here, and will cost you INR 300 onwards. They've also got a cool range .,of sunglasses, starting at a pocket-friendly INR 600.
Supreme
No, this isn't an outlet of the Instagram-famous NYC-born skateboarding label - but a namesake small business that's got cool casuals that you can shop at without worrying about burning a hole into that bank balance. Head to this newly opened store to add easy casuals and stay-at-home ensembles to your wardrobe. The t-shirts are priced at INR 300 and up, the jeans are at INR 800 and up, and they've got cool satin shirts that would work as clubwear too... Starting at INR 450, and going up to INR 1,100.
Faith
An older player within Citi Centre, Faith's been around a solid decade, and even when we visited on a Wednesday afternoon, this store was filled with shoppers. The pricing here lies on the steeper end of the spectrum - shirts start at INR 1,000 and and the trousers start at INR 1500. Faith's got casuals, formals, loungewear, cottons and printed pants and shirts too. The range of denims will also cost you INR 1500 and up.
Rockstar
One of the swankier shops at Citi Centre, Rockstar's a store that's for the guy who likes to REALLY dress it up - We're talking jeans with chainlink belts and satin shirts with slits and interesting cuts. The t-shirts start at INR 100, the shirts start at INR 1500, and the jeans start at INR 1200, and we also spotted funky sunglasses that costed around INR 500. We also spotted bejewelled caps and jackets!
Hi Life
One of the few shops that stocks branded apparel, the t-shirts at Hi-Life will cost you INR 600 and up, the jeans will cost you INR 1800 and up, and the shirts will cost you INR 1,200 and up. The USP, though, is the fact that Hi Life has inclusive sizes up till 7XL, which is rare even in larger stores! The plus size range starts at INR 1200, and it's quite extensive - you'll be spoilt for choice.
Badshah
Badshah's got formals and casuals, both. The casuals will cost you INR 450 and up, while the formals cost INR 900 and up. What we loved about the store, though were the bejewelled jackets on display - they'll cost you INR 1100 and up. They've also got cool clubwear shoes, which start at INR 1000. Pick up a pair for Saturday sojourns to the mall, or for a night out!
Devil 99 Angel
Not gonna lie, we giggled at the name of the store. But we wouldn't expect a name any less, er, off-the-beaten-path for this store - They stock some really convincing knockoffs of super-premium designer labels that are actually pretty wearable and of course, super cost-effective. This casuals-only shop's range starts at INR 300 for caps, belts and cufflinks and goes upto INR 1,500 for jeans, trousers and jackets.
69 Illegal
This cheekily named store also has easygoing casuals. Super pocket friendly, the range starts at INR 350 for printed t-shirts, INR 500 and up for shirts, and INR 900 for jeans. They, too, had cool PU Leather jackets on display, starting at INR 1,100. Drop by and skim through for funky jeans with cool patches inspired by pop artists! When was the last time you wore an outfit that doubled up as a conversation starter?
Stop And Select
If you decide to follow the directives of the shop name, you'll find a huge range of blazers (INR 5,500 and up), t-shirts (INR 500 and up), shirts (INR 700 and up), and jeans (INR 1,000 and up).
This is one of the few stores that has a veritable range of ethnic wear for men - we were pleasantly surprised to see the range of kurtas and sherwanis in a mall that's populated with Western wear. The traditional range starts at INR 1,500.
777 Zone
You're really in the zone if you've scrolled all the way here on this list... Lucky for you, because 777 is amongst the better-stocked stores at Citi Centre. The store executives had a lot of initiative when it came to running us through their range, and it was amazingly pocket-friendly - the t-shirts all cost around INR 350, the jeans will cost you upwards of around INR 800, and the super snazzy jackets will cost you INR 800 - INR 1,500.
@ 3099
We conclude this list with yet another numerically-named store. @ 3099 doesn't exactly have stuff that costs INR 3,099, but boasts of a genuinely well curated range of casuals and semi-formals. The owner of the store was gracious enough to run us through the whole range himself, and let us know that the garments on offer are both imported and Indian-made, with the store's focus being fashion-forward clothing.
This store's best quality is the fact that this one, too, has an ample pluz-size range - up to 7XL, and this range in particular starts at INR 650, going up to INR 2,000. Coming to the usual sizes, t-shirts will cost you INR 500 onwards, denims will cost you 1000 onwards and shirts will cost you INR 600 onwards.
Here's hoping this guide helps you the next time you're in Goregaon, and need to shop!
Comments