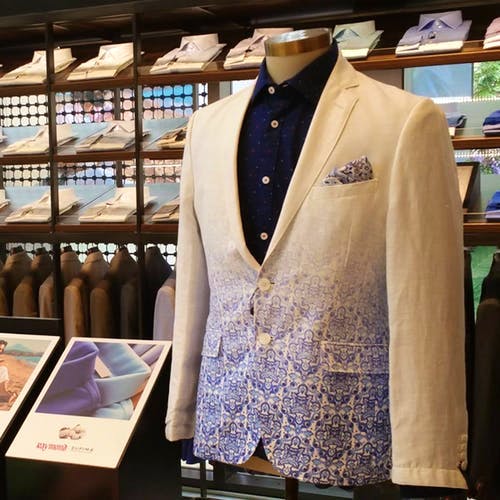 Wrangler To Turtle: Men's Brands To See
Whether you're a guy who finally agreed to go shopping, or a guy who appreciates routine retail therapy, we've drawn up a list of outlets you've got to shop at if you're at InOrbit Malad.
Wills Lifestyle
Wills Lifestyle recently declared that they've gone 100% natural, which means they no more use synthetic fibres in any of their designs. It's not just a positive move for the environment, but a fashion-forward one, too! Get your fill of crisp linens from this store. Their new Gujarat-inspired collection is super vibrant, and the printed shirts are great picks for casual days.

Raymond
The Raymond conglomerate is synonymous with well-tailored, uber-flattering formals that are perfect for work, and black tie events. We trust Raymond for dependable, well-made and reasonably priced formals that stand the test of time, and are absolutely worth the investment.
Blackberrys
Blackberrys is great for formals as well, but we gotta say, we adore the Urban Blackberrys collection - the range has spunky, textured prints that are perfect for the club, or a swanky dinner. Not a prints type of guy? They've got solid-toned shirts for clubwear as well.

ColorPlus
Though a brand under the Raymond umbrella, ColorPlus offers formal options at more competitive pricing. Need formals on a budget? You can trust ColorPlus for basic formals that are of top-notch quality. We suggest stocking up on solid colours from ColorPlus.

Van Heusen
A quick sojourn into this store made us realise that Van Heusen's range is actually quite large - apart from the shirts and suits and blazers, they've also got t-shirts, jeans, shorts and gymwear! If all-out sportswear isn't your thing, they've got gymwear (joggers and tracks) that are great quality.

Jack & Jones
An eternal favourite of ours, we love Jack & Jones for their casuals and club wear. We're huge suckers for florals on guys, and the shirts with sassy slogans are always a hit. Jack & Jones has printed boxers, an extensive range of jeans and an on-trend range of shoes as well. Add the sales and promotions in the mix, and well, you've got a wardrobe overhaul at a steal!

US Polo Assn.
A men's fashion classic, US Polo's shirts are a wardrobe staple. Wear one to brunch, lunch, or a casual dinner with the fam. The brand promises to offer sophisticated casuals, and we promise these are it, for sure. If you love this brand, they've got a new range of graphic print t-shirts as well, which we think you should definitely check out.

Wrangler
A titan of sorts in the world of denims, Wrangler's got hardy, textured denims that will last you forever and are 100% value for money. They've got 2 distinct ranges - Inficool and Traveller's Jeans, depending on what you need your jeans for. Inficool will fight humidity, and the Traveller's collection is rugged AF, so you can pack it for that mountaineering trip you've planned.

Louis Philippe
We agree, this list is replete with reccos for formals, and while Louis Philippe indisputably excels at those, we fell in love with the brand's huge range of chinos! This label, too, carries an extensive range of joggers, t-shirts and polished casuals, so make sure you sift through it the next time you visit.

Calvin Klein
This iconic US brand has young, fresh and clean casuals that we can never ever be bored of. We suggest doing a little #haul every few months from this brand since the collection changes so frequently. We're huge fans of the fragrances, as well as the watches. We love their nonchalant, yet polished aesthetic.

Turtle
If you're looking for something organic and sustainable to reduce your carbon footprints, you can opt for Turtle clothing. In a bid to maintain an ecological balance, they avoid using coloured dyes in their fabrics. From checked shirts to quirky patterned and printed ones, and from solid coloured ones to classy perfect fitting suits, solve your wardrobe woes in this boutique.
Finally, if you're tired of shopping and need a break, head to their amazing food court. Here's a handy guide.

Comments