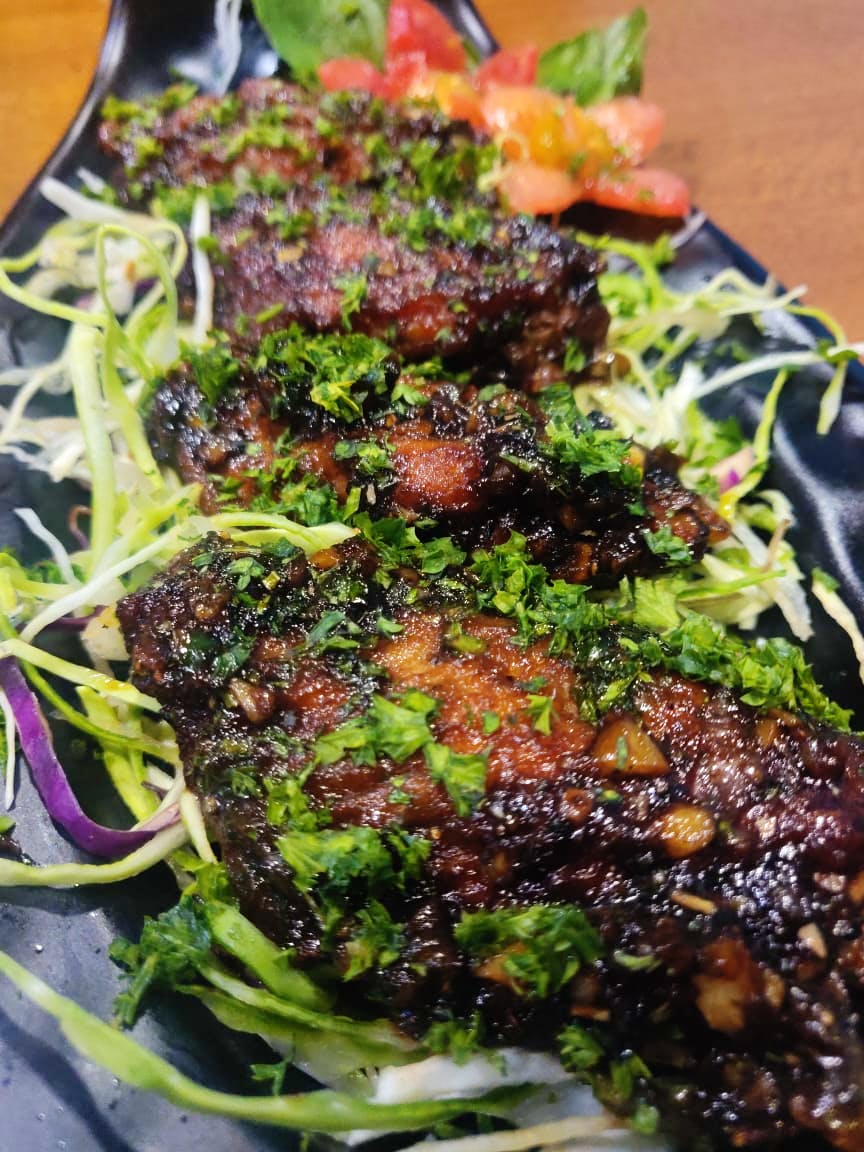 Cola Chicken Wings To Bombay Bhelpuri Salad: This Cozy Versova Cafe Is Bae
Shortcut
Are you craving for some me-time? Or, do you want to chill with your tribe after a stressful day at work? Or. are you simply looking to grab something that fills your heart (and stomach)? We checked out MeTime Cafe at Versova and left with a vow of coming back again.
What Makes It Awesome
The cafe's got an outdoor seating arrangement, where we were greeted by a four-legged buddy called Kalu. After a five-minute cuddle session, we moved to the cooler section of the space. As you walk in, you'll see an array of feel-good quotes hung on white walls. There are wooden tables, comfy chairs in yellow and blue, and a natural tree-branch that's been turned into a picture perfect painting onto a plain blue wall. The other section of the cafe has a more informal seating arrangement, with a cane sofa and side tables made out of truck tyres. MeTime offers a varied range of games for you to de-clutter your mind and club your eating experience with some fun and games. So a big thumbs up to the ambience, but let's get talking about the superheroes in the menu.
The food here is an amalgamation of Indian spices, fused with Italian herbs. We started our gastronomical night with two soothing mocktails. There was Coffee Toffee, with Kitkat sticks and Blue Spice, with a coating of red chilli on the tip of the glass, both being the best of their drinks. For starters, the staff recommended a speciality called Coca Cola chicken wings. The dish is as fascinating as its name is, and hundred points to the chef for it. Now while we've eaten nachos in almost every joint that's there in the city, the one here wins the game. Their fully loaded chicken nachos are crispy, with the right amount of melted cheese, mayo, and are loaded with shredded chicken pieces.
For the main course, we tried chicken barbecue salad, and some Bombay Bhelpuri Salad that was delish! We also called for a fish curry combo, that comprised some cococut gravy in red paste and fish, well cooked, with some jeera rice. (P.S- Don't judge our appetite) The portions are very filling for two people, and their presentation skills are on point.
MeTime bakes some really good brownies, and the macarons come in three flavours. There's chocolate, mint-chocolate, and passion fruit, but our hearts lie in the mint-chocolate one. We'd recommend MeTime for those days when you don't really want to splurge on eating out, but also want to have a cutesy dining experience with your bae or friends. There's good food, games, and a staff that's humble. We've bookmarked this one already, have you?
Pro-Tip
If you have an appetite bigger than ours, call for their fish fingers, pink sauce pasta, and charmoula prawns too. Bon Appetite!
More Information
MeTime Cafe
Wi-Fi Available

Nearest Metro Station: Versova
Comments