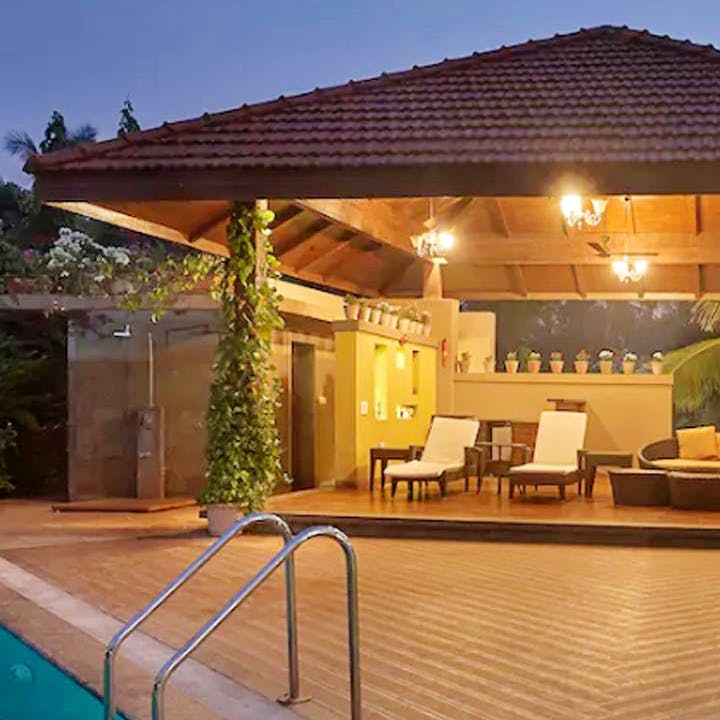 Lap Of Luxury: Sit By The Waterfall In An Outdoor Bar At This Villa
Shortcut
Imagine yourself in a cosy cove in your homestay over a lazy weekend. Think local food, some peace and solitude with loved ones as you decide to slip into a gorgeous pool, or head over to the jacuzzi that can do nothing else but help you relax. Well, you can actually plan that weekend out soon, as Alibaug, which is just a three-hour drive from Mumbai, has a gorgeous property that you can just unwind in. Moksh, a luxury villa close to Mandwa, is a 4BHK wonder that even provides speedboat services (except the monsoons) on request at an additional cost.
What Makes It Awesome
The villa has four bedrooms, a private pool, a steam room an outdoor bar that has comfy recliners, a huge lawn to explore and even an artificial waterfall if things weren't posh enough. The interiors are gorgeously decked up, with all the modern amenities that one can think of. There is a fully-functional kitchen, but if you want, a cook can also prepare all the meals at an extra cost. There is a gazebo by the pool with pool loungers and even a TV, in case you're in the mood for it. For those of you who love all things outdoors, you can enjoy games outside too. In case you're driving down to the property, driver accommodation is also available at an additional charge. And yes, something as spectacular as a speedboat service is also provided, in case you need it. You'll just have to speak to the owner beforehand.
At the time of writing the article, the price was INR 22,000 for eight people excluding taxes. Please make sure you check the booking link to know current prices.
Pro-Tip
Whether you want to spend time just lounging outside or have a memorable stay inside, you are sure to have a great time. Apart from this, it's just a great location to hang out with family or friends and wash all your troubles away. Have fun!
Disclaimer: Please note that the prices and other information were available to us at the time of writing this article. In case there's a change, please do contact the owner or concerned persons who can take it forward.
Comments