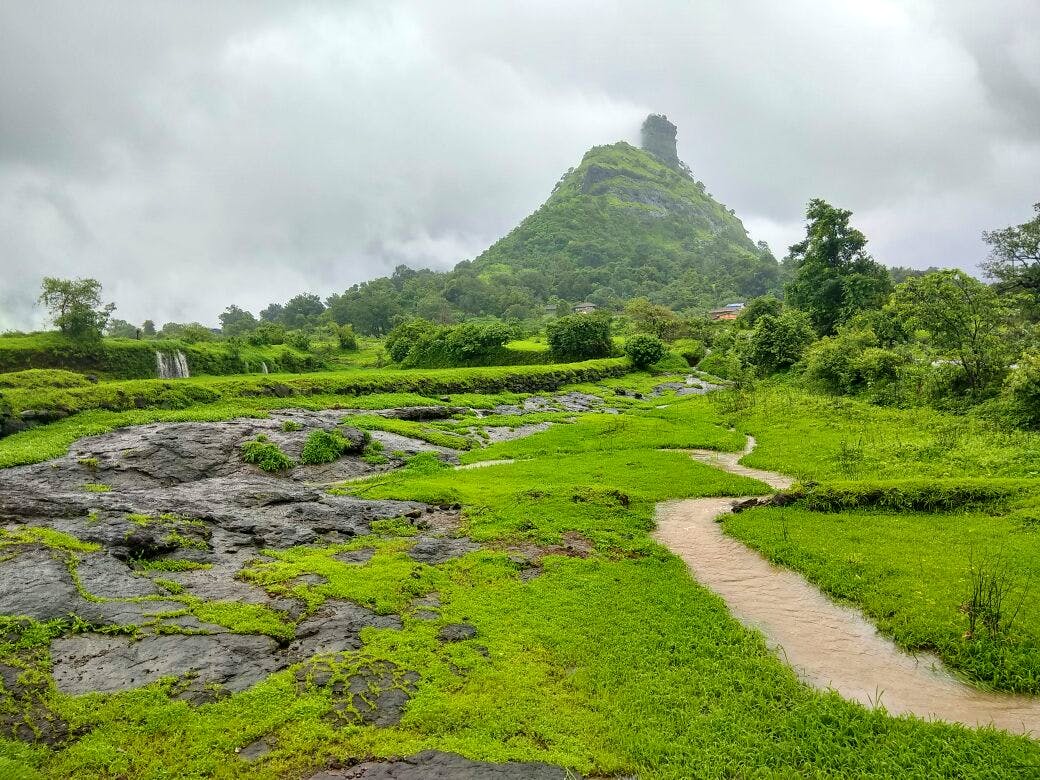 This Monsoon Getaway Comes With A Trek & A Jaw-Dropping View
What Makes It Awesome
Kothaligad is a small Fort situated to the east of Karjat near Karjat-Murbad Road. The trek to Kothaligad is pretty famous in the Karjat area, because of its short height and relatively easy climb. It's also known as the Fort of Peth. There's a small temple and a large cave at the base, and a chimney like tunnel to the top of the fort. This pinnacle is carved from inside, forming a staircase to reach the top. Locals say that this is not actually a fort but a sort of lighthouse, from where back in the day directions were given to know the advancements of the enemy.
What Could Be Better?
We had gone with Travers India, a professional team with trekking expertise, with all safety measures included. In fact, there was a small landslide, and the team safely took all of us through a different route, guided us through a rough patch, and even helped us climb safely. I would certainly recommend all trekkers to go with them. Here's what their itinerary looks like: • We started from Mumbai around 6am by private bus.. • Reached the base village, Peth at around 9:30am • Had a breakfast of poha and tea, and Jain meals were also provided • With all the instructions from trek leader taken, we started the first climb- which lasted for about 1 hour • Then there was a plateau from where you could see whole village; the scenery was lush green with small waterfalls scattered everywhere! What a view! • After this, we started our second climb towards the fort for another 2 hours. Climbing through the stairs and passing through the cave, we reached the fort. The view was mesmerising, and all the effort was worth it! We took a bunch of photographs, rested for a while, and then started the journey back towards the base village. • Within 2hrs we were at the base village, with delicious lunch, including authentic Maharashtrian food with pithla bhakra and shrikhand, waiting for us Finally, we left with happy memories, looking for more opportunities to be with nature.
What's My Pro Tip?
The route is set and is an easy trek for beginners. The big wins are that it's easily accessible, comes with food included, and is packed with awe-inspiring views, making it a perfect weekend getaway for all age groups.
Anything Else?
One can also take a train till Neral, and share a Jeep from the station to Kashele. On reaching there, take another shared Jeep to Ambivali Village that is the base village for the trek. The Jeep service is available till 6pm. Locals are very helpful and do guide you properly.