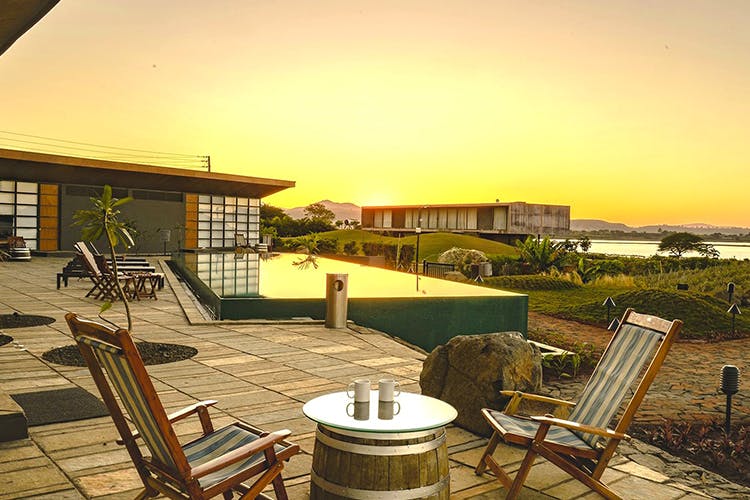 Don't Enjoy The Mumbai Rains? Take A Break And Check Out These Monsoon Getaways
Summer's over and this weather is making us dream of jetting off to an isolated island surrounded by nothing but the sun, sand and sea. While that may not be possible at the moment, it doesn't mean that you can't be whisked away to spend your weekend in the midst of nature and get some R&R. There's nothing better than waking up on a Saturday morning, packing your bags, fueling up your car and heading out of the city, so here are five places perfect for a chill weekend away.
Anchaviyo Resort
Located just a few kilometers away from Mumbai is the exclusive Anchaviyo Resort that houses luxurious chalets and tents. This plush property is hidden among the towering mango, chikoo and guava trees, making it the perfect getaway for the rains. You can also unwind in the rooftop swimming pool while sipping on a glass of rosé.
More details here.
The Machan
Known for its lush tree houses, The Machan is just a short drive from Mumbai, which is ideal for a weekend away. Want to spend some quality time with your boo? Enjoy each other's company by watching the splendid sky from your private deck.
More details here.
Amanzi
Overlooking Lake Pavana, Amanzi is perfect for a secret escape from Mumbai. Refresh and rejuvenate yourself in this property's one-of-its-kind villa – the Cocoon and also enjoy a host of activities like trekking and kayaking before getting back to routine.
More details here.
Le Farm
Le Farm is a magnificent property nestled between the hills where each room comes with lavish amenities and a spectacular view. This place is ideal for those days you want to literally do nothing but just sit and relive memories with your near and dear ones.
More details here.
Beyond by Sula
Stay at a room overlooking the gorgeous green vineyard at Beyond by Sula that makes for the perfect break this monsoon. Sit and enjoy the unadulterated view or a gourmet meal while sipping on homegrown wines. And while you're there, don't forget to indulge in a tour of the winery.
More details here.
Comments