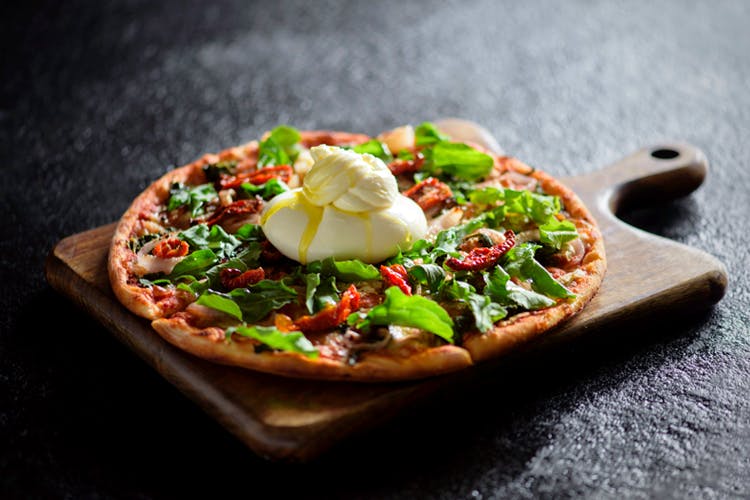 #LBBLoves: Mumbai Cheese Makers Who Deliver To Our Doorsteps
Making a fondue, home-made pizza or a feta salad? Put down the Amul spread cheese and step away from the over-priced exported mozzarella. Mumbai's thriving artisanal cheese scene has allowed us to order everything from organic gouda to Italian robiola, right at our doorsteps. LBB's resident cheese-lovers have broken down their favourite local cheese-makers' wares for you, as well as how, when and with what you should eat them with. Can you say…cheese? #SorryNotSorry
Casa Del Cheese
Started by Dhvani Desai in 2014, Borivali-based Casa Del Cheese sells organic and vegetarian cheeses, including snowflake, buffalo milk feta, gouda and St Marcellin.
Goes grate with: Cheese platters. The snowflake, gouda and St Marcellin are sharper cheeses, and they go great with the condiments that Desai also sells – an apple onion chutney and a beetroot orange relish.
#LBBTip: Unlike the store varieties, their buffalo milk feta is sold with brine, which keeps it soft and fresh for six months.
Price: INR 200 upwards for 100 grams of the cheeses. INR 50 for delivery charges.
Price for 100 grams of cheese; INR 50 delivery charges: ₹ 200
Eleftheria Cheese
Started by Mausam Jotwani in October of last year, Eleftheria (which means freedom in Greek), sells mozzarella, burrata, bocconcini cheeses, as well as fromage blanc cheese, a French-inspired variety made from full fat milk.
Goes grate with: Bruschettas, ravioli and dips.
#LBBTip: If you have a sweet tooth, try using the fromage blanc as a cream cheese substitute. It's healthier and has a lactic tang which means you can skip the sour cream as well. Go for the buratta if you've always liked your cheeses with a sharp edge.
Call: +919920632409 for home delivery, available for orders above INR 1,000. Otherwise hop over to Food Hall and Palladium, where their cheeses retail. You can also order on Yummade here. One day advance notice needed for home delivery.
Price: INR 300 for 150 grams and upwards.
The Cheese Collective
Started by Mansi Jasani in 2014, The Cheese Collective sells a variety of goat cheeses – made with everything from mixed herb to honey, as well as 'party balls' of goat cheese which have been rolled in flavours including red chilli, black pepper and jalapeno. Jasani also curates Indian cheese-makers from the city as well as far-flung artisans based in the Himalayas.
Goes grate with: Desserts. We loved the honey, fruit and jam goat cheese spread over a fresh croissant.
#LBBTip: For your cheese-loving friends, get a customised cheese hamper or a platter made by Jasani to order, which we found to be pretty affordable.
Price: INR 300 for 100 grams of the goat cheese, cheese balls start at INR 180 for 54 grams. Platters and hampers start at INR 1,000.
The Spotted Cow Fromagerie
The brainchild of Prateekch and Agnay Mehra, The Spotted Cow Fromagerie sells Bombrie and Camembay (otherwise known to non-Mumbai peeps as brie and Camembert), as well as an Italian robiola. Made without preservatives and emulsifiers, their cheeses have a shorter shelf life of 21 days as opposed to the three years the store-brought variety can last.
Goes grate with: Fondues. The usage of natural ingredients and the fact that The Spotted Cow allows its cheese to age naturally means that we got that gooey, flowing texture for our fondue that we want, that no store-bought cheese ever gets right.
Price for a 200 gram wheel of cheese; INR 60 for home delivery: ₹ 500
#LBBTip
Keep an eye on these guys – they're planning on launching Tomme de Savoie, a variety of tomme cheese from Savoie in the French Alps, if they think they have the market for it.
Price: INR 500 for a 200 gram wheel of cheese, and INR 60 for home delivery.
Comments