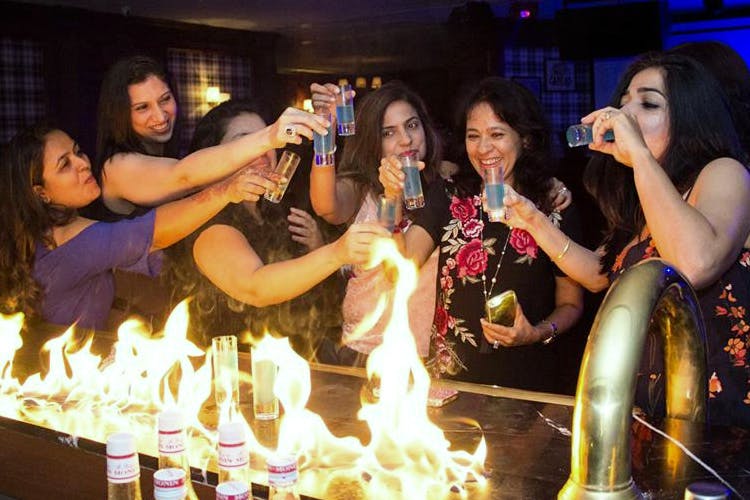 Free Drinks & Super Deals: Where To Have A Kickass Ladies Night
Ladies, this is not the list you need but the list you deserve. We've rounded up the bars and restaurants in Mumbai that offer ladies night. Be it complimentary drinks or super saver deals – bookmark and get your squad out on the road to paint the town red!
Lord Of The Drinks, Andheri West
This is apparently the longest bar in Asia and has a very vibrant vibe to it. The hanging lights make the bar very quirky. Also, they serve amazing butterbeer and that's more reason for you to check out. One day of the week they host an exclusive night for the ladies by the name of Sorority Night.
When: Every Tuesday
What's The Deal: The first two drinks are complimentary and the offer's valid on sangrias, margaritas, cosmopolitans.
What To Eat: Delhi Kebab Croquettes, Chicken Khurchan Quesadillas
Timings: 8 PM to 10 PM
Hoppipola, Malad West
Hoppipola is the neighbourhood bar that we love for great music and our night outs. The Malad outlet has ladies night every Wednesday, so if you're in and around Malad get your squad and head there.
When: Every Wednesday
What's The Deal: One free cocktail per person.
What To Eat: Jerk Chicken Pizza, Chicken Popcorn
Timings: 8 PM onward
Open House Cafe And Bar, Dadar
Tuesday is the poorer cousin of Monday and to make it just a little bit better for us all, Open House cafe and bar has ladies night every Tuesday. This one's a two-storeyed cutesy joint and perfect to hang out with your BAE or tribe of friends.
When: Every Tuesday
What's The Deal: 1 + 1 on any cocktail
What To Eat: Crispy and Barbecue Chicken
Timings: 8 PM to 12 AM
Luna Nudo, St. Regis, Lower Parel
Luna Nudo at St. Regis is a fancy place, and you may want to dress up your finest because this restaurant has a very royal vibe. Its located on the 37th floor, and there are candles, a pretty set up, and great food, that make Luna a perfect place for that romantic dinner with BAE.
When: Every Wednesday

What's The Deal: Cocktails and wine (on the house)
What To Eat: Lamb Tacos and Prawn Calamari
Timings: 8:30 PM to 1 AM
Craft Bar, Bandra East
Hit up at this bar with your girl gang to enjoy a happening night. The ambience is great, the service is top notch, and the vibe's capable of jolting you up in case you've been dragged there with your friends but are low on energy.
When: Every Wednesday

What's The Deal: Ladies get unlimited sangria (on the house) as long as they can do drink it up within two hours.
What To Eat: Grilled Dhokla Chaat and Solkadi shots with Prawn Golguppa
Timings: 8 PM to 10 PM
Butterfly High, BKC
This bar in BKC doubles up as a co-working space, has a unique menu, and their ambient lighting just goes with the post-work mood, always.
When: Every Tuesday

What's The Deal: There's unlimited sangrias, wine and cocktails
What To Eat: Jackfruit nachos and Pesto Bajra pasta
Timings: 8 PM to 11 PM
Comments