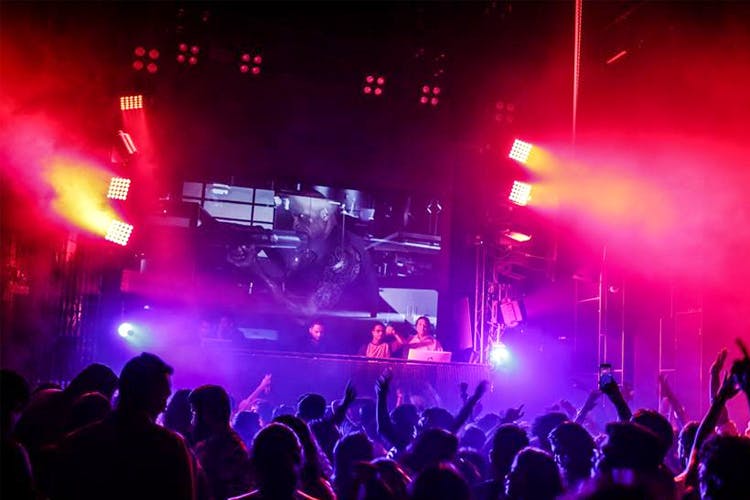 Bring Your A-Game With You And Hop Into The Playboy Club
Shortcut
The Playboy Club is an exclusive destination for all things stylish. With an entrance that looks nondescript, the minute you enter, you feel like you've jumped into a time capsule that's taken you back to an era where the iconic Playboy bunnies would skimp about to get you whatsoever your heart desired. But wait, we're in 2019, and a lot has changed since then.
The EDM beats on the floor will pump you up and the array of lightwork is only going to blow your mind. Bunnies (oops, no skimpy clothes in here) are hopping around to assist you with whatever you might want.
What Makes It Awesome
The swanky and fancy interiors will force you to believe in magic (really). The entire space is boldy done up in red, black and gold. Playboy Club boasts of two dance floors. The lower section is bang in front of the DJ console and is flanked by tables on either side. The other section, which is slightly higher up caters to a separate crowd altogether. The lighting effects however, are unmatched and mind-blowing (to say the least)!
With a place that plays good music, has a kickass dance floor, great sound, amazing lighting, yummy bites to relish and a unique clubbing experience altogether, Mumbai is definitely home to something worth boasting about.
So, put on your dance shoes and go experience this club at least once. While the music might not cater to your taste every time, it is indeed the perfect place if you want to put all your troubles away and dance into the night!
Pro-Tip
Such places are more fun with a larger group, so go ahead, bully your friends and take them dancing to Mumbai's Playboy Club.

Comments