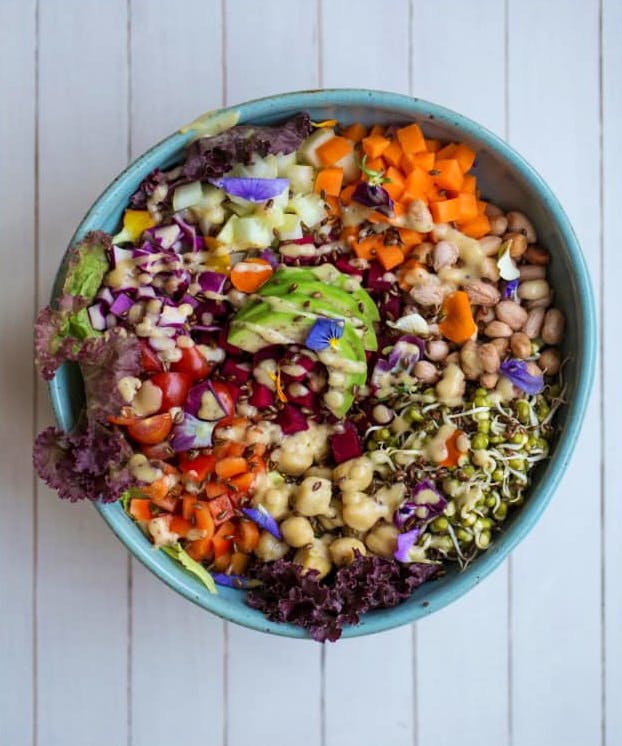 Trying To Go Vegan? You've Got To Eat At These Mumbai Restaurants
If you're worried about where to eat that scrumptious vegan meal with your vegan partner, or if both of you are vegans and are looking for a joint to wine and dine at, trust our list for a memorable experience. These restaurants in the city have opened their doors to the concept of veganism and have come up with lip-smacking dishes that will take your taste-buds on a jolly good ride. Hog on.
Kitchen Garden by Suzette, Bandra
Kitchen Garden by Suzette, Bandra has a charming courtyard feel with outdoor seating as well as a chic indoor seating. The feel is of a European café with lots of greenery around. The menu has a rabbit next to items which are vegan. Their offerings include the powerhouse smoothie, green smoothie, cold-pressed juices & overnight turmeric & Almond milk oats, cold gazpacho, 5 greens soup, red protein pot, and bulgar tabbouleh. The names itself are too attractive for you to not go here.
Range: INR 1,000 for two people
Salad Days, Andheri
This Andheri cafe-restaurant has a clearly marked V sign on the menu, making it really simple to choose from. They have a 'Make Your Own Salad' with 5 vegan dressings as options. Among the salads, couscous tabbouleh and citron zing are popular and all the 5 soups are vegan. Bagels come as a pleasant surprise and they are whole wheat. Among the sandwiches, there is the red bean hummus & veggies as well as hummus, olives and tomato wraps. Their Chia Fruit Health smoothie is a great option for all the health conscious couples.
Range: INR 500 for two people
Le Pain Quotidien, Powai
Le Pain Quotidien doesn't have a very elaborate menu for vegan food items, but whatever they serve, they do a fine job of. For breakfast, there's chia seed pudding, oatmeal banana muffin, and for lunch, you can gorge on their organic mixed rice and lentil risotto, shared Mediterranean platter and avocado tartines. Their fresh energy boost juice made of green apple, raspberry and kiwi make a healthy cool drink in the sweltering weather. They have a carrot to indicate a vegan dish.
Range: INR 2,000 for two people
Chaap Ki Chhap, Andheri
If you ever crave for street-style Tandoor, Chaap ki Chhap in 7 bungalows will amaze you. It is a typical North Indian style street food joint with a plethora of varieties. The best part is they are very vegan-friendly and they know exactly what to suggest. What's noteworthy here is the special mysterious chaap, vegan heaven chaap , japani fish and raseeli chaap gravy.
Range: INR 600 for two people
Candy & Green, Breach Candy
Candy and Green in Breach Candy has a plush indoor seating area as well as an amazing open rooftop garden. With homegrown herbs, micro-greens and leafy plants adorning its vertical garden, Candy & Green produces edible foliage in the house, thereby reducing its carbon footprint drastically. Candy & Green is among the very few eateries to use zero carbon produce. It is a 'vegetarian-only' restaurant serving Asian, Italian and Continental food. They can veganise many dishes out of which the Turkish kebab wraps, beetroot sliders and hummus with pita bread stand out. They also have clearly marked dishes such as vegan panzanella omelette, vegan meatball sub and something called the no more depresso mousse.
Range: INR 1,600 for two people
Bombay Salad Co., Bandra
Another place for all the health buffs is the Bombay Salad Co. It whips up wholesome salads, sandwiches, wraps, smoothies and an excellent variety of juices. They are well aware of vegan food and will alter dishes to suit our needs. Their yogi salad is vegan and their vegan chocolate sorbet is divine!
Range: INR 900 for two people
Earth Cafe @ Waterfield
A new entrant on Bombay's food scene, this joint is 100% vegan, and entertains loads of other dietary choices as well, namely keto and gluten-free. Enjoy everything on this menu - it's all cruelty-free!
Range: INR 800 for two people

Earthlings' Cafe
We love the name! A cozy spot for all earthlings, this cafe, too is 100% vegan. Don't forget to try the mock-meat based dishes here, and their ice creams.
Range: INR 600 for two people

Sequel
Apt for payday, Sequel is a great place to tuck into some seriously fancy (but super healthy) food. The menu offers up vegan and non-vegetarian options galore.
Range: INR 1,500 for two people

Farmer's Cafe
Another Bandra find that promises to serve up only healthy meals, Farmer's Cafe has loads of vegan options. Head here for wholesome, yet healthy food.
Range: INR 1,000 for two people

Comments