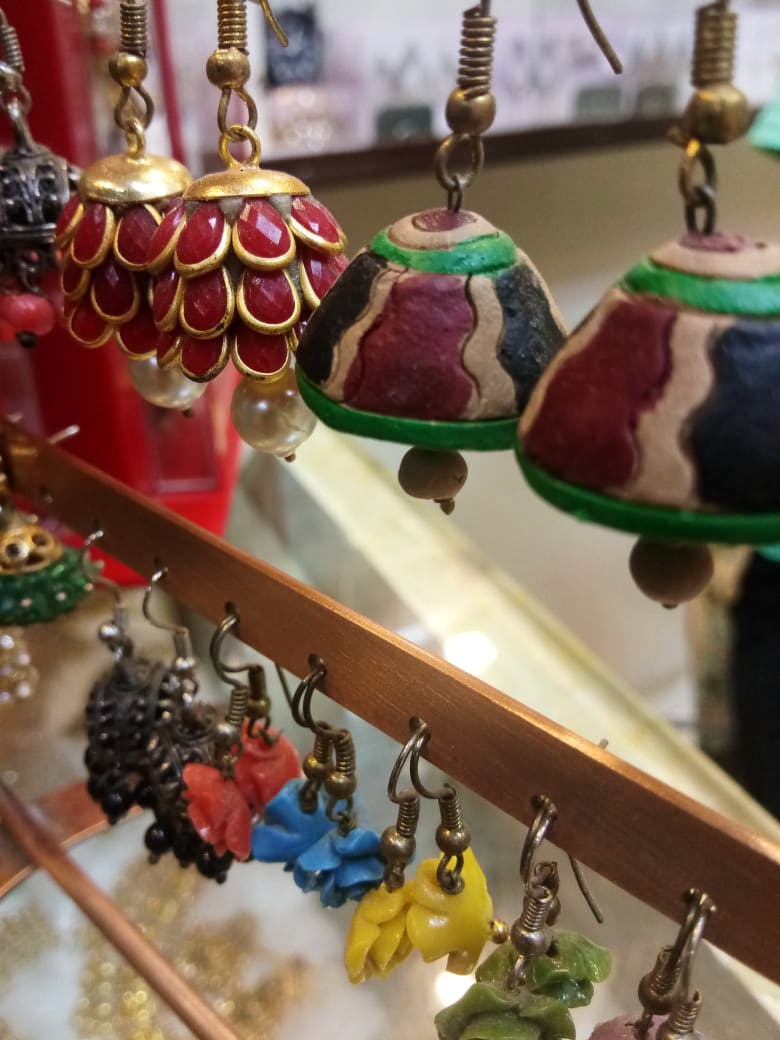 Comfy Kurtis, Sugarcane Plates, Art Jewellery & More: This Vile Parle Market Should Be On Every Shopper's Radar
Mumbai has no dearth of local markets, that remain hidden in mysterious bylanes. However, we sometimes do get lucky to be able to stumble upon a few of them. And this time, it's the Municipal Market in Vile Parle that made us restore our belief in the fact that one does get superior quality at dirt cheap prices. You will know when you go. But for the time being, read on.
Shringar Art Jewellery
This one has some fine handmade earrings that start at INR 100. Some are made of wood, some of clay, and what we absolutely fell for were their peacock-shaped and flower-basket-shaped kundan earrings. These will cost you under INR 700 and are a total value for money.
Vaibhavi Saree Center
In Vaibhavi, we found some really good quality Benarasi dupattas and sarees starting at INR 3,000. The store manager is super friendly and helps you select in case the massive variety confuses the shopaholic in you. They also have paithani pieces that aren't too blingy, and can be worn for parties, as well as poojas.
Maya Cloth Store
Maya lured us into buying Ikat tie-dye dupattas for a pocket-friendly price of INR 300 (woot!) They also have Madhubani painting dupattas starting at INR 700, and a lot of Bandhanis too (in case you're a fan.)
Pooja's Collection
In case you're a bag hoarder but are conscious about paying a hefty amount, let Pooja's Collection sort that dilemma for you. They've got some really cool, multicolored leather wallets, purses, vanity and sling bags that won't cost you more than INR 1,200.
Queen's Corner
Cotton kurtis in white never go out of fashion (at least in Mumbai) 'coz it's always the right season to wear light cottons. And Queen's Corner does justice to the scorching summers. Their kurtis come for INR 550, and their palazzos and leggings come for INR 350. We found a few indigo palazzos here too, and we'd also recommend hand-knitted multicolored dupattas for INR 1,200 here.
Selection Matching Center
Another favourite, we love Selection for its affordable range of blouses, kurtis, leggings, and palazzos. They also keep cut pieces starting from INR 40 a meter (for plain cotton cut pieces.)
Isha Fashion
We raided this one for its uber cool ikat and Madhubani blouses that fit the body and don't even cost a bomb (INR 1,000 onward.) They have various kinds of fabrics too. You can pick and choose from the spread and get yourself a pretty blouse (for any occasion) stitched.
Neha's Creation
Now this one is summer fashion goals, with sleeveless kalamkari short kurtis for INR 300 and ikat sleeveless jackets in lighter shades of blue for INR 800. (Yes, this market has a lot of ikat, but we ain't complaining!) You will also get different patterns of nighties and nightsuits here, along with good quality cotton kurtas.
Heera Pooja Bhandar
The Municipal Market is also known for being a huge supplier of copper and brass pooja thalis, bells, idols, and cloth flowers. They're all priced at very nominal rates (INR 200 onward) and you can easily get them in bulk. Mahadev is quite a famous dealer inside the market, and we love their torans and incense stick stands.
Mahadev
We've eaten out of paper and plastic plates during house parties and birthdays but have ever heard of plates made out of sugarcane and betel nut leaves? Crazy, right? This shop is a seller of all kinds of temporary party plates in different shapes and sizes, and also keeps balloons and tiny knick-knacks for every occasion.
Comments