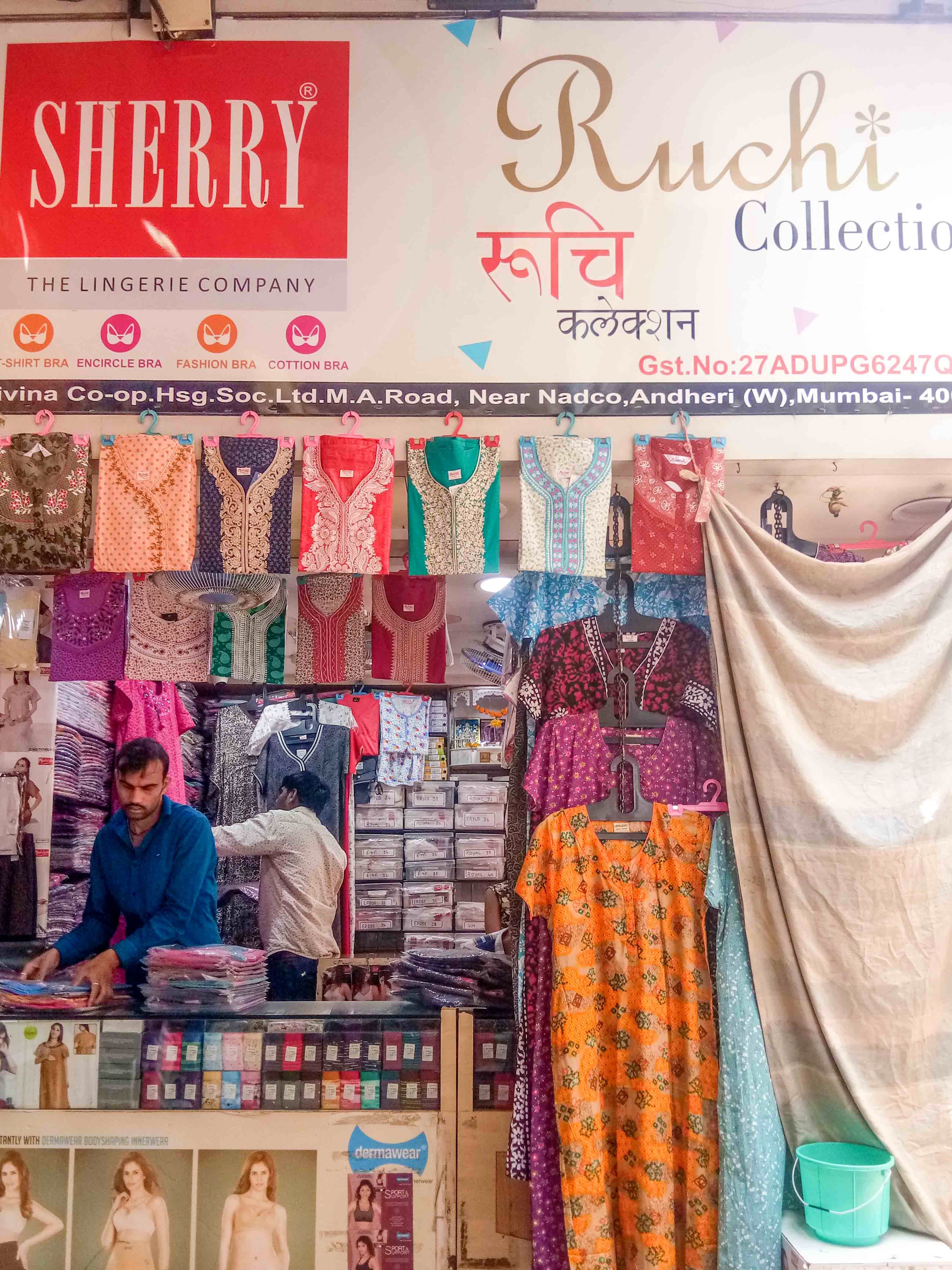 There's A 50-Year-Old Shopping Plaza In Andheri That You Just Cannot Miss
We're a sucker for all things new and shopping plazas have our hearts. So when we laid our eyes on Nadco Market, we just had to check it out. From lehengas, kurtis and cut pieces in fabric that's a class apart, to lingerie, laces, bags, art jewelry and much more; this 50-year-old shopping plaza near Andheri Station is a gem. Read on.
Nadco Fabric
This is the first shop that you will spot in the Nadco Market. And, undoubtedly the best. Nadco Fabrics deals in different kinds of dress materials. You will find gorgeous kalamkari cut pieces for INR 210 a meter, and phulkari dupatta work on cut pieces for INR 595 a meter. And if you're on a budget, go for their cotton cut pieces for INR 80 a meter. They also keep readymade blouses, kurtas starting from INR 500 onward, and bandhani dupattas. Basically, they're a one-stop-shop.
Desire
If you're looking for designer suits, chaniya cholis, wedding gowns, and some of the most gorgeous lehengas at affordable ranges, bookmark Desire because it won't disappoint you. Next to Nadco Fabrics, this one's been in the business since the inception of the Nadco market, and sells quality stuff. The lehengas start from INR 4,000 and go up to INR 20,000. And they're worth your money.
Viva
Fancy art jewelry? Then Viva in Nadco market should be on your go-to list. The shop's variety will leave you stunned. From hoop earrings to chandbalis, they have it all. Their jhumkas, starting from INR 500, are drop-dead gorgeous, and we could not help but buy two of them. The owners are super friendly and approachable in case you need styling tips. They also keep classy backpacks, handbags and batuas, starting from INR 1,000, and are dealers of perfumes too.
Milano
We spotted a mannequin wearing this really stylish dhoti pant with a mustard yellow top, and we couldn't help but walk in. When we inquired about the price and were told that the whole set is just for INR 2,000, we questioned our visit to the malls. Milano has elegant party gowns, affordable woolen wear (though our city doesn't need woolen fabrics, there's no harm to stock up on the lighter ones), gym wear and regular-wear kurtis. We loved how despite being a small store, Milano keeps chic and classy things, and we're totally raiding it again.
Crystal Collection
Art junkies and designers, we hope you're reading this because Crystal Collection inside Nadco has the prettiest of laces at dirt cheap price ranges. Go for their zardosi patchwork laces for INR 100 a meter. We fell for a mirror work lace that had a Gujrati and Rajasthani touch to it and was only for INR 40 a meter. This tiny shop radiates positive vibes, because there's so much color on display. You can also get tassels from them for INR 40 for a set of two. Tassels can be DIYed into an earring, or attached to the back of blouses (you can choose your pick)
P.S- For people interested in flower making or candle making, you can trust Crystal Collection with artsy material.
Kala Matching Center
Another gem for cut pieces, this one's even cheaper. With INR 53 per meter for good quality plain cotton fabric, Kala Matching Center won our hearts. We also spotted Lucknow Chikan work fabric for INR 1,000 a meter. You get them all in white, and they're worth the money. Soft and elegant, you will fall in love with the fabric the minute you touch it.
P.S- Their kalamkari pieces in yellow might catch your fancy too. And when they do, buy them, and get a fine cotton dress stitched for yourself.
Reliable Collection
We saw a few Batik and Bandhani night wear items hanging inside this shop and we knew we had to stop by. For INR 380 only, they're comfy, light, and perfect for summers. They also have flower-print night dresses for INR 400 and the quality is really good (we picked up a few!)
Jinal Collection
Nadco is quite famous for its lingerie shops and Jinal is a well-known name inside the market (for obvious reasons.) They have the best bras, panties, and fancy nightsuits. Buy their velvet night suits in lavender and purple (honeymoon packing sorted!) for just INR 1,200. They have a good variety of prints and fabrics that you can pick from, so make sure you ask for more options.
Ruchi Collection
Another one for lingerie, we liked Ruchi because of its variety in bras. From t-shirt bras and balconettes to the regular bralettes and push-up bras, this shop aces it in terms of colors, prints and varieties, within an affordable range of INR 700, and with a starting price of INR 200 for a normal bra.
Janta Mobile Associate
Nadco is known for cheap electronic gadgets and accessories too. Remember we told you about Phone Decor, a pop-socket store inside the Nadco Market? Well, we came across another one this time, with pop sockets and earphone cases at rates cheaper than Phone Decor. You will get some of the best accessories for your phone from Janta. The starting price of the sockets is INR 50, and they are as quirky as the ones you would find in bigger stores across the city.
Ask Oindrilla a question