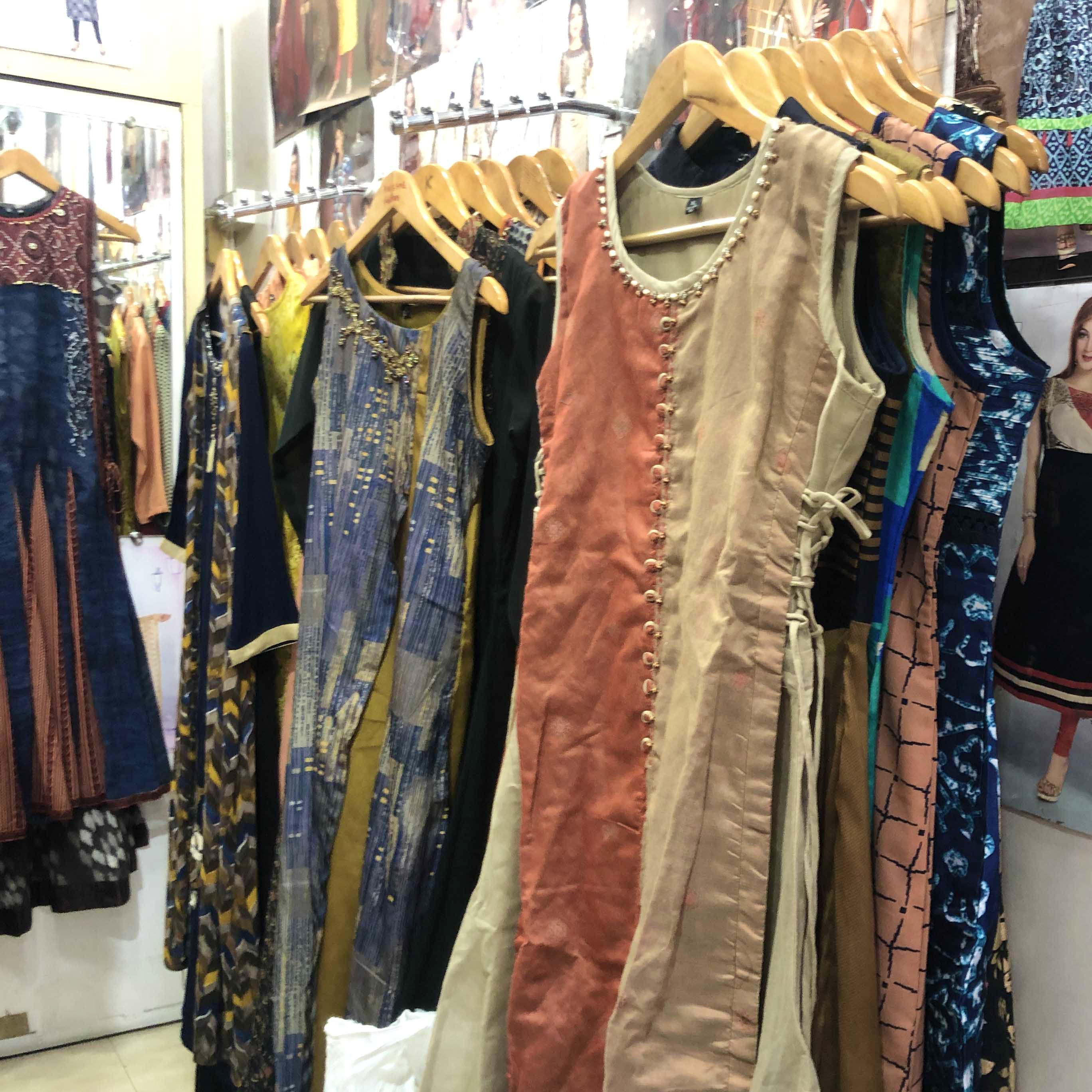 Shop In Bulk: Dadar's Nakshatra Mall Has Kurtis And Salwar-Sets Under INR 1,000
We all love loitering inside a mall and going back home with fancy shopping bags. But what makes us broke by the end of the month are the irresistible big brands. What if we told you that you could get regular-wear and designer-wear kurtis, salwar sets and sarees for yourself in bulk, without burning a hole in your pocket? We ransacked the goldmine that Dadar's Nakshatra Mall is and came back happy. And here's what to expect when you go, ladies.
Sanskruti Collection
If you've ran out of plain comfy kurtis, or ones in pretty floral prints, get them at Sanskruti from INR 350 onward. Now if you're doubtful about how the quality of small shops inside Nakshatra will be, shun the worries and just shop your heart out. Sanskruti also hoards a lot of casual tops that might garner your interest.
Harsh Creation
Are you looking for some colorful leggings, or some in basic colors so that you can match it with literally any kurti? Then bookmarking Harsh Creation from this mall is the best thing to do. They're all priced at INR 250, and you'll also get kurtas (both long and short) in cotton as well as silk. The cottons come for INR 500 while the silks are slightly expensive, so be prepared to shell out INR 1,500.
Shobhna Boutique
Shobhna's your one-stop shop for casual kurtis and tees starting at INR 300, and what they're known for is good quality denims (for INR 750) Pick up three together and pitch for a discount. Chance are, that if the shopkeeper here likes you, he'll give it to you at a very minimal price.
Designs-Dress Material
This is hands down our favorite in the mall. You'll find pretty cotton dress materials systematically arranged on the racks according to the shades. They've got dress material for salwars, kurtis, and if you're looking at getting a nice cotton dress stitched for yourself for work or for even a date, you must invest on prints from Designs. They've got salwar-sets for INR 1,500 and the dress materials start from INR 500.
Shilvant
Shilvant is a family shop and has two outlets in the same mall. What sets it apart is its variety (which really is a lot.) What you must lay your hands on is their comfy cotton kurtis in plains and prints that start from INR 350 (You've gotta bargain well here) and the casual and formal tees and shirts for women, again, starting at INR 350.
Mansi
If you're on the lookout for Punjabi suits and don't want to spend a lot, your search ends here. Mansi specializes in tailored, well-fitting punjabi suits and patialas (from INR 800 onward), apart from a humongous variety in dress materials, and casual tees for regular-wear.
Krishna Fashions
What we love here are the georgette chikan kurtis for INR 790. They're within budget, considering the quality that they offer (and the quality is bang on.) You'll also love their designer kurtas and anarkalis if you're looking to buy something for the upcoming festive season. Also, their regular kurtas are for INR 590.
Parivartan Fashions
This one may be less on variety but whatever it's stocked up on, speak of really good quality and that's enough reason for you to make a purchase from here. We love almost all the cotton kurtas from Parivartan and the best part is that they're all within INR 500.
Star's Choice
The kurtis here begin at INR 300 (dirt cheap, right?) and you'll find a lot of symmetrical designs. They've also got a massive collection of tops (starting at INR 200), jeans (starting at INR 500) and leggings (starting at INR 200.)
Pari Collection
At Pari, your basic kurtas start at INR 400, and in case designer kurtas is what you need to buy, spend around INR 700 and you're sorted. They've also got elegant (not-gaudy) dresses for INR 2,000 and basic colors in palazzos. You'll get them for INR 300.
Kanchan Collection
While most shops in this mall have more or less the same collection, this one's slightly different. Their kurtas have applique work on them and they attracted us the minute we were inside the shop. They're also known for their well-fitting jeggings that you'll get for INR 700.
Comments