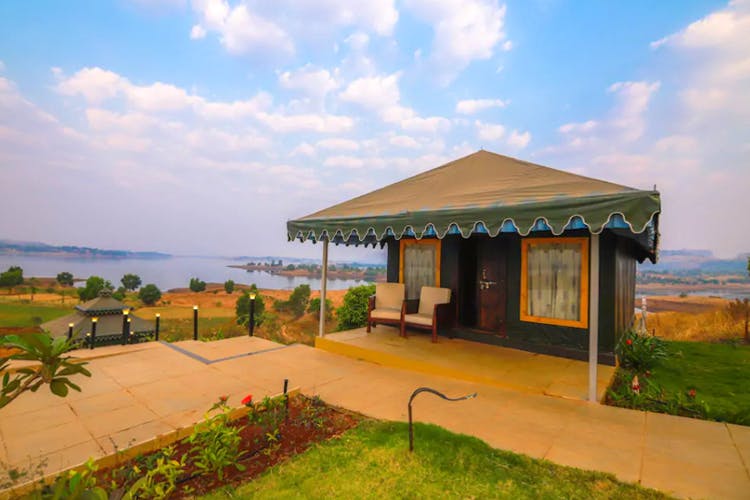 Stay In Luxury Tents Atop A Hill At This Picture Perfect Getaway Near Mumbai
What Is It?
With the backdrop of Vaitarna lake, this stunning property is located right at the top of the hill, with upscale tents equipped with all the modern amenities you can think of. What makes it really special is that you can enjoy a great view of the lake from private and common sit-outs or from the infinity pool.
How Do I Get There?
It's 140 kilometers from Mumbai by road so it should not take you more than 3.5 – 4 hours to reach the spot. You could even use local transport to get you to Nashik and then drive down to the location.
Since it's an Airbnb property, you will only get to know the exact location once you book your stay here.
Why Should I Go?
Each tent has ikkat pattern prints as walls and an outside seating area to enjoy your morning cup of chai. Apart from this, there is a play area for kids, a large dining room, and even an indoor games room.
Your mornings and evenings here can be made really special sitting atop a hill and enjoying the woods that surround the spot and the deep blue of the lake. You can catch the perfect sunrise or the sunset with the hills that surround you. You can explore the farms at the base of the hill or even enjoy a bonfire at night. Sounds heavenly!
So, We're Saying…
Experience the comfy confines of a great location with this spot, and get a chance to enjoy nature with some peace and quiet. There's a lot that can be done in the area and it also gives you that time to rejuvenate yourself.
For bookings, click here.
Also On Premium Stay With Infinity Pool - Vaitarna Lake
More Information
Premium Stay With Infinity Pool - Vaitarna Lake
Comments