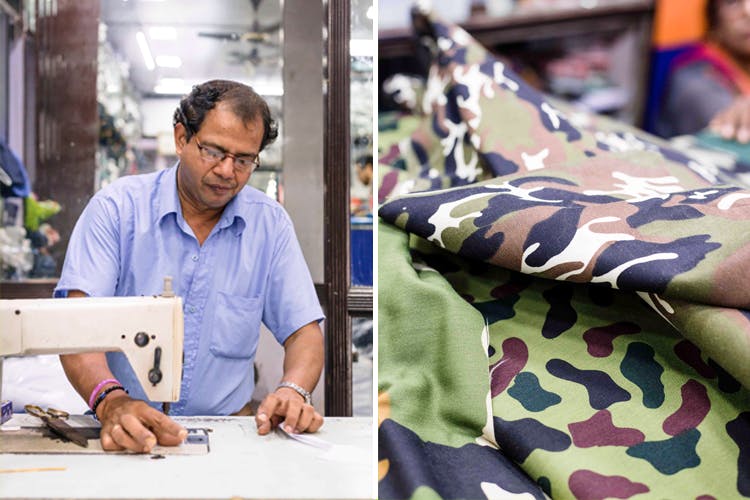 Stand Out With Camo Fashion From An Army Supply Store In Mumbai
Shortcut
Have you ever thought of going to an army supply store to shop for the hippest new trends? We found just the place.
What Makes It Awesome
Naval Trading Co is a shop near Lion's Gate (which has been around since 1947 in different avatars) which not only supplies to the armed forces, Bollywood movies, but will also make customised camouflage jackets, pants, and other awesome accessories for us. Plus: we're loving their chunky army boots.
This iconic shop doesn't seem like much at first sight – tucked away in a small corner, with dirty overalls decorating its front, and dogs gamboling in front of it. But once we enter, it's all friendly tailors and men in uniform doing their shopping.
Camouflage Fabrics
Wardrobe needs a 'major' upgrade? Check out their range of fabrics. Khaki cargos, shirts, skirts and even camo pants can be stitched to-order. From now on, we're not going to blow up more than a grand for branded versions of these items anymore.
What's more, we can finally get the perfect fit. The in-house tailor takes customisation orders. Plus, if you're into home decor, stock up on these fabrics and get some cool cushion covers made.
Price: INR 300 -350 per meter for the camouflage print fabric.
Black Army Boots
Remember those bad-ass army boots that army officers parade around in? Now own a pair yourself. These black army boots are available at the shop in all sizes and shapes. Perfect to brave the rain, mud or even just add an edge to a casual look.
#LBBTip: Seen those biker gangs roaming around the city on their Harley Davidsons and Royal Enfields? They get their boots from here. Get the cool biker look without the license.
Price: Classic army boots for INR 1,500 - INR 3,000
Naval Hat, Overalls And Belts
If you're into Halloween and are getting ready a little early this year, head here for costume needs. Not only do they have cool white navy hats (for sailing days?), but even overalls in orange, blue and black. However, don't linger on the badges with the Ashoka Chakra – those are just for the defence personnel.
Price: Plain white naval hats INR 850, overalls INR 1,500 upwards
Pro-Tip
This oldie but a goodie is still flourishing in old Mumbai, going about its usual business. But we think it's time they attracted a more fashion-forward clientele. Bollywood fans, this shop has also provided costumes to actors such as Akshay Kumar in Rustom, Shashi Kapoor in Deewar, and even a cap for Shahukh in Baazigar.
Comments