The information in this post might be outdated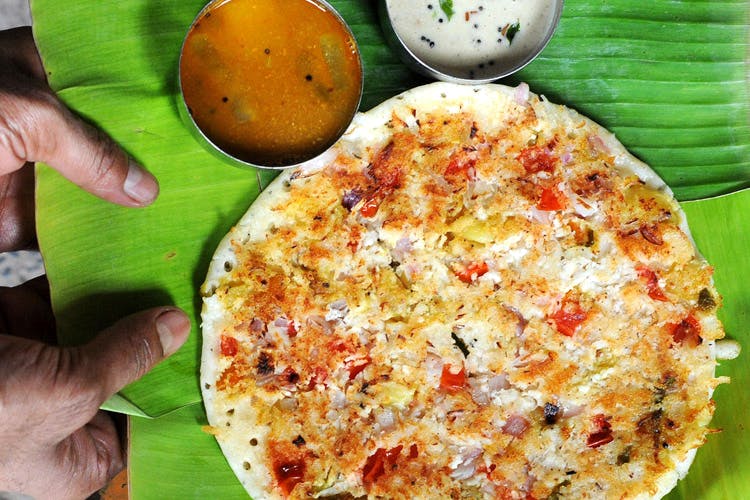 Stop By Cafe Vrindavan Near Khar Station For A Quick South Indian Snack
Shortcut
Cafe Vrindavan in Khar is a great spot to chow down on cheap, fresh and delicious South Indian food whenever you need a quick gastronomical break from office.
Chow Down
The pure vegetarian restaurant is a humble but clean and efficient South Indian eatery. More than enough wooden stools and tables mean that it's always fairly easy to find a place to sit in this well-lit eatery. The waiters are also very prompt – and merciless – about splitting up your group into factions to ensure that everyone finds a spot for themselves, even if it's next to a family of four.
The food includes typical South Indian snacks such as idli sambhar and upma, as well as Maharashtrian snacks such as puneri misal and shrikhand puri. Besides the typical and long list of dosa and uthapam varieties, also look out for unique takes such as the methi palak uthapam. They also have an extensive Punjabi and Chinese menu, but we would suggest you stick to the Southern side of things. You can also wind things up with a plate of kulfi, choosing from the nine varieties on sale from INR 40 upward, which the restaurant sources from other eateries.
Winning For
Check out their schezwan idli, which is spicy and delicious. We also like their onion uthapam, which was served piping hot and soft. The sambhar is, as is always a problem in Mumbai, on the sweeter side, but good nonetheless.
The service is also fast, and an entire meal from start to finish can be completed in thirty minutes. It's usually packed during lunch hour as well.
So We're Thinking...
If you're close to Khar station and want to grab a quick bite, this is the place to go.
Comments