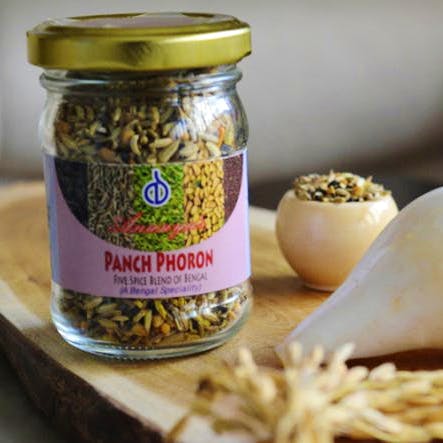 Goda, Recheado And Garam: Online Stores That Stock Regional Masalas
Love experimenting with different flavours in the kitchen? Then this is just for you! Indian cuisine is made up of countless culinary traditions that differ from region to region. And each of them comes with their own ingredients and homegrown spices that make them stand out.
While these spice mixes were previously out of reach and rare to come by, online shopping has now made it possible to snap these up in minutes. From Goan and Coorgi to Punjabi, Dilli, and the North East, LBB tells you where you can source masalas from around India. Spice up your life, folks!
Goosebumps Pickles
Mumbai-based Goosebumps Pickles gives you jars of masalas (and pickles) that are packed with love by a team of mothers. Thus, taste and quality is their top priority. To ensure every package is delivered with mommy's goodness, there's a big 'no-no' to preservatives and machines. From the staple South Indian flavours like rasam masala to Gujarati pickles like chunda - everything in Goosebumps Pickles is 100% hand-made and vegetarian. They're pretty innovative even. Off late, they've added a number of new products Assorted Masala Fruits like masala cranberries, strawberries, cherry tomatoes, amla, kiwi etc.

Delight Foods
From dry snacks to papads and from curated jams to healthy bars - Delight Foods makes all of this just one click away. Well, they have an entire section dedicated to masalas and mixes which includes an endless list of spices from around the world.
Prepare to be spoilt for choice! Kutchi Chaas Masala, Recheado Masala paste, Mango chutney, Goan Curry Masala, Goda (a Maharashtrian speciality), and even Jain Maggi Masala - they have it all.
Shop Hop
Known for its local and regional specialities, this website offers a variety of artisanal and homegrown products. They have a few rare (and exciting) picks under their Masala Section which are made using age-old recipes. What we loved is the curation of masalas and spices from different states like West Bengal and Andhra Pradesh. Thinking of cooking a Bengali meal this weekend? Then, pick from Big Bong Kitchen's Bengal-inspired garam and biryani masalas. Look into Reddy's Kitchen if you're looking for traditional Andhra taste. There's also Panch Phoran (a blend of five spices) and Bhaja Masala (that's made with three spices). Mamakutti's Moroccan Dry Spice Rub and Vrindavan's Moringa Powder are also available.
Organic Shop
For those of you who love all things organic and hate preservatives, this online store is paradise. Revamp your kitchen spices by adding their organic collection. Organic turmeric, chilli powder, black pepper powder, cinnamon powder, rock salt are a few of the long list of organic spices they have on offer. You can even take home tins of their Agra Achari Masala, Agra Chaat, Dilli Rajma, or Dilli Channa Masala. The best part? Even though it's organic, it's pretty cost effective.
Pickle & Powder
For masala powders that are homemade and free of preservatives, this is a great option. They source their offerings straight from homemakers so you can expect the real deal. Apart from the ubiquitous sambhar powder, they also have Bitter Gourd Powder, Coconut & Garlic Powder, and Velluli Karam (a spicy garlic powder from the Andhra region). 100% homemade products' being their motto, Pickle & Powder, blends locally grown spices to deliver a rich experience of flavours.
Giskaa
With plenty of herbal and organic offerings, how could we possibly resist a website dedicated to North East specials? While they don't stock up on spice mixes, they line up a lot of unusual, whole spice powders that should add new flavours to your cooking. You can snap up packets of Garlic Root and Bulb Powders as well as powdered Anishi Leaves (colocasia leaves), which is a key ingredient in North Eastern cooking. They also offer Shaa Machal – a spice mix perfect for non-vegetarian preparations.
Place Of Origin
From Goa to Coorg to Punjab, Place of Origin showcases masalas from across the country. There are powders that you can add to those quickly whipped up meat curries and for classics like Butter Chicken and Rogan Josh. There are also mixes to prepare Coorgi Pork and Goa's Vindaloo. On the vegetarian side of things, there are Peppery Rasam Pastes, Sour Gongura Leaf Mixes as well as the regular line up of Garam and Sambhar Masalas.
Tit-Bit Spices
Producing spices for more than three decades, Tit-Bit is known for their growing demand, not just India but globally. Their spices, mouth freshers and mixes are increasingly making appearances in a range of countries like the US, Canada, Japan, Australia, South Africa etc. From regional spices and powders like cloves, tea masala, mukhwas to international flavours like the Manchurian mix, hot n sour mix, schezwan miz etc - they cater to almost every taste bud.
Comments