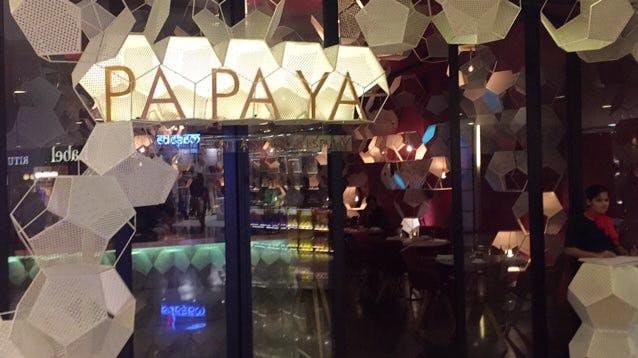 Pa Pa Ya At Lower Parel Is A Must Visit!
What Makes It Awesome?
❖ Food and Beverage- Asian food with molecular cocktails is what they serve and reflects in their menu card. Menu is not very lengthy but you will get enough number of options to choose from. They have speciality of using exotic imported ingredients. I feel few ingredients what they use in the dishes are not easily available in India. They are really famous in sushi's and i am sure you all would love them. Few of the dishes i tried are as follow. 1. Pre starter served in style which was made from basil infused watermelon, basil was giving the punch and watermelon was giving the refreshing taste. 2. Thirsty Ride (Mocktail) - A super refreshing mocktail made up with watermelon, punch of ginger, honey and lime. Freshness of watermelon and punch of ginger along was giving a perfect taste to the drink which was balanced with honey.(4.5/5) 3. Asparagus, corn and burnt spring onion (Dim sums)- Dim sums made with filling of steamed asparagus, sweet corn and burnt spring onions, outer layer was thin enough and then steamed perfectly. Served on bed of black bean sauce and drizzles of chilli oil. Chef has managed very Good balancing of flavours in this dish. (4.5/5) 4. Crispy Vegetable Maki- Vegetables batter fried crispy enough in tempura batter and stuffed in sushi. Served with fried spinach on the top with pickled ginger and wasabi. Heaven for vegetarian lovers. (4.5/5) 5. Veg konnyakuyaki (Tapas)- Balls made with cheese, tomato and basil and served on tomato based thick sauce and parmesan crisp as garnish.(4/50 6. Veg Laksa (soup) - A brilliant soup served along with condiments like spring onions, coriander, lemon wedge and fried garlic. Soup had vegetables like zucchini, broccoli and flat noodles. Laksa/soup made up with lemon grass flavour, red Thai punch and good balancing of coconut milk. Certainly one of my most favourite dish of them.(5/5) 7. Penang curry with jasmine sticky rice- Mild spiced Malaysian curry finished with coconut cream served with tofu balls. Jasmine rice can be perfect with this curry.(3.5/5) 8. Liquid chocolate matcha cake- A cake made with match which is green tea had chocolate inside the cake. Sprinkled with more matcha powder around the plate , had grassy taste of matcha balancing sweetness of chocolate.(3.5/5)
What Could Be Better?
Everything was just perfect . Matcha dessert is not really extraordinary compared with other menu so might can work on it.
What's My Pro Tip?
My Recommendations- 1. Veg Laksa 2. Crispy Veg Maki 3. Asparagus, corn and burnt spring onion (Dim sums) ❖ Why you should visit- 1. Excellent culinary experience 2. Ever-welcoming and supportive staff comfort you all the time 3. Dishes which gives edge than any other places in town. 4. Location, as it's biggest or can say most happening mall in town.
Anything Else?
❖ To sum up- Very good destination place, and being the mall itself is really busy and popular you will love enjoying the food at this restaurant. Enjoy an expert culinary treat in Asian food whenever you would visit this place. Make sure you surely try sushi whenever you visit. I would be one of your regular visitors for sure. Thank you.
Ask Chef a question