The information in this post might be outdated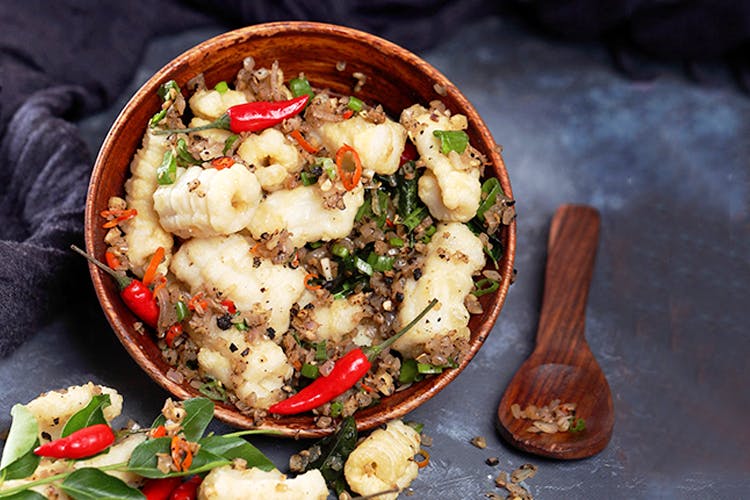 We're Soy Excited About The New Menu At Pa Pa Ya!
Shortcut
Love Pan-Asian food? Here's some news to get you excited! Pa Pa Ya is celebrating their third anniversary and they've got a brand new menu with a twist! From cream cheese veggie dimsum, dumpling broth, peppered Calamari and meat-loaded stir fries, this one's sure to leave you wanting more.

Gastronomes Unite
Your orientation towards vegetables or meat doesn't really matter here, Pa Pa Ya's delectable cuisine is sure to make your taste buds super excited! If you're love is for the former, the carrot and truffle cream cheese dim sum and the baked eggplant, yuzu miso top the charts.
For the meat-eaters, get ready to devour spreads including the prawn and spinach dim sum rolls topped with XO butter sauce or the Korean pulled chicken bao. If you're in the mood for something spicier, pick from the curry leaf and peppered calamari, the mouth-numbing sichuan style rubbed minced pork with haricot vert, the wonderful lamb rendang curry or the 1000 chilies chicken. Sounds like an Asian delight, right?
Do keep a lookout for their newest sushi invention, the 'Nigaki' - it is a hybrid of the classic Nigiri and Maki variations. The vegetarian one is packed with charred American corn, avocado, tanuki and spicy Tobanjan Tare mayo. For the non-veggies in the house, it's got boten ebi tartare and black caviar. It's served with taraba grilled ocean sticks, fresh jalapeno, truffle and the mayo.
Take that plunge into their inventive pan-Asian gastronomical experience and trust them to sort out the day's pick for you! The unadventurous ones can swear by Pa Pa Ya's previous menu hits including Roasted Aubergine Dim Sum, Horenzo Gomae, Carbon Sushi, Sushi Matrix and more!
So, We're Saying...
Who doesn't love a fancy meal affair? Visit Pa Pa Ya for a toothsome dining experience and find yourself immersed in flavours spanning Thai, Burmese, Vietnamese, Chinese or Japanese cuisine - find out which one's closest to your heart, maybe?
Price for two: INR 1,800 for 2 (without alcohol)
Comments