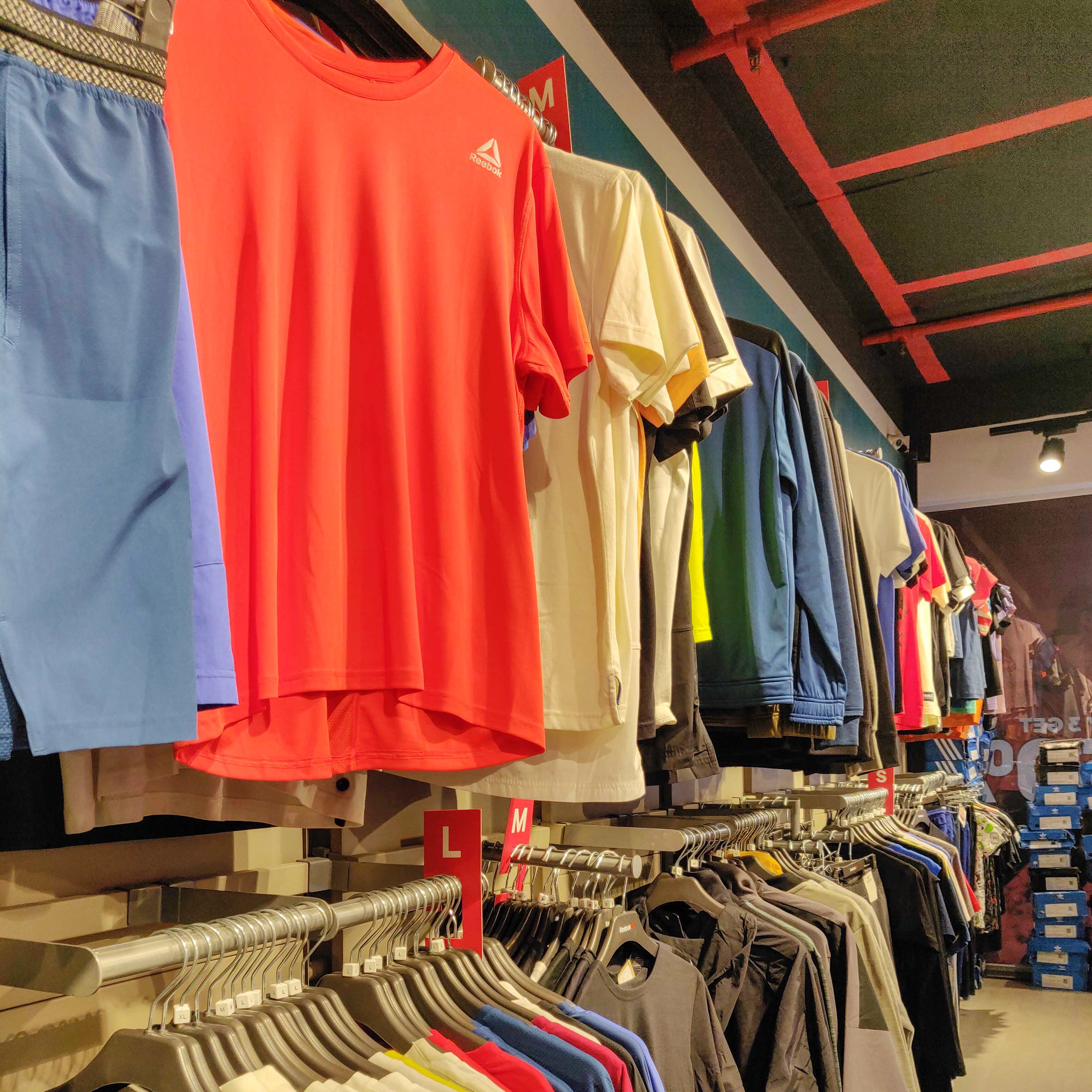 Discounts & Killer Deals: Here's Why We Love Parel's Factory Outlets
Why wait for year-end or festive discounts on branded products when you can get great deals and discounts all year round at the factory outlet in Parel! We explored the entire Ambedkar Road stretch in Parel and found out that it is full of branded outlets which offer discounts ranging from as low as 20% to a whopping 60%. From sports brands like Nike to Adidas to bag brands like Tommy Hilfiger and Delsey Paris – there's a lot you'll find there.

Nike
Quality, durability and comfort – the main ingredients that make us fall in love with Nike products. Nike sneakers, gym wear and flip flops are something many swear by. However, these come with a heavy price tag as well with women flip flops starting with a whopping INR 1,200 and basic sports shoes starting from INR 3,000. And the prices for shoes go up to approximately INR 36,000. Clearly, not everyone has a budget for these, so that's when you hit up the factory outlet where you can get your hands on branded Nike products at great discounts up to 50%.
Levis
Everyone should own a perfectly fitting pair of jeans in their wardrobe. After inventing original blue jeans back in 1873, this jeans brand has managed to make their way into almost all of our wardrobe. Primarily known for their long-lasting and superior quality types of denim, their products come with a heavy price tag – with the basic price of a pair of jeans starting from INR 3,000. Apart from jeans, over the decades they've introduced multiple products and extended their products collections to accessories, jackets and shirts. Ranging from 20-60% you can get some great discount on their products.
VIP
Whether it's at airports or a railway station, you'll always spot a VIP bag around.
Be it a heavy luggage bag, a backpack or office laptop bag - this brand has been our favourite for being high on strength and low on cost. Lightweight, minimalistic, a good warranty, convenience and organised interiors make VIP bags popular amongst travellers as well. With their average travel bags starting at INR 4,000 – we'd suggest head to their factory outlet and seal the deal at a cheaper rate. If you travel often for work they have an entire collection of bags curated to make your professional journeys less tedious.
Adidas
This brand needs no introduction. A go-to brand for sneakerheads – Adidas has got its share of fans too. Apart from sneakers, we love their backpacks which are great and convenient for almost every occasion, be it adventure or the daily commute. Not to forget their cool bottles – almost all of us owned one during our school time. So, we're saying head to their factory outlet in Parel to get Adidas products at really cheap rates.
Arrow
A well-established brand, Arrow, has been a favourite amongst men, especially for formals and office wear. Great texture and rich fabrics are some ingredients of all their men wear including shirts, pants and suits. So, men if you're looking for smart office wear and not looking to really break the bank – this store is for you. Well, the brand also offers an array of sports shirts and special summer collection which are both fashionable and comfortable.
Delsey Paris
From rolling suitcases and toiletries to laptop bags and accessories like smart locks, this French luggage brand has it all. Combining innovation, expertise and design – they have a variety of bags on offer for every type and occasion. Each being lightweight, ultra-slim, with multiple pockets and with colourful options. So, for your next travel plans, get rid of your old suitcases from the storage and buy a trendy one instead.
Bata
As kids, almost all of us have headed to this store to buy school shoes and socks. No doubt, this footwear brand is pretty popular amongst Indian households. Casual wear sandals or walking shoes and from loafers to stilettos, we've always loved Bata for their cost-effective and budget-friendly prices. We love Bata's comfy chappals and sandals. So we're saying hoard a few pair of them while you're in their factory outlet for cheap deals and give your footwear woes a rest for a while.
Samsonite
Another luggage brand and the parent company of American Tourister as well, Samsonite has been dominating the global luggage industry for quite some time. Targeting both the – middle and upper class – they'll curate products to suit every kind of traveller and consumer. Well, with at least 40% of hard luggage production being in Nasik, this brand is pretty popular in India as well.
Wildcraft
A go-to brand for frequent travellers and trekkers, you'll get quirky and trendy backpacks and gears at this store. We especially love their gears and rucksacks for their high tensile strength and advanced load management features. Starting at an INR 1,800, their backpacks are an all-time investment if you like exploring places by road, want to travel light and have tons of stuff to dump in your bag. While their specialty lies in outdoor travel bags, they do offer multiple sport wear options as well – both for men and women.
Cotton Plus
Well, this store's display shouts some exciting offers on men wear including 'Buy 2, Get 2', Buy 1, Get 30%' and our favourite 'Buy 1, Get 1'. So, if you're those type of shoppers who like bulk shopping at once and then not touch shopping for months – we'd say revamp your wardrobe with collection from this store. From printed summery t-shirts to formal shirts and from comfy pants to trendy denims – solve all your wardrobe woes under one roof.
US Polo Assn
Who doesn't love their Polo shirts? Popular for their collared, classy polo shirts, here's where you can buy trendy daily wear casuals at a lower price. Pair these with denim or regular leggings – we love their soft fabric collared shirts for their simplicity and minimalism. Apart from these, their collection ranges from denim, dresses, chic jackets, track pants etc. No doubt, with their promising quality, comes a heavy price tag. For instance, a polo collared shirt comes at a price of INR 1,200. Head to their store in to get crazy discounts and offers.
American Tourister
While this has been our favourite brand for luggage and travel bags, we must say we adore their travel accessories which are both fashionable and comfortable – making our travel journeys hassle-free. From their comfort travel pillows to travel organisers and from business kits and key and lock – their products have always helped us combine utility and style in our journeys.
Lee Cooper
An authentic denim brand, Lee Cooper has always been known to create an innovative revolution in the global denim industry. Buying a perfect pair of denims can be a task, the reason why they offer multiple 'jean fits' including slim fit, straight fit, rigid straight fit, skinny fit to name a few. We've always loved them because compared to the other premium denim brands, Lee Cooper, is slightly light on budget and promises great quality as well.
Spykar
A leading denim brand in India and a popular choice for the youth, Spykar is our go-to brand for great fabrics, trendy collection and being budget friendly. While this brand is known for its long-lasting and quality denim, they also have comfy gym wear, everyday casual shirts and T-shirts as well. If you're a fan of this brand, we'd recommend you head to their factory outlet to crack some cheap deals.

Ask Shaili a question